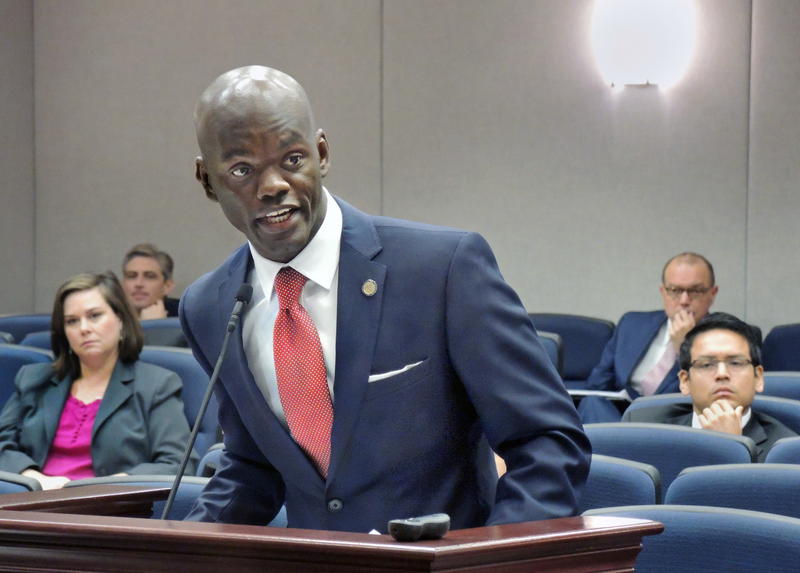 Incoming House Democratic Leader Kionne McGhee has named four fellow legislators to accompany him in directing party efforts through the next two legislative sessions.
McGhee, a Cutler Bay Democrat, selected state Reps. Margaret Good, Shevrin Jones, Richard Stark and Barbara Watson as Deputy Leaders on Monday.
With these selections, Democratic leadership will be representative of African-American, LGBTQ and Jewish interests.
McGhee picked two women for the roles: Good, of Sarasota, and Watson, of Miami Gardens.
Good won a closely watched special election in February before winning the House District 72 seat again earlier this month. Watson is a black state lawmaker first elected to the chamber in 2011.
Jones, a black West Park lawmaker first elected in 2012, has served as Deputy Democratic Whip since 2014. Jones publicly acknowledged that he is gay earlier this year.
Stark, who has represented Weston in the House since 2012, is Jewish.
Following the Nov. 6 election, McGhee highlighted Democratic pickups in eight seats. Two other seats were within the necessary threshold (0.25 percent) to trigger hand recounts, although Republicans ultimately prevailed in those races.
McGhee said earlier this month that the eight seats secured by Democrats "shows that voters are looking for leaders that reflect their values."
"The election may be over, but the work continues," added McGhee on Monday. "Florida House Democrats remain committed to upholding the values which the voters have entrusted us to defend.
"From expanding access to health care, to investing in our kids and teachers, I am confident that our team will not only fight for Florida's hard-working families but will work towards common ground to ensure that no Floridian is left behind."
Republicans hold a majority in the House and already have selected committee chairs and leaders for the 2019 and 2020 Legislative Sessions.
On Tuesday, GOP Rep. Jose Oliva of Miami Lakes will formally take over as House Speaker.