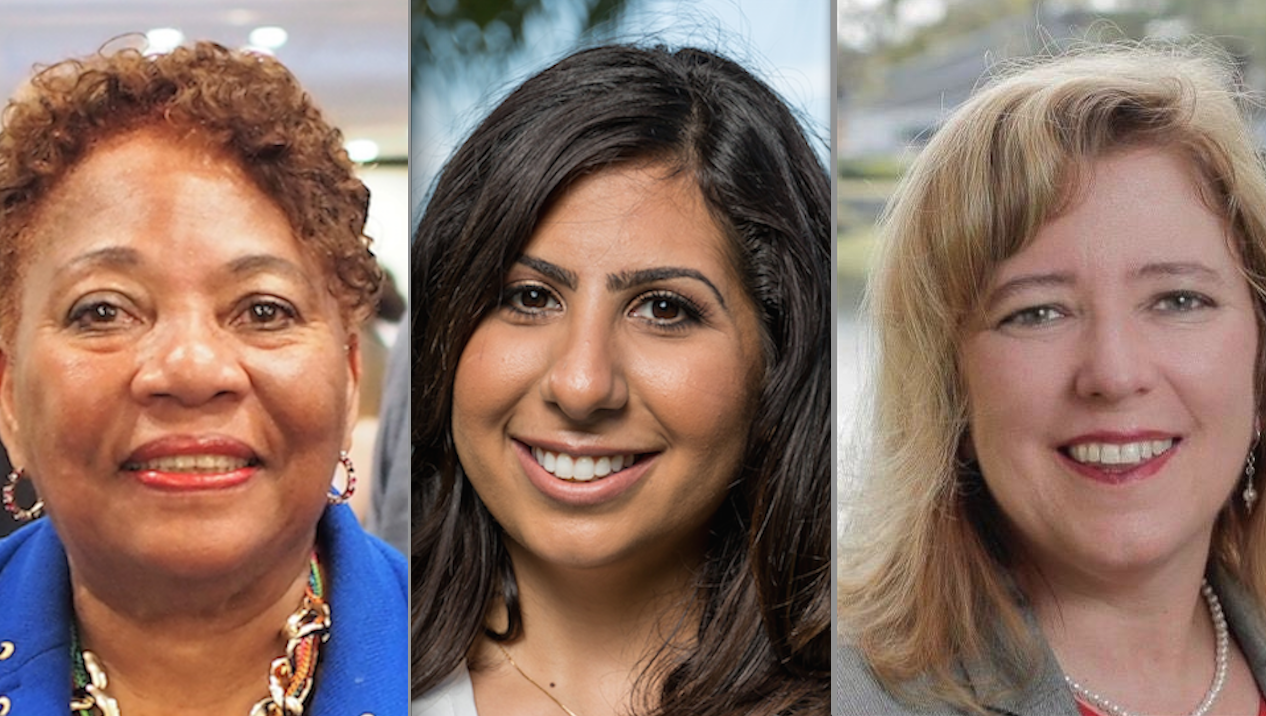 Orange County Democrats flipped three seats in the Florida House and, as state Reps. Geraldine Thompson, Anna Eskamani and Joy Goff-Marcil make their debuts, they're looking for practical starts.
On Nov. 6, the three Democrats flipped the partisan strength of Orange County's delegation from five Republicans and four Democrats, to seven Democrats and two Republicans. Thompson has been there before, representing another district. Eskamani and Goff-Marcil are new.
They did so as Democrats also took control of the Orange County Commission, already control the city of Orlando, and already hold all three Florida Senate seats representing the county. So the Orange County agenda for the 2019 Legislative Session is likely to be focused among local officials and their state lawmakers.
Yet aside from longterm, mostly defensive goals on broad issues ranging from public education to environmental protection, the trio of Florida House newcomers are focusing mainly on fairly practical issues that have chances of bipartisan support.
That may be their only hopes for success, as the Florida House remains solidly controlled by Republicans, along with the Florida Senate and executive branch.
Yet Thompson never has been timid about partisan issues in her previous tenures in the Florida Senate and Florida House, and Eskamani has never been timid about anything.
Thompson, the new representative for Florida's House District 44 in southwest Orange County, has been here before, serving as both a state Representative from another district and a state Senator for a district that covered much of HD 44.
But in 2016 she chose to run for Congress and lost, and for two years she has been on the outside looking in. Earlier this month she toppled Republican incumbent state Rep. Bobby Olszewski.
On Tuesday, hours after she was sworn in, Thompson took up the Democrats' leadership in the House for elections reform, along with House Democratic Leader Kionne McGhee. The move runs parallel with a call by Republicans for elections reform, though time will tell if the two paths will converge down the road.
"Cycle after cycle of elections have shown Florida to be ill-prepared, whether it's the fact that we don't have state-of-the-art machinery, whether the design of our ballots is problematic, whether it's the voter purge, it's all of those things that need to be addressed," Thompson said. "So I came with an interest in working on that and I expressed my interest."
She also wants to pursue the idea of turning the Secretary of State once again into an elected position and addressing the signature-matching issue and the timings of mail-in ballot acceptance and recount timings. These may keep the paths apart.
Her first priority, she said, is one she hopes the new administration of Gov.-elect Ron DeSantis and legislative Republicans will also be pursuing: Addressing polluted water runoff that ultimately spills into Lake Okeechobee, and then into the coastal waters, shocking the water.
"I'm interested in some restrictions on fertilizer to protect the environment. We have all of these fish kills and algae blooms and red tides, and I think that's a beginning. The environment is something I want to focus on. And it's a bipartisan issue, and I want to work across the aisle to get something done."
Thompson, who initiated the legislation that eventually became a bipartisan, unanimously-approved measure to express remorse and seek pardons for the Groveland Four, said she would like to take it a step further. She wants to pursue establishment of a state civil-rights museum. She noted that other states including Alabama, Georgia, and Mississippi have such museums.
"Florida has nothing, even though Florida was at the forefront, with the demonstrations at St. Augustine, with Dr. [Martin Luther] King there, the first martyrs to Civil Rights movements, Harry T. Moore and his wife, Harriette," she said.
"And so I think that we are short-sighted and we don't honor the sacrifices of so many people who brought us to where we are when we don't celebrate our civil rights history. So I'm going to work on getting a civil rights museum established in the state of Florida," she added.
Eskamani, of Orlando, defeated Republican Stockton Reeves to flip Florida's House District 47 in north and central Orange County, overcoming a barrage of negative campaigning that painted her as too radical.
Eskamani said her goal is to position herself as someone who does her homework and is prepared to take on practical issues she believes can draw bipartisan support, while at the same time being prepared to play defense on issues that go to the core of her progressive being, on topics such as abortion and LGBTQ rights.
For now, it's all about practical matters and seeking across-the-aisle alliances with the Republican-controlled House, Senate, and administration on such matters as health care access and the environment.
"I think that I am a partnership legislator. I work really hard to build relationships," she said. "At the same time, I'll work really hard to hold people accountable. So I think what works with me is, first, my ability to work with people across the aisle and work toward common ground when we can."
First up, she's interested in how to increase access to health care, including seeing whether local health departments could and should have more independence from the Florida Department of Health, as well as expansion of telemedicine, and less-controversial ideas for women's health.
"There is such a tight grip on what our health departments can do because there is such a tight grip out of Tallahassee," she said. "We all know that good policy, especially good health policy, is place-based. … I'd like to see more local freedom for changes that can be made at the county level."
Eskamani said she sees an opportunity to address women's health issues – her professional policy specialty – with discussions of pre- and postnatal maternity care, something she expects could help women's health while avoiding conflict over more controversial issues such as abortion.
"That's a conversation I had with both (Republican) state Rep. Scott Plakon and state Sen. Joe Gruters about, if you really want to be a state that helps women, then let's focus on prenatal and postnatal care," she said.
She's also looking slightly outside of her district to working with Brevard County Republicans, particularly Republican state Reps. Tyler Sirois and Thad Altman, on developing Florida's space economy.
"I did meet with some of our Brevard County legislators and asked about their interests, like a Space Coast caucus, and making sure we are competitive with our spaceport, but also not losing sight of the importance of research when it comes to space exploration," she said.
Goff-Marcil expects to focus on public education reform "as the most likely" area to get anything done and playing defense against any state efforts to limit Home Rule powers for cities and counties.
They are the two issues that Goff-Marcil focused on throughout her campaign which led to an upset victory in Florida House District 30 over two-term Republican incumbent state Rep. Bob Cortes. The district covers a piece of northern Orange County, where Goff-Marcil is from, and a swath of south-central Seminole County, which was Cortes' home.
Her district, which includes at least pieces of several cities including Maitland, where Goff-Marcil was a city councilwoman, and throughout the campaign and before Goff-Marcil said she was aware of the deep frustration of city and county officials who felt they were under attack by the Florida Legislature seeking to pre-empt local authority in areas from community redevelopment agencies to local ordinances regarding tree canopy protection.
"And then there were a lot of funding issues where they tried to pass these laws limiting [local] funding … taking away money from local government, meaning they would have to find money somewhere else," Goff-Marcil said. "So that means a reduction of services, or somewhere else they're going to have to try to get a fee or a tax to make up for it."
Coming from a city council, Goff-Marcil sees the struggle for local control, particularly in pressing for higher standards in local communities compared with state rules, as a bipartisan issue, something she and her Republican colleagues on the city council agreed upon.
She also ran on an environmental platform, particularly seeking to make sure the Flordia Forever Fund is not raided for purposes other than conservation land preservation. When reminded that she might have a supportive governor in Republican Gov.-elect DeSantis, who pledged environmental protection during his campaign, Goff-Marcil responded, "That's great. If he's willing to work on this problem, I am happy to work on it with him."