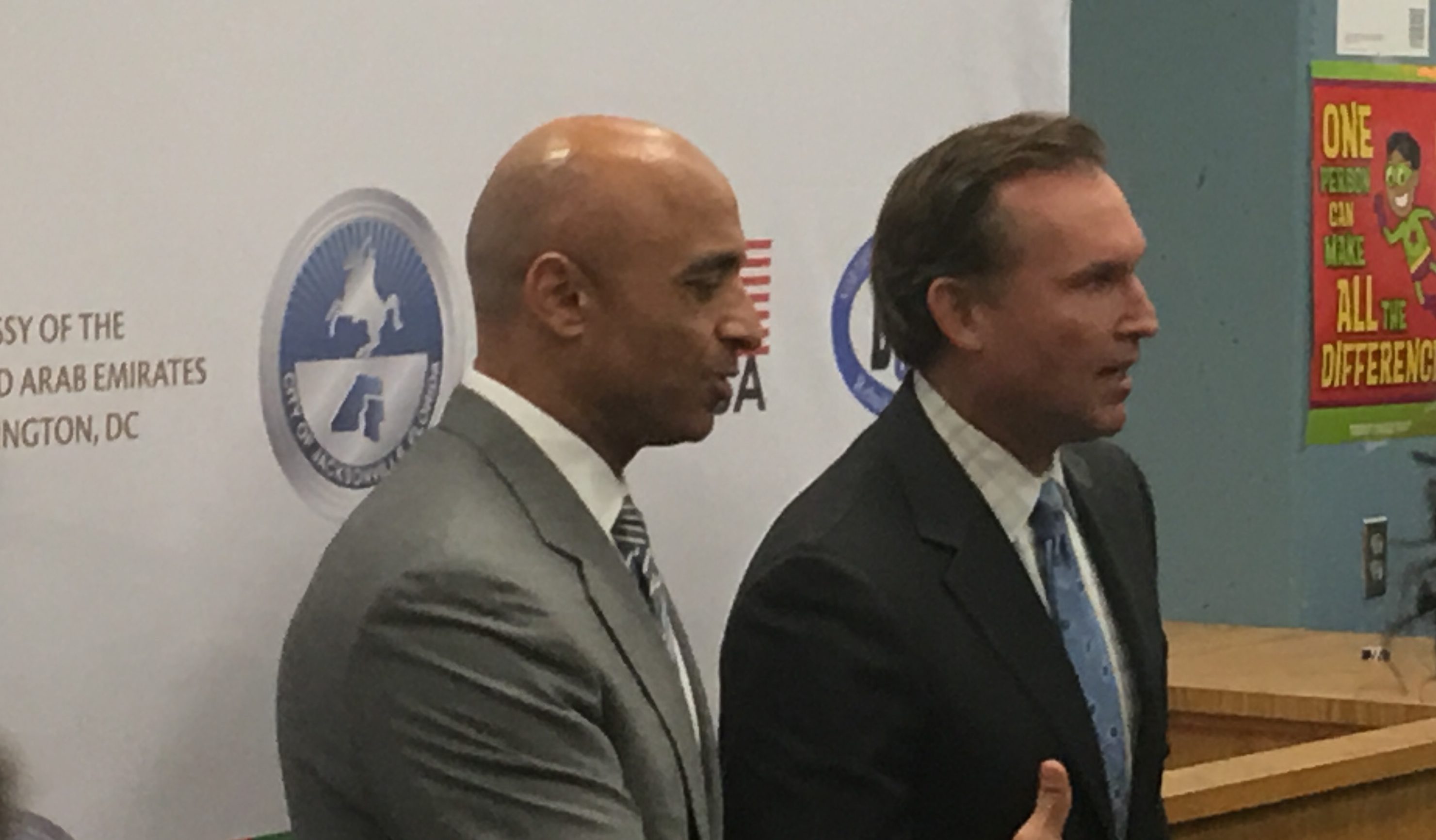 The final Jacksonville City Council meeting of 2019, on Tuesday evening, saw at least a hint of the interpersonal drama that has characterized the rest of the year.
At issue: a bill the Rules Committee revamped that would have returned a $2.775 million grant from the United Arab Emirates.
Back in October, the United Arab Emirates gave Jacksonville that money toward post-Hurricane Irma reconstruction.
City Council voted the appropriation through without a hitch in the summer, but second thoughts clouded members (and potential 2019 mayoral candidates) Republican Anna Brosche and Democrat Garrett Dennis when they considered the UAE's execrable human rights record.
Brosche introduced a bill to return the money, but Rules (taking cues from Mayor Lenny Curry, who accepted the donation at a ceremony in October, and Council President Aaron Bowman, who framed the Brosche bill as an "attack on religious freedoms") had different ideas.
Councilman John Crescimbeni, a Democrat, proposed a substitute to turn the bill into a gesture of appreciation. That cleared without objection.
Just as there are unfriendly amendments to a bill, so too are unfriendly substitutes. This one led Brosche to move to pull her name off the bill.
Brosche told us Tuesday that she didn't want her "name associated with a bill" that contravenes her original intent.
She emailed Legislative Services Wednesday after Rules: "In accordance with the Council Rules, please remove my name in any and every way possible for resolution 2018-813 (UAE donation bill)."
During the Jacksonville City Council meeting, Brosche moved to withdraw the bill, and that motion prevailed by a 14-4 vote, with Council President Aaron Bowman and Councilman Crescimbeni among the opposition.
A motion to reconsider followed, with Crescimbeni and Bowman teaming up and bringing the bill back for a second try.
Brosche brought back her withdrawal motion. Some confusion ensued, before conversation moved on that motion.
"Time and time again, I'm totally disappointed in this body. The leadership of the body," said Councilman Garrett Dennis regarding the subversion of the bill's original intent.
"You need to look yourselves in the mirror and decide, are we making decisions based on good policy or vendettas," Dennis asked rhetorically. "Be bigger than this."
Dennis then ran out the clock on his allotted time, to scattered applause from the members of the Northside Coalition of Jacksonville in the back.
Councilman Greg Anderson urged no comments from the audience, as an Abraham Lincoln impersonator nodded.
Councilman Terrance Freeman, the appointed Councilman for District 10, said his district needed the money.
"Maybe it's going to take somebody from the outside to … bring change," Freeman said, discussing the challenges the Ken Knight Road area in his district faced during Hurricane Irma.
"When this UAE money came, they were more excited than I. When they were blessed with it, I wasn't going to let anyone take it away from them," Freeman said. "If they want it, I'm going to fight for it."
Councilman Tommy Hazouri railed against charges that Council was being "vindictive" relative to bills sponsored by Brosche and Dennis. Hazouri, describing himself as "Mr. Human Rights," noted that America gives aid to many countries, and he's "not ashamed" of taking money from the UAE.
Councilman Danny Becton noted that the matter is as simple as Brosche not wanting her name on the bill, and he supported withdrawal.
"We should honor the intent of legislation we pass," Becton said.
The bill was finally withdrawn.
Given the recurrent talk that Brosche may run for Mayor (qualifying ends Jan. 11), she notes there might be a desire from political enemies to "stick it to" her once again.
Brosche is still mulling her next political move, which could be a re-election bid, a run against Curry, or nothing at all.
"All my options are on the table," she says.