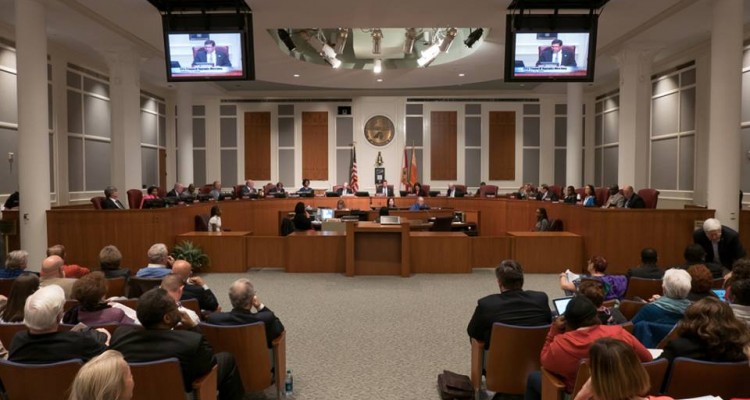 With qualifying now in the rearview mirror, the Jacksonville Chamber of Commerce's JAXBIZ political arm finished rolling out its 2019 endorsements.
The third and final wave of endorsements included one incumbent for re-election: Republican Al Ferraro, of District 2. District 10 incumbent Republican Terrance Freeman was also backed in his bid in At-Large Group 1 (over Lisa King, who was backed by JAXBIZ against Ferraro in 2015).
Additionally, Republicans Rose Conry and Randy DeFoor were endorsed in District 6 and 14; each are running for what will be open seats.
Democrat Tameka Gaines Holly got business backing in District 8, with JAXBIZ choosing Holly over Ju'Coby Pittman, who was appointed last year by then-Gov. Rick Scott.
In District 9's battle of Democrats, political newcomer Marcellus Holmes got the nod over incumbent Garrett Dennis, an irritant to the Chamber-backed Mayor. And in open District 10, Democrat Celestine Mills got the nod in a crowded field.
Late last month, JAX BIZ moved the following picks: Matt Carlucci, At-Large Group 4; LeAnna Cumber, District 5; Rory Diamond, District 13; Ron Salem, At-Large Group 2.
Diamond and Cumber have advanced without opposition. Carlucci and Salem have opponents, but have prohibitive fundraising advantages over the field.
These candidates joined a previous rollout of endorsees announced earlier in December, including Democrat Joyce Morgan over Republican Bill Bishop in Arlington's District 1.
The Chamber aligns with Mayor Lenny Curry, and it's clear that they don't Bill-leive in Bishop (Though there is a narrative that Bishop might have been favored if he endorsed Curry's re-election).
Many of their other previously announced choices (Council President Aaron Bowman, Council Vice-President Scott Wilson, Tommy Hazouri, Randy White and Danny Becton) face either no competition or opponents doomed to lose the resource battle.
The Chamber previously announced backing Democrat Reggie Gaffney in District 7. Gaffney, a reliable vote for Chamber priorities, faces a crowded field in his race.
The group also backs Republican Sam Newby, who faces a Democrat and an NPA candidate in his at-large race.
Jacksonville holds its first election in March. Should no one win with a majority, the top two finishers hold a general election in May.