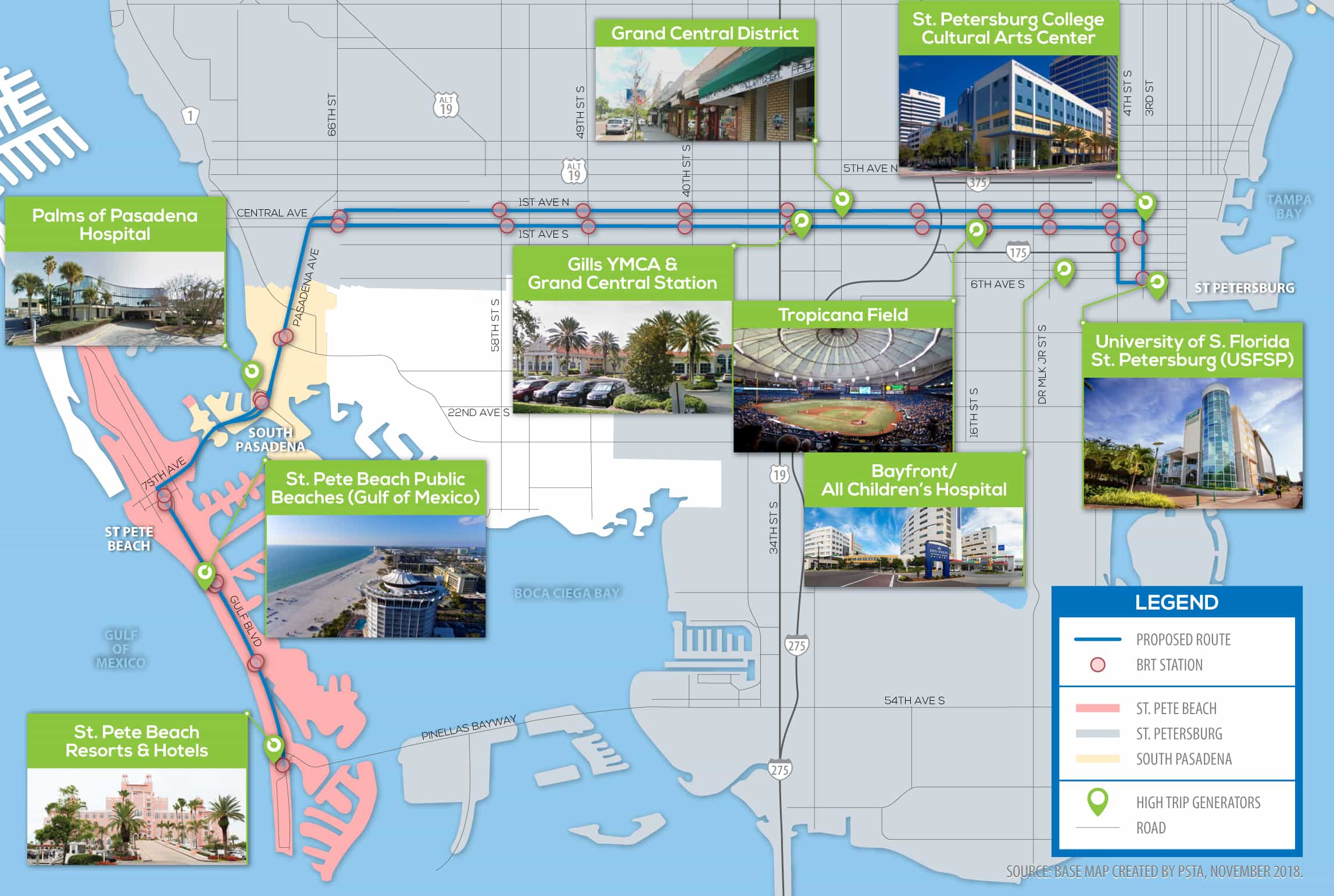 The Federal Transit Administration awarded the Pinellas Suncoast Transit Authority $1.2 million through its Pilot Program for Transit-Oriented Development Planning, the agency announced Wednesday.
The grant will fund transit-oriented development planning along the proposed Central Avenue Bus Rapid Transit route planned to connect downtown St. Petersburg to the Gulf Beaches along First Avenues North and South.
"We have a beautiful flower planted in the dirt — a seed planted for the Central Avenue BRT," PSTA CEO Brad Miller said. "This grant we just got is like fertilizer onto that flower to make it even more bright and beautiful. Transit-oriented development just makes the investment even more valuable."
The $42 million project is almost fully funded.
Local contributions totaling $20 million have already been either secured or promised. The Florida Department of Transportation has included the project in its work program, which accounts for $10 million of the state and local portion. The city of St. Pete has pledged $4 million and the remaining $6 million will come from PSTA and a variety of local in-kind contributions or private investments, according to Miller.
The Federal Transit Administration awarded the project its second highest rating in its New Starts program, positioning the project for the $22 million federal grant rounding out the rest of the project cost.
The latest grant would fund plans for future development that could include anything ranging from affordable housing to new business development.
"Instead of spending a lot of money on parking, maybe [developers] don't have to build as much, saving them money to create more affordable housing or residential density," Miller said.
The Central Avenue BRT project is an 11-mile route planned to open in late 2020 or early 2021 that would run in mostly dedicated lanes to provide faster trips from downtown to the beach. It would provide a faster alternative to the already existing Central Avenue Beach Trolley that makes more frequent stops. That route would still run for travelers making shorter trips along the route.
"We are thrilled for this exciting news and victory for our community as it is an incredibly competitive grant program," PSTA Board Chair and Pinellas County Commissioner Janet Long said. "Being selected for this grant speaks to the regional support and overall quality of the BRT project in Pinellas County. This again demonstrates the importance of partnership and continues to show what we can get done when we work together."
Forward Pinellas, the county's Metropolitan Planning Organization and the city of St. Pete requested the funding for transit-oriented development planning.
"High quality transit depends on easy walking access to destinations and a sufficient amount of density to make the service cost-effective," Forward Pinellas Executive Director Whit Blanton said.