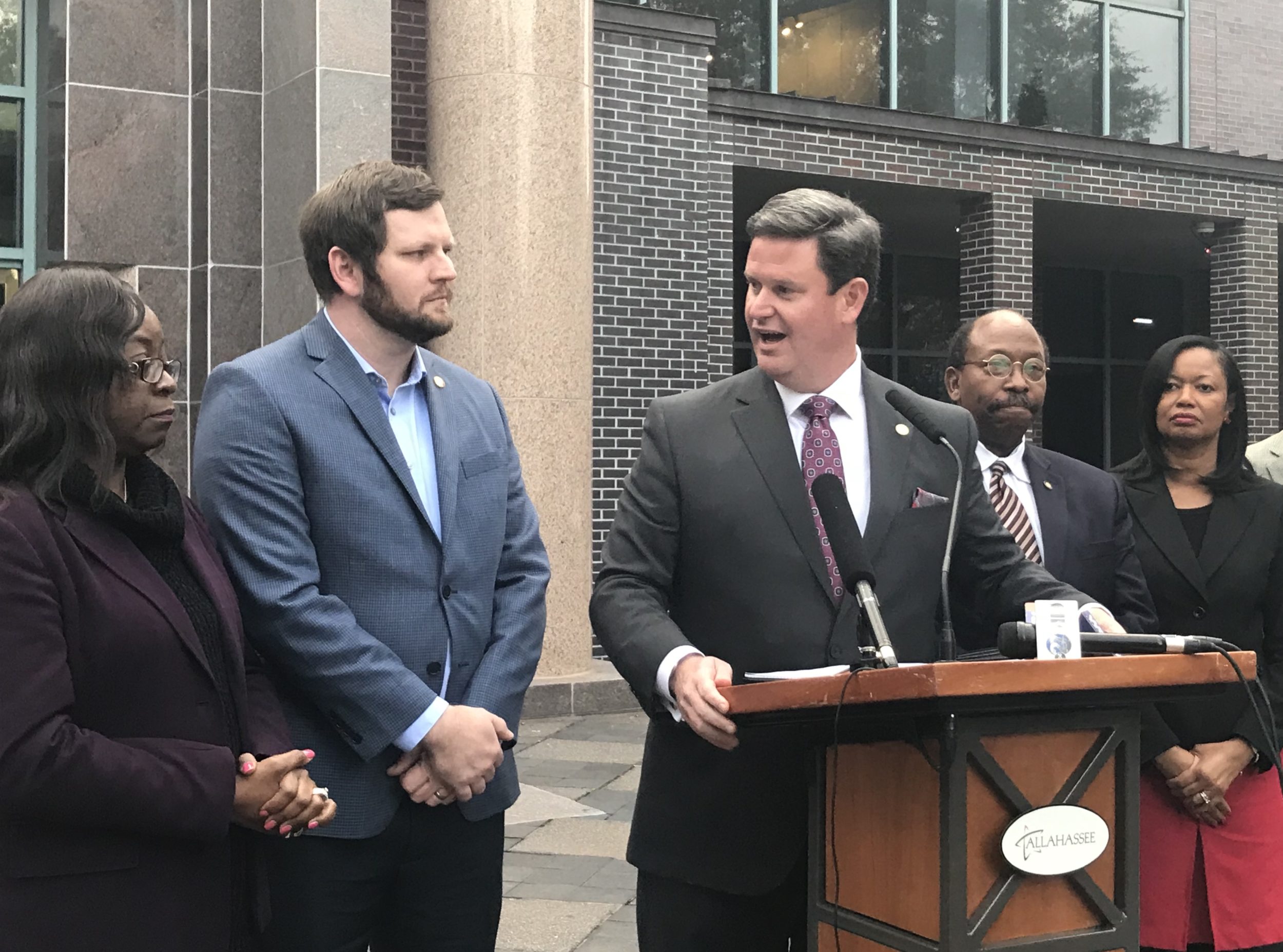 Tallahassee is primed to install an interim City Commissioner before ringing in the new year.
The City Commission will hold a special meeting at 4 p.m. Monday to consider and select one of nine finalists to replace Scott Maddox.
Gov. Rick Scott suspended Maddox earlier this month after Maddox and former Downtown Improvement Authority Executive Director Paige Carter–Smith were indicted by a federal jury on public corruption charges. Both have pleaded not guilty. 
Commissioners last week published a shortlist of nine, whittled from a crop of 93 applicants, to fill the Seat 1 vacancy.
Among them: Elaine Bryant, the owner of a Tallahassee-based consulting and training firm; Gallop Franklin II, an assistant professor of pharmacy at Florida A&M University; Tabitha Frazier, a former elected official and nonprofit founder; Saralyn Grass, who co-founded Grasslands Brewing Company; Byron Greene, a longtime administrator of FAMU's Florida Georgia Louis Stokes Alliance for Minority Participation; Lila Jaber, a lobbyist at the Gunster firm and a former Public Service Commissioner; Howard Kessler, an orthopedic surgeon and longtime former member of the Wakulla County Commission; Will Messer, president and CEO of Messer Insurance Group; and Bruce Strouble, who competed against Maddox for Seat 1 in 2016.
Odds favor Frazier, who received shortlist nods from Commissioners Curtis Richardson, Dianne Williams–Cox and Jeremy Matlow. Strouble, who competed against Maddox for Seat 1 in 2016, is a second favorite, appearing on shortlists published by Matlow and Williams-Cox.
No other names appeared more than once.
One source familiar with the City Commission, however, described Monday night's meeting as anything but a coronation of Frazier, who recently resigned from her spot on the Leon County Soil and Water Conservation District, the Tallahassee Democrat reported. 
There's been a last-minute push for other finalists, namely Bryant. 
The Leon County Republican Party has spoken out against Frazier as well, though its sway on the nonpartisan but liberal-leaning commission is questionable, at best.
Still, City Hall's agenda, which lays out the process by which the newest Commissioner will be selected, suggests a swift nomination and subsequent selection of Frazier.
After each finalist delivers a five-minute pitch to the panel, Commissioners will make nominations in order of seniority.
Richardson, who has the longest tenure on the panel, will nominate first. Richardson put Frazier at the top of his shortlist.
All members will get a chance to nominate a finalist before heading to a vote, which helps Mayor John Dailey, who is last in line to nominate, speak his mind on the finalists. Neither Frazier nor Strouble is included on Dailey's shortlist.
The Commission will then consider all nominations who received seconds, voting on each in the order they were nominated. The first to receive three votes will be sworn in.
The process will be a glimpse into the dynamics of the fledgling Commission (only Richardson has any tenure on the now four-member body).
And Dailey is a new Mayor who seems to be signaling a light-touch approach to governance; he's already downsized and relinquished power from the office.