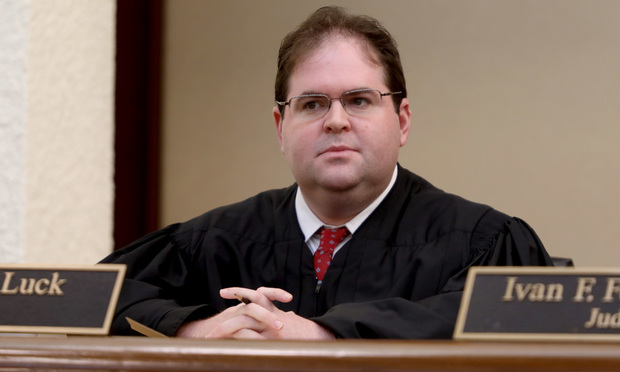 Leaders in law, politics and business chimed in after news that Gov. Ron DeSantis had appointed appellate judge Robert Luck to fill a vacancy on the state's Supreme Court:
— Republican Attorney General Ashley Moody: "Judge Luck has distinguished himself in his service as a federal prosecutor, circuit court judge, and a judge on the Third District Court of Appeal. He will be a great addition to the Florida Supreme Court.
"As a former judge and prosecutor, it is important that we have well-qualified justices who are committed to the rule of law. Personally, I am excited about Justice Luck's appointment. We served as circuit judges at the same time and we taught judges together constitutional principles and fundamental rights against unlawful governmental intrusions.
"I know he will be a vigilant guardian of freedom and separation of powers. My office looks forward to appearing in front of the full Florida Supreme Court, including Justice Luck."
— Senate President Bill Galvano, a Bradenton Republican: "I was pleased to read that Justice Luck commented during the announcement of his appointment that the Constitution, not the Judiciary, is supreme. I certainly agree.
"Governor DeSantis has demonstrated again today that he is committed to appointing judges who have the utmost respect for the separation of powers defined in our Constitution. I wish Justice Luck well as he begins his service on our state's highest court."
— U.S. Sen. and former Gov. Rick Scott, a Naples Republican, in a tweet: "Another strong choice from @GovRonDeSantis! Congratulations to Robert Luck on his appointment to the Florida Supreme Court. I was proud to appoint him to the District Court in 2017 and I know he will always uphold the Constitution and the rule of law."
— House Speaker Jose Oliva, a Miami Lakes Republican: "… a welcome development for all who believe in judicial restraint. Justice Luck's vocal repudiation of judicial activism and opposition to legislating from the bench is both a refreshing and reassuring judicial philosophy.
"With each nomination the Governor is solidifying Florida's place amongst those who cherish freedom and the rule of law. I congratulate Justice Luck and his family and welcome another Miami native to the Florida Supreme Court."
— Sen. Perry Thurston Jr., a Fort Lauderdale Democrat: "With his last appointment to Florida's Supreme Court imminent, we are again urging Governor Ron DeSantis to maintain diversity on our highest court. We know there are candidates not being considered that are highly qualified and represent Florida's diversity."

— Florida Family Policy Council President John Stemberger: "Robert Luck is a brilliant jurist. To speak with, or listen to Judge Luck, is to realize you are in the presence of a truly unique and Scalia-like intellect.
"Luck fully understands that the role of a judge is a limited one of restraint. He has demonstrated over the years through his written decisions and public statements, that the job of a judge is to interpret law as it is written and not make law or engage in result-oriented decision making.
As an observant Jew, Luck is also grounded in ethical and moral principles that will surely guide and inform his service to the state of Florida. Once again, Ron DeSantis has made a very solid appointment that will help to define his legacy as Governor for years to come."
— William Large, president of the Florida Justice Reform Institute: "Governor DeSantis' appointment of Justice Luck … continues an impressive record of accomplishment in only the first few days of his administration. DeSantis' actions are the mark of a leader determined to exert the executive's constitutionally lawful check on the judicial branch of government.
"Justice Luck's broad experience and legal acumen will serve the Court well. The Florida Justice Reform Institute applauds Governor DeSantis' for his continued commitment to setting a new course for our Florida Supreme Court."
— Fred Karlinsky, Greenberg Traurig shareholder and member of the Florida Supreme Court Judicial Nominating Commission: "Governor DeSantis made another excellent and very thoughtful Supreme Court selection. Robert Luck has a good record on the bench and a reputation as someone who is going to uphold the law. Like newly appointed Justice Lagoa, he has been dedicated to public service."