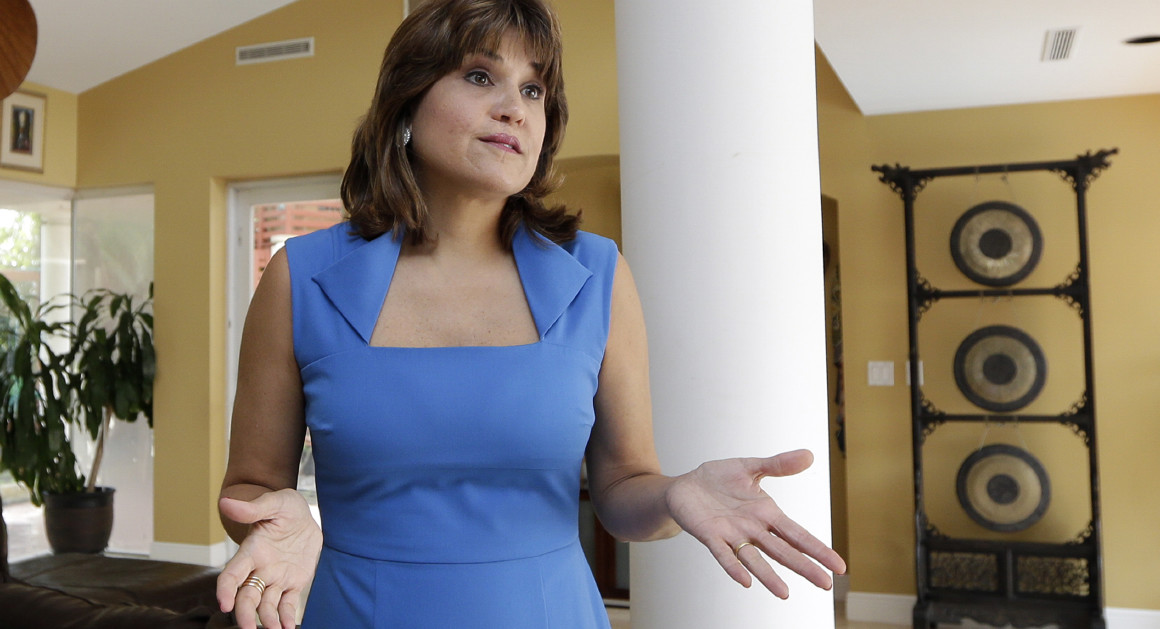 Taddeo tried to oust Terrie Rizzo. She was soundly defeated.
 On Sunday, the Tampa Bay Times named Florida Democrats as the Winner of the Week in Florida politics for their voter registration efforts.
Meanwhile, party chair Terrie Rizzo secured a major victory over her biggest critic, state Sen. Annette Taddeo, by securing the support of statewide Demss who voted to support her with a Party Unity resolution that passed 845 to 138.
It's no secret that Taddeo had been attempting to undermine Rizzo through a series of press stories and unflattering quotes.
Taddeo led a small group of critics in forcing a meeting of Florida Democrats and was making calls to party leaders, indicating she had the votes to oust the chair.
The vote results showed the opposite, with Rizzo receiving massive support and a resolution Taddeo backed going down in defeat by a margin of 2 to 1.
And after being soundly defeated, Taddeo showed her petty side by abstaining from voting on the "Unity Resolution" calling on Florida Democrats to end their bickering, come together and support leadership. That resolution passed by a margin of 6 to 1.
Pettiness after a loss is nothing new for Taddeo. Neither is losing.
When asked if she would support the Democratic nominee after losing in a primary bid for Congress, she said "one step at a time." That's not the type of rhetoric expected from a state party chair.
Many at the meeting noted Rizzo was dealt a tough hand with the resignation of Stephen Bittel and Sally Boynton Brown less than a year before the election, but still managed to deliver significant wins for Florida Democrats, including Nikki Fried as Commissioner of Agriculture, flipping two Congressional seats and helping bring the largest Democratic delegation to the Legislature since 1998.
Those same leaders also pointed out that Taddeo lacked the bona fides to run the party. Topping the list: Her losing record in decidedly blue Miami-Dade while serving as Chairwoman of the Miami Dade County Democratic Party.
In addition, party leaders and insiders cited her losing record as a candidate.
Taddeo lost both of her congressional bids, including a stinging primary loss to former U.S. Rep. Joe Garcia after outspending him 10 to 1 and having the support of the DCCC.
Taddeo also lost a bid for Miami-Dade Commission and to be her local party's State Committeewoman. Of course, she was also on the losing side in 2014 as Charlie Crist's Lt. Gov. pick.
The losing streak is one thing. She's also consistently (and bafflingly) pretended to be a member of the "middle class."
As Florida Politics reported, she was selling a 6,500-square-foot mansion valued at $1.25 million in 2015, and she spends campaign funds in the way one would expect of a faux member of the middle class. She also avoids walking the walk on many Democratic Party priorities, such as hiring overseas contractors at her small business so she doesn't have to pay for their insurance or employment taxes.
If Florida Democrats are looking to lose some elections, Taddeo would have been a great pick for party chair. But that's not the case, and according to fellow Sen. Kevin Rader it never will be.
"Taddeo's constant, unfounded attacks on the party leadership was a self-serving and transparent attempt to become the party chair herself," he said. "That's never going to happen and she would be better served helping our caucus recruit and elect more state senators."