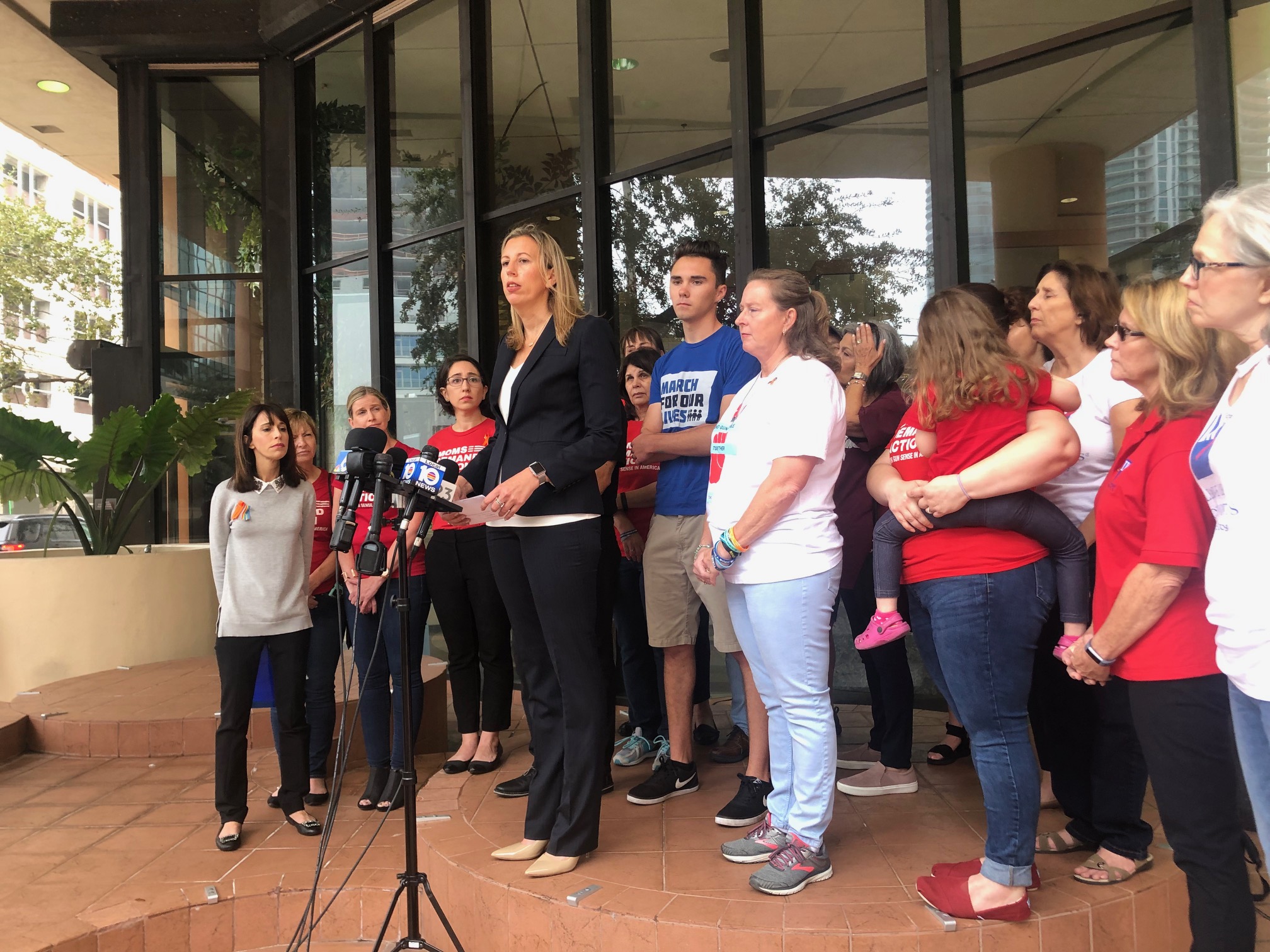 About 11 percent of the required signatures have been gathered so far.
A proposed amendment to ban assault weapons moved a step forward Monday, with several Parkland family members announcing a petition drive to place the measure on the 2020 ballot.
Members of Do Something Florida gathered in front of the Broward County Governmental Center in Fort Lauderdale Monday morning to formally announce the petition drive. That's the same spot where Parkland parents Lori Alhadeff and Ryan Petty announced their respective bids for Broward County School Board last May.
"Banning military-grade weapons, like the one which claimed 17 of my classmates and friends, would be a great step towards curbing our epidemic of mass shootings," said David Hogg, who survived the Parkland shooting.
"These types of bans have already been implemented in eight other states and in D.C. It's time for Florida to do something and lead the way for the rest of our nation."
The group's political action committee, Ban Assault Weapons Now (BAWN), announced its efforts to push for a 2020 Amendment late last year. Do Something Florida is made up of multiple families who lost loved ones in last year's shooting.
But not all Parkland families are behind the assault weapons ban. Petty — who lost his daughter, Alaina, in the attack — has said that the priority should be broader school security efforts rather than banning guns.
And Andrew Pollack — whose daughter, Meadow, was killed — has said efforts to push for stricter gun control "go in the wrong direction."
BAWN filed the proposed language for the amendment in November. It would bar possession of "any semiautomatic rifle or shotgun capable of holding more than 10 rounds of ammunition at once." That ban would not apply to handguns.
"One year after our beautiful children and loved ones were killed in Parkland, we are turning our grief into action," said Gail Schwartz, aunt of Parkland shooting victim Alex Schachter and chair of Do Something Florida.
"This is not about taking away anyone's rights, it's about saving lives. We ask our fellow Floridians to join us in helping to send a message that we will no longer sit idly by while our precious children and fellow Floridians succumb to weapons meant for war zones. It is time for Florida to do something."
As of Monday, the group has gathered 88,000 of the 766,200 signatures needed in order to be able to be placed on the 2020 ballot. Those petitions were filed with the Broward County Supervisor of Elections office. The group plans a push to obtain the remaining signatures needed in the months ahead.
Al Hoffman, founder of Americans for Gun Safety Now (AFGSN), also released a statements on the effort to ban these weapons. AFGSN is working with BAWN on the 2020 amendment.
"Together, Americans for Gun Safety Now and Ban Assault Weapons Now have formed this truly bipartisan coalition to educate Floridians and move us to action on gun safety," Hoffman said.
"We look forward to supporting Do Something Florida's efforts by educating Floridians on the critical need to ban military-grade assault weapons in our state to protect the ones we love."