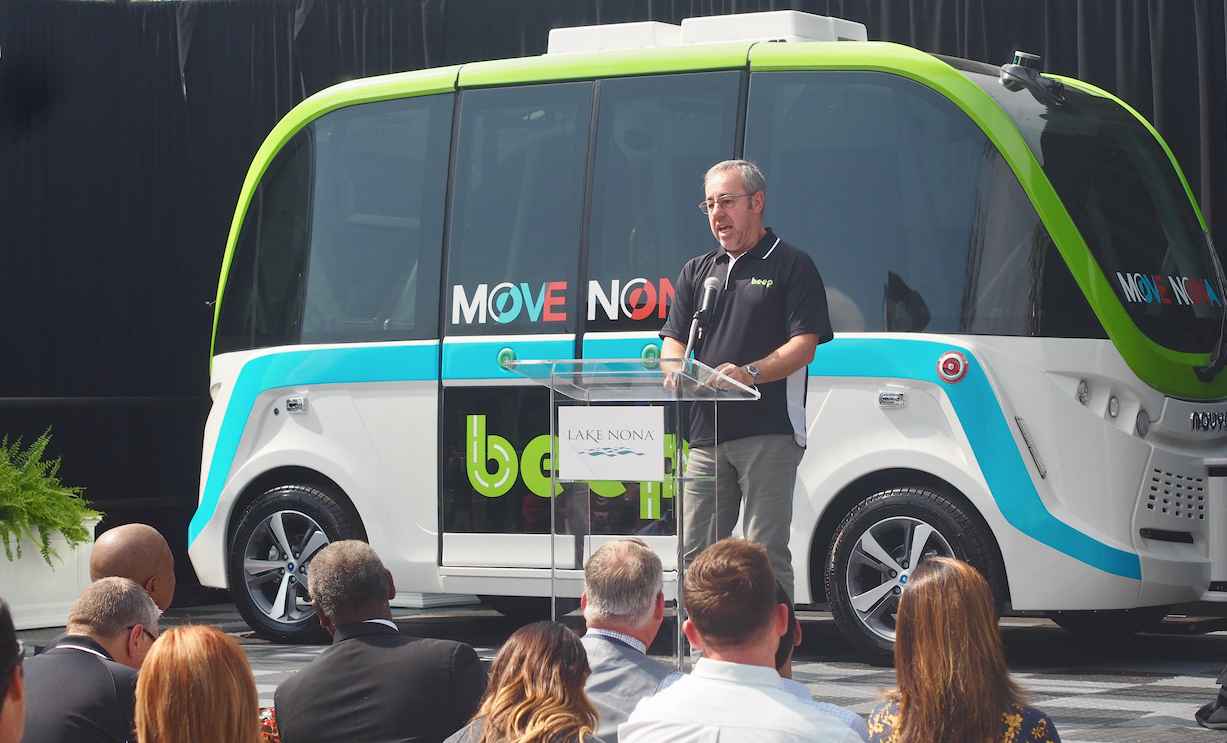 The first two driverless shuttle buses are expected to start operating this spring.
Electric, autonomous shuttle buses soon will be rolling through Orlando's sprawling, "smart" Lake Nona development.
Tavistock Development Co., joined by Orlando Mayor Buddy Dyer, Orange County Mayor Jerry Demings, and representatives of two transportation technology companies, announced Tuesday that the driverless shuttle buses will emerge soon, carrying riders around the partially developed southeast Orlando community that already includes hospitals and other medical facilities, a sports complex featuring the United States Tennis Association headquarters, and various other commercial and residential projects.
The 17-square-mile Lake Nona community is being designed, developed, and marketed as a high-tech city within the city of Orlando, and now two companies, Beep and NAVYA, will be making it one of the first in the United States to include driverless transportation. Beep also announced it would establish its corporate headquarters in Lake Nona.
The first two driverless shuttles, run by computer, are expected to start operating this spring. The route has not yet been determined. NAVYA is providing the shuttles and Beep the software. They can hold up to 15 people, including an attendant, and travel at up to 16 mph.
Lake Nona developers are calling the shuttles part of their mobility plan called "Move Nona," as steps against carbon emissions, air pollution and congestion. Tavistock also is rolling out parts of the plan that include  paved and unpaved trails, electric vehicle charging stations, bike share program, community shuttles and a car share program featuring Tesla Model 3s.
"Over the few years we have recognized that if you don't adopt 'smart city' principles in your city you're going to be left behind," Dyer said. "There's going to be those cities that do and those cities that don't and it's going to be easy to speculate about which cities will be successful.
Lake Nona, which is beginning to boom after a slow start 10 years ago, exemplifies both the possibilities and challenges of smart growth. The community is being carefully planned to incorporate 21st century technologies and smart growth within it. Yet it's also far outside the urban core of the Orlando area, in some ways the kind of sprawl that some urban planners charge taxes regional transportation infrastructures. After the U.S. Veterans Administration Medical Center opened there in 2014 county officials pushed hard to get LYNX bus service extended into the area to carry veterans. There also has been talk of a rail connection to Orlando International Airport and the region's SunRail commuter rail system.
"As we look to address the region's multi-modal transportation network, we in Orange County are refocusing our transportation planning towards enhancing transit through smart growth and on sustainable mobiloity," Demings said. "Central Florida is working to build our existing transit assets including SunRail and LYNX. We want autonomous vehicles to be a part of that."