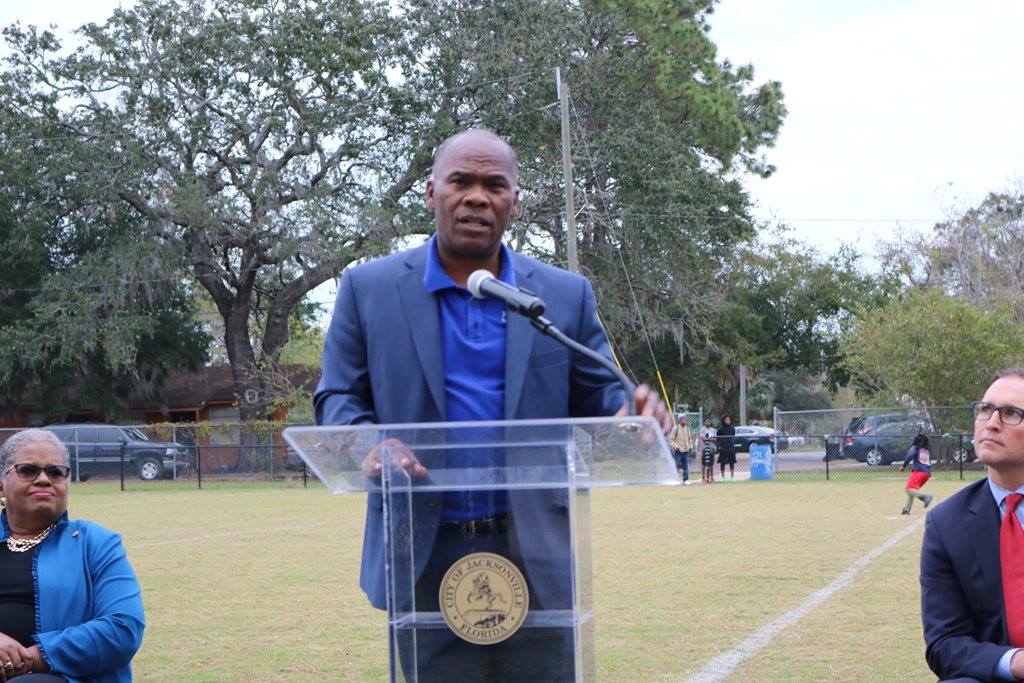 Donors are breaking toward Lenny Curry allies in key Jacksonville City Council races.
With the first election three weeks and one day away in Jacksonville, some previously esoteric City Council races look clearer.
Here are a few of note this week:
______
$100,000 Pyramid: Time was when some were skeptical that Democrat Reggie Gaffney would get elected for a second term in District 7.
However, the money has moved in his direction, and even if he doesn't win in March, odds are good he can prevail in May.
A May runoff, especially if there is no action atop the ballot, will be attractive to Gaffney investors.
Gaffney cleared $100,000 raised in the week between Feb. 9 and Feb. 15, with a $4,000 haul pushing him into six figures.
The incumbent has roughly $80,000 on hand, with his closest competition in the money race (self-financing Solomon Olodape) with just a fourth of that cash-on-hand. Sharise Riley has roughly $15,000.
Gaffney's district contains the Jacksonville Landing and the Sports Complex, two of the most closely-watched properties in the city.
_____
$200,000 Threshold: The competitive race in Jacksonville City Council District 14 is starting to show some real separation in cash on hand.
Republican Randy DeFoor, in a race that looks likely to go past the March first election to a May runoff, reported Friday that her campaign had raised over $200,000 in hard money, with $5,350 brought in between 2/9 and 2/15.
DeFoor has roughly $145,000 in hard money, and an additional $26,000 in her Safe and Prosperous Jacksonville political committee.
In second and third place in fundraising: two Democrats.
Sunny Gettinger has raised nearly $129,000, with just under $67,000 on hand. Jimmy Peluso has nearly $45,000 on hand of the $55,000 they have raised.
For those interested in hearing from the two Democrats, there's an opportunity Tuesday at 7 p.m. in Five Points.
Rain Dogs will host a forum with the two candidates. Jacksonville journalist Shelton Hull moderates.
_____
Will the poll hold?: A recent UNF poll of the citywide Jacksonville City Council At-Large Group 1 race shows Democrat Lisa King well ahead of the field.
King, with 32 percent, leads Republican candidates: Jack Daniels, Terrance Freeman and Gary Barrett, with 10 percent, 5 percent, and 5 percent.
However, there is reason to believe Freeman, an Gubernatorially-appointed incumbent in District 10, will rise up from the pack soon enough.
Of the candidates in the race, Freeman looks best positioned not just to survive the first election in March, but also to message in May.
Freeman has just over $60,000 in hard money and another $16,000 in his state-level political committee, Building Bridges; King, a former chair of the Duval County Democrats, has roughly $20,000.
King and Freeman each raised roughly $6,000 in the most recent week of fundraising.
Freeman is the establishment choice here. Carlo Fassi is handling consultant work for Freeman, a former assistant to Council President Aaron Bowman.
_____
New term for Newby?: That same UNF poll shows a tight race in At Large Group 5,
Sam Newby, the incumbent Republican, has 31 percent support; Chad Evan McIntyre, the Democrat, has 29 percent. A full 34 percent of voters are undecided.
As is the case in the Freeman race, Newby likewise is well-positioned here, with fundraising momentum mounting.
Newby brought in $5,000 more in the most recent week of fundraising, He's raised just over $61,000 and has roughly $52,000 on hand.
He's won citywide on less: Newby took roughly $10,000 and won citywide four years prior, with his performance tracking closely with that of Republican Mayor Lenny Curry.
McIntyre has roughly $9,000.
If this race survives the March first election, expect the resource gap to widen.
Newby is a strong Curry ally and lieutenant. McIntyre would not line up with the administration.
Also worth watching: whether a lack of a Democratic mayoral candidate matters here in terms of down-ticket turnout.