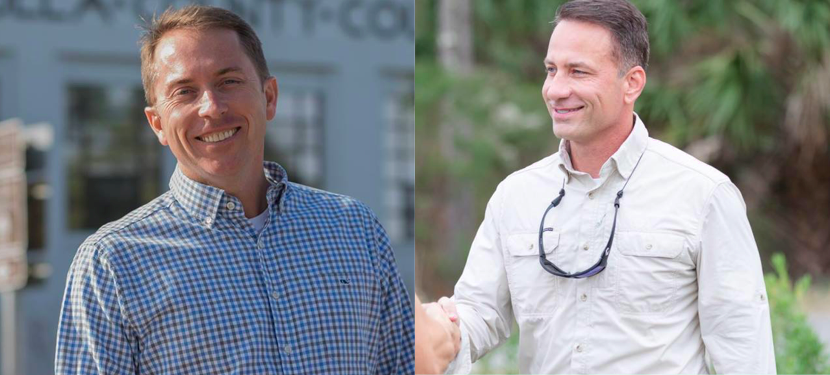 Monday marked the second-to-last reporting deadline before the special primary.
The money race is tightening between two Republican candidates hoping to replace former state Rep. Halsey Beshears.
Jason Shoaf — boosted by loans, real estate and business interests, and connections to Panhandle political players — at the end of February had surpassed Mike Watkins' early fundraising lead, according to data maintained by the Division of Elections. 
Shoaf, a Port St. Joe businessman, reeled in nearly $100,000 in true fundraising to his campaign account during January and February. He loaned his campaign another $20,000 during the same period.
A political committee affiliated with Shoaf, Protect Our North Florida Values, had raised $41,000, more than $30,000 of which was still unspent at the end of February.
That means Shoaf by March amassed nearly $211,000 since he entered the race in the middle of December. Of that total, $50,000 have come through personal loans.
Watkins, the CEO of Big Bend Community Based Care, boasted just shy of $43,000 in true fundraising during the past two months. But he's been actively raising money for more than a year, anticipating he'd run for the seat when Beshears term-limited out in 2020. He has raised a total of $190,000, more than $150,000 of which was ready to deploy at the end of February. He has not loaned his campaign any money. 
Shoaf has spent the past two months increasing his visibility to GOP voters in the 10 Northwest Florida counties that make up the district, launching both digital and television ads. At the end of February, he had about $116,000 on hand between his campaign account and committee.
Shoaf's campaign account has spent nearly $95,000, a good bulk of which — $37,800 — on a large ad buy in January. Campaign costs for things like consulting, ad production, signs, prints and t-shirts have accounted for more than $37,000 in expenses.  
If Shoaf does not spend his loans, he has between both accounts about $66,000 to spend.
Monday's deadline to report campaign finance activity is one of the last true glimpses at the money for this race. The primary election is April 9. The next reporting deadline is April 5. 
Both Watkins and Shoaf are outraising the other two Republicans, Lynda Bell and Virginia Fuller.
Bell, a former mayor of Homestead in South Florida, has raised and spent about $2,300 so far. She loaned the campaign $10,000 during the last reporting period.
Fundraising totals for Fuller, who last year mounted an unsuccessful GOP challenge to Democratic U.S. Rep. Al Lawson, had not been posted to the Division of Elections website by late Monday night.
The interests and names that have lined up behind Shoaf and Watkins began chipping in during the last period.
Shoaf recently picked up an endorsement from Florida Realtors. A Tallahassee real estate group cut a $1,000 check to Shoaf, and a number of property appraisal professionals or other real estate interests have given to Shoaf's candidacy.
Shoaf is a vice president at the St. Joe Natural Gas Company. Two committees linked to propane and natural gas interests each gave $1,000 during the last reporting period.
Shoaf also appears to have endeared himself to Florida business interests. The National Federation of Independent Businesses recently backed his candidacy. A committee linked to Associated Industries of Florida gave a $1,000 check to Shoaf last month. Comcast and NBC Universal each gave $1,000 as well.
Watkins likewise is benefitting from recent endorsements. The Florida Police Benevolent Association, a vocal supporter of Watkins, cut two $1,000 checks to the campaign. Plenty of health care and child care interests also have given to Watkins, a child-welfare professional.
A member of the Triumph Gulf Coast Board, Shoaf received money from fellow board members or businesses linked to them.
That's noteworthy because Watkins has accused Shoaf of leveraging his position on Triumph to raise money and called on Shoaf to resign from the nonprofit, which will administer $1.5 billion of the $2 billion settlement the state reached after the 2010 Deepwater Horizon BP oil spill. 
Don Gaetz, a Republican former Senate president who chairs the Triumph panel, chipped in $1,000. So did Gaetz' wife, Victoria. A committee linked to U.S. Rep. Matt Gaetz, who endorsed Shoaf early on, also cut a $1,000 check.
Two companies linked to Allan Bense, a Republican former House Speaker who sits on the Triumph board, each gave $1,000. Bense himself contributed $5,000 to Shoaf's political committee. Pam Dana, another Triumph member, donated $500. Stephen Riggs, the panel's treasurer, also contributed $500.
The winner of the April 9 primary will compete against Democrat Ryan Terrell. Terrell does not have a primary opponent and had through February raised about $6,000, with $4,000 coming from personal loans.
Gov. Ron DeSantis hired Beshears last year to lead the state Department of Business and Professional Regulation. Beshears left the House seat to take the job in January, prompting a special election.