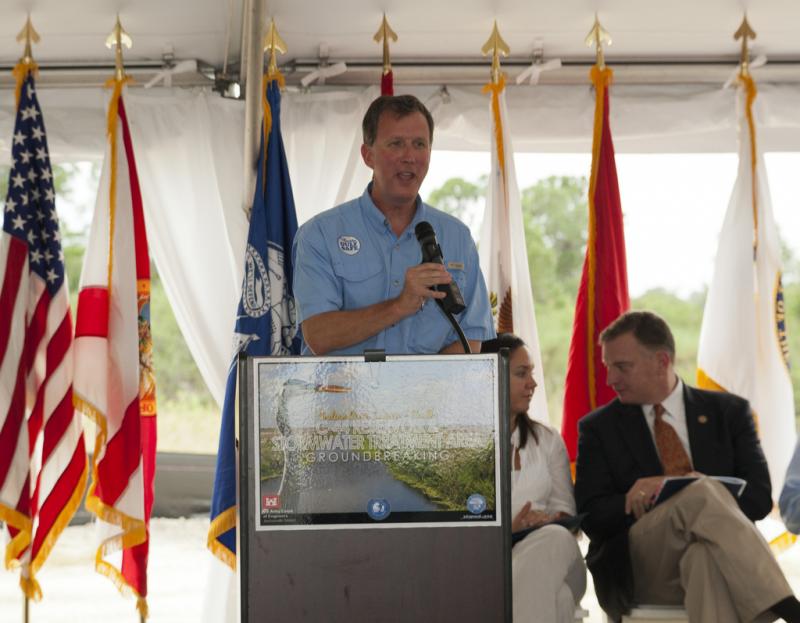 Vinyard headed the DEP under Gov. Rick Scott.
Despite being a relatively quiet hire for Jacksonville utility JEA, expect new Chief Administrative Officer Herschel Vinyard to play a key role, insiders say.
The Chief Administrative Officer position will be new to the utility, which has been restructuring command operations for the last year, expanding the C-Suite.
CEO Aaron Zahn was panned by critics, both in his interim role and his permanent role, as lacking enough experience to run the utility.
However, the Vinyard hire is the latest example of Zahn's leadership style: Slotting people with specific skill sets to handle specific problems.
Vinyard has left Foley & Lardner, where he had been an environmental lawyer. Before that, he served as head of the Department of Environmental Protection. Knowledgeable sources maintain that skillset will be indispensable for JEA.
Vinyard is expected to be point on regulatory compliance issues. While he will not represent JEA in legal actions, he does enter JEA in an era of transition.
One sticking point, especially in recent months: the Plant Vogtle investment in Georgia.
JEA attempted to get out of the deal, saying it was a money loser for them. Courts sided with the Georgia power producers who contended the deal had moved too far to back out now.
Recently, U.S. Energy Secretary Rick Perry made a visit spotlighting plant progress, signaling the Donald Trump administration position.
JEA and the city experienced some credit downgrades due to its negotiating position, with analysts questioning the company's commitment to obligations and internal controls.
Vinyard, at least in theory, will help to signal the righting of the ship.
Expect Vinyard also, as a former Cabinet secretary, to be instrumental in helping the utility negotiate the transition between the Rick Scott and Ron DeSantis administrations.
With DeSantis focused on environmental issues, including water quality, Vinyard's DEP experience will be key.
Reviews of that performance have been mixed. A Miami Herald piece juxtaposed Vinyard's commitment to water quality, stated in his resignation letter, with a practice of giving bonuses to employees who pushed permits through quickly.
Of note: he reduced the headcount at DEP, and environmentalists said he wasn't receptive enough to their concerns.
When Vinyard left DEP for Foley & Lardner, Kevin Hyde, the firm's Jacksonville managing partner, lauded the hire.
"Anything development-wise in the state of Florida is dependent upon environmental concerns," Hyde said. "Who'd be better than the most recent state Department of Environmental Protection secretary to speak directly to those concerns? Herschel truly is the most recent subject matter expert on environmental protection."
Vinyard's hire is so new the JEA organization chart doesn't reflect it.