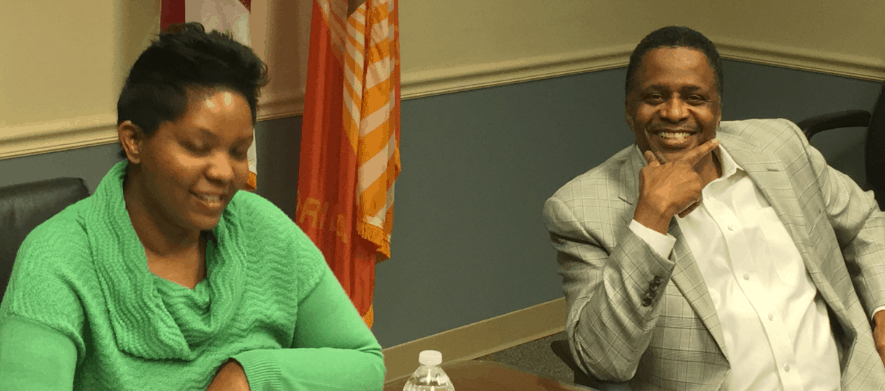 Trial starts in August.
Indicted Jacksonville City Council members Katrina Brown and Reggie Brown were rejected Wednesday in their bids for separate trials in their federal fraud case.
The Browns, who are unrelated, are accused of a 38-count conspiracy to defraud, say federal prosecutors.
The pair is accused of extracting hundreds of thousands of dollars for personal use from a Small Business Administration-backed loan provided for Katrina Brown's family's barbecue sauce plant.
The total list of charges: 13 counts of wire fraud, another 13 of mail fraud, five counts of money laundering, and charges of attempted bank fraud for Ms. Brown and failure to file a 1040 from Mr. Brown.
The Browns have contended that separate trials are more appropriate; the court, however, sided with the federal government, asserting "the Indictment expressly alleges that both Defendants were involved in the same series of transactions constituting the alleged
conspiracy."
The Browns sought to sever as they expect to attempt "mutually antagonistic" defenses, essentially pinning the charges on the other party.
However, the court rules that such a strategy would not preclude a fair trial.
Reggie Brown contended that Katrina Brown's narrative would "spill over" and harm his defense; the court rejected that argument also.
The Browns' trial is expected to begin in August. By then, both suspended members of the Council will be officially termed out. Reggie Brown will have reached term limits. Katrina Brown did not advance to the runoff in her re-election campaign this year.
The last high-profile fraud case locally, which involved the Browns' former political patron, did see a severance of defendants.
The defenses for former U.S. Rep. Corrine Brown and her former chief-of-staff Elias "Ronnie" Simmons were severed.
After the severance, Simmons was key to the federal government's case that Corrine Brown was the ringleader of the conspiracy. He pleaded guilty to a reduced number of counts, and avoided the threatened hundreds of years in prison.
If there is one useful strategy the Browns could employ, it might be that of former Rep. Reggie Fullwood, accused of using campaign donations to pay personal expenses.
An emotional Fullwood had his former father-in-law testify on his behalf, and his demonstration of contrition was such that he avoided prison time altogether.
Fullwood took a plea deal (two felony counts) that Katrina Brown claimed she was offered but rejected, suggesting that if found guilty her punishment may be more exacting.