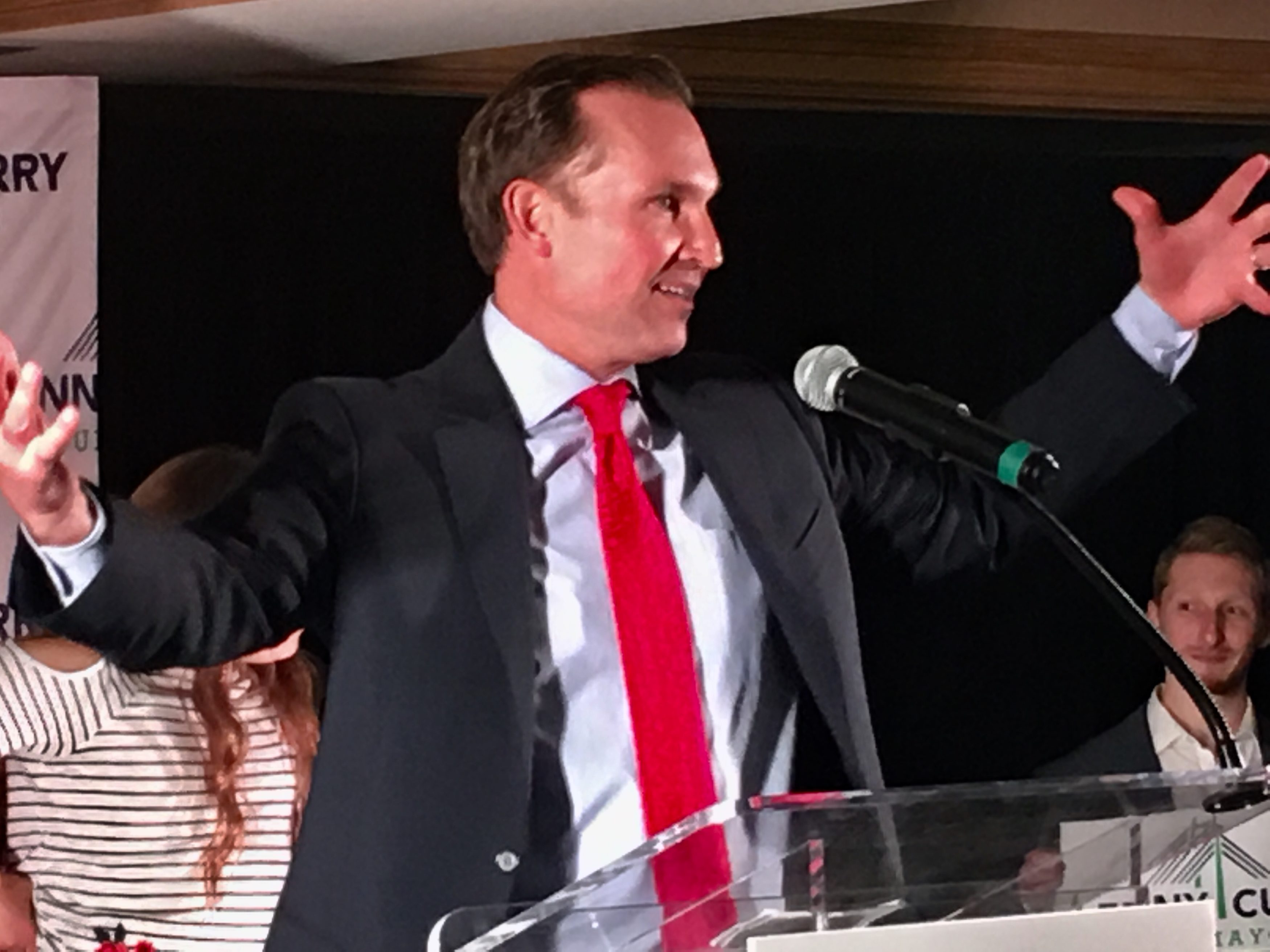 'Two yes votes for the Mayor and his ethically challenged administration.'
Call it a case of "rage against the machine" if you want, but the Duval Democrats are finally going on offense in the 2019 Jacksonville municipal elections.
After a widely-criticized decision not to field a mayoral candidate ahead of the March election, which saw the re-election of Mayor Lenny Curry with nearly 60 percent of the vote, the local party went on the offense on Thursday with a sharply-worded media release.
The message: that City Councilman Terrance Freeman and City Council hopeful Randy DeFoor, two Curry-backed candidates, are "bought and paid for."
The charge: Freeman and DeFoor will be complicit in 'Curry's Culture of Intimidation and Corruption.'
"In Jacksonville's version of the corrupt bargain, the mayor tweeted pictures of himself with Freeman and DeFoor in front of City Hall and said he was giving them "campaign resources." The tweets make clear that Freeman and DeFoor are bought and paid for by the Curry machine — and that both candidates are comfortable with the way the Mayor's record of scandal and incompetence," [sic] the Democratic Party charges.
Delivered campaign resources to my friend @TFreemanJax today. Planning and executing while other politicos play silly games. Winning is a habit. pic.twitter.com/ClDw3DWsFp

— Lenny Curry (@lennycurry) April 16, 2019
Good morning. Delivered campaign resources to my friend Randy DeFoor this morning. Plan. Go. pic.twitter.com/YxAyFTxaLo

— Lenny Curry (@lennycurry) April 17, 2019
Party chairman Daniel Henry offered his own quote.
"The Berkman deal debacle has made clear the critical need for a City Council that is unafraid to stand up to Mayor Curry, provide strong oversight of this administration, and protect taxpayer money."
"Terrance Freeman and Randy DeFoor this week made clear that they are simply running to be two yes votes for the Mayor and his ethically challenged administration. Now more than ever we need City Council members who are unbought and unbossed by the corrupt Curry machine," Henry added.
As luck would have it, the Democrats are running opponents against each of these candidates.
Former party chair Lisa King, who stepped down to run against Freeman for the current at-large Council seat of outgoing Republican Anna Brosche, is one.

And Sunny Gettinger, who is running against Randy DeFoor in the Riverside/Avondale/Ortega District 14 seat, is the other.
Political consultant Tim Baker, on behalf of DeFoor and Freeman, issued a statement Thursday morning.
"Daniel Henry and the Duval Democrat Party are a pathetic group to watch attempt to campaign," Baker opined.
"From failing to field candidates for mayor and numerous city council seats, opposing candidates of their own party who didn't bow down to his demands, to failing to recognize City Council had taken no action on the the job creating project he now blasts, Democrats would be far better served by new and competent leadership locally," Baker added.
"It must be difficult to be the Party Boss that presided over such incredible losses for his party," Baker closed.
The money race is, thus far, in the favor of Curry candidates.
Freeman raised more than $25,000 in hard money in the two weeks preceding April 5, with donations from political committees associated with Rep. Jason Fischer and Sen. Aaron Bean the latest indications of establishment buy-in.
Freeman's finance report sees a new political committee emerging on the state level in support: Citizens for a Better Duval, yet another account managed by Sarasota's Eric Robinson.
That account was seeded with money from Curry's former state-level political committee, Build Something That Lasts.
Robinson runs the books for most of the campaigns and committees of Curry and candidates he aligns with.
Between his political committee and his campaign account, Freeman has roughly $40,000 on hand.
King raised $18,330 over the two week period, with the local police union and Sleiman Holdings among the contributors. She has roughly $18,000 on hand.
King will be bolstered by a fundraiser next week hosted by Tracye Polson, who lost to Baker-advised Wyman Duggan in a state House race last year. Featuredg at the event: Amb. Nancy Soderberg, who lost a race for Congress to Michael Waltz.
Waltz is also a Baker client.
Gettinger, meanwhile, has been an aggressive fundraiser. But the momentum may be with DeFoor.
DeFoor raised $31,800 over the two most recent weeks of reporting, with donations from a cross-section of traditional Curry supporters, several contributions from her employer, Fidelity National Financial; and neighborhood support.
DeFoor has roughly $47,000 on hand.
Gettinger raised $10,511 in the same period, and (for now) holds the money lead, with just over $60,000 on hand.