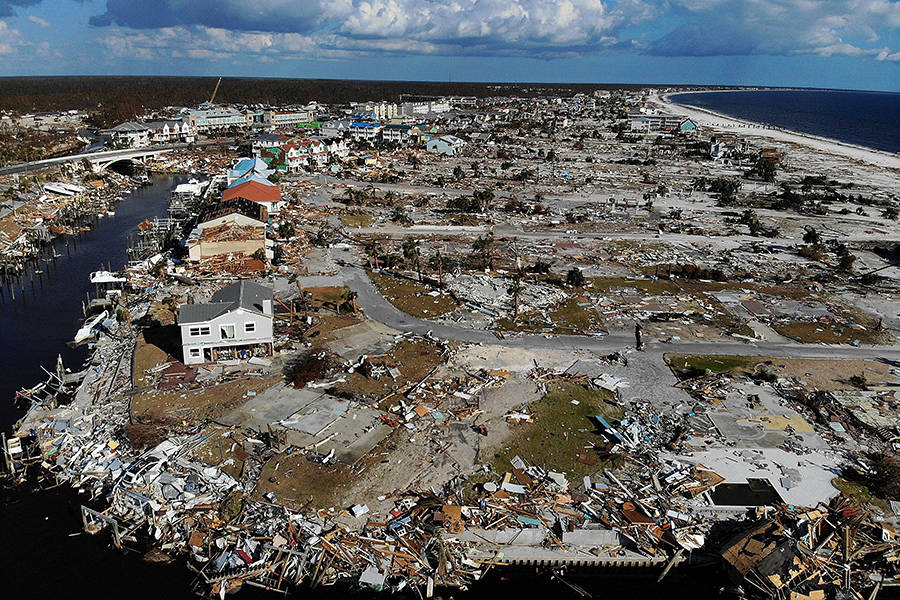 Damage reported by state and local government will "easily" top $2.6 billion
Gov. Ron DeSantis sent a letter to the White House Friday asking for a boost in the federal cost share for the last leg of Hurricane Michael recovery efforts.
"I am officially requesting an increase in federal funding for Hurricane Michael recovery from 75 to 90 percent," DeSantis said in a news release. "Since my first full day in office when I visited Northwest Florida, it was clear that the efforts to rebuild and recover were far from over.
"An increase in the federal share will help Northwest Florida tremendously and I thank President [Donald] Trump for his previous commitment to fully fund the first 45 days of recovery from this storm. I look forward to continuing to work with the President to ensure Northwest Florida completely recovers."
Florida Division of Emergency Management head Jared Moskowitz echoed DeSantis' request saying, "At the Division of Emergency Management, we recognized the devastation this storm caused and took action in January by putting in place new processes and procedures to get funding out as quickly as possible.
"I applaud Governor DeSantis for providing leadership and requesting 90 percent federal funding on the same day that Hurricane Michael was upgraded to a Category 5. This increase in federal funding will provide critical savings to Panhandle communities during their recovery."
State CFO Jimmy Patronis, who hails from Panama City, also lauded DeSantis' request.
"Through his leadership, he has made it absolutely clear that we are not alone in the recovery process," Patronis said Monday afternoon. "It is devastating to see families and businesses still struggling six months later, but this increased funding would make a major difference in recovery.
"With the 2019 Hurricane Season quickly approaching, every dollar will help this area get back to some level of normalcy before the next storm hits."
Hurricane Michael tore through Northwest Florida in mid-October, killing 49 people and causing an estimated $5 billion in property damage.
The storm was the strongest to ever hit the Florida Panhandle. Last week, the National Oceanic and Atmospheric Administration (NOAA) retroactively classified Michael as a Category 5 hurricane — the first storm of that magnitude to hit the Sunshine State since Hurricane Andrew in 1992.

DeSantis pointed to the reclassification to justify the increase in federal funds. The standard federal cost share for hurricane recovery is 75 percent, but the President has the authority to issue a waiver bumping it up to a maximum of 90 percent.