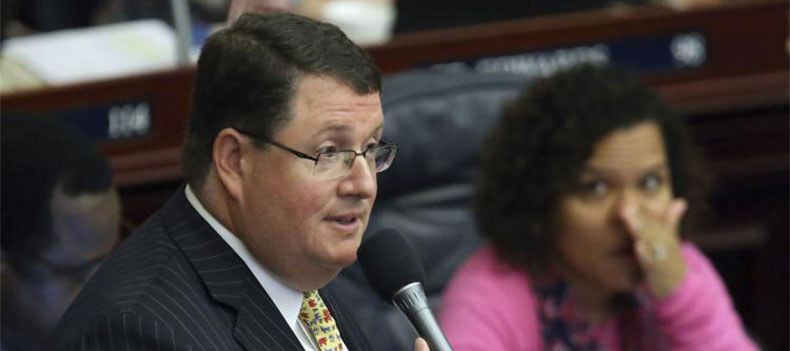 The bill's sponsor Randy Fine dismissed the group as not representative.
A group of more than 30 Jewish Floridians wrote to Gov. Ron DeSantis on Tuesday saying the anti-Semitism bill heading to his desk goes beyond what is appropriate.
Signatories of the letter, which include constitutional lawyer Alan Levine, prominent Miami lawyer Benjamin Waxman, and two rabbis among others, urges the Governor to veto the bill.
"While HB 741 is to be commended for adding 'religion' to the prohibited categories of discrimination in the existing law, as Jewish Floridians, we strongly object on two grounds to those provisions of the bill relating to anti-Semitism:
"First, the bill offers some examples of anti-Semitism that do not relate to anti-Semitism but, instead, to criticism of the State of Israel.
"Second, the proposal identifies anti-Semitism, and only anti-Semitism, as an example of religious discrimination," the letter states.

Those criticisms had sparked a backlash from the bill's sponsor, Republican state Rep. Randy Fine of Brevard County, when others raised them as the bill was being debated in the Florida Legislature.
After Democratic state Sen. Audrey Gibson of Jacksonville raised concerns that other forms of religious discrimination ought to also be described, Fine questioned her commitment to anti-Semitism.
Ultimately, Gibson backed down and strongly supported the bill as the Florida Senate approved it Monday.
When one of Fine's Jewish constituents publicly raised the criticism of the Israel references in the bill, Fine, who also is Jewish, blasted him on social media.
This time, the criticism comes from a group that defines itself as a "cross-section of Jews from different backgrounds and communities — activists, lawyers, rabbis, business owners, educators."
They include Levine, a lawyer from Miami Beach who has argued many First Amendment cases, including some before the U.S. Supreme Court; Waxman; Rabbi Bryan Mann of Brandon; and Paula Rosenblum, managing partner of RSR Research in Miami.
They all denounced Fine's earlier criticisms of opponents as "inflammatory and derogatory," and charged he "seems to have another agenda."
Fine responded Tuesday evening by expressing doubt that there is any significance to the views of this relatively small group.
"There are 700,000 Jews in Florida. The fact that 32 don't want to ensure their own children and grandchildren be protected in school is disappointing, but not news," he wrote.
HB 741 aims to prohibit anti-Semitic speech and behavior in Florida's public schools, colleges, and universities. It was approved 114-0 in the Florida House and 40-0 in the Florida Senate, receiving a full-throated endorsement from Gibson, as well as from several Jewish lawmakers of both parties.
The group who wrote to DeSantis stated that they have a wide variety of views concerning Israel but are united in two beliefs: that "anti-Semitism and criticism of Israel should not be conflated" and "those who criticize Israel have a constitutional right to do so."
"At a time when we should be welcoming and valuing open debate on issues of social concern, HB 741 is a heavy-handed attempt to silence public criticism of the Israeli government's human rights violations," they state in the letter to DeSantis. "Agree or disagree with the critics, the Florida Legislature has no business intruding on those discussions. Additionally, the accusation that such criticism is anti-Semitic does a disservice to the real issues of anti-Semitism that should concern all of us today."
DeSantis himself has been a high-profile advocate of Israel and its government, starting with his assuming a national leadership when he was in the U.S. House of Representatives, in pushing for the move of the U.S. Embassy to Jerusalem. That advocacy continued throughout his campaign for Governor, and through his first four months in office.
Among other matters, he denounced and blacklisted the vacation rental-home marketing platform Airbnb over its Israel policies, which the company has since abandoned.
DeSantis is planning a weeklong trip to Israel in late May that will include a Florida Cabinet meeting.
"Second," the letter continues, "we are deeply opposed to the bill's implication that anti-Semitism is a greater concern than other forms of religious discrimination. While there have been tragic examples of anti-Semitism recently, we are, for example, well aware that Muslims in this state and country have been subjected to particularly heinous episodes of discrimination, and that the impact of those incidents on the Muslim community have been greatly amplified by the Federal government's Muslim ban and other examples of Islamophobia."
There are several provisions in HB 741, now awaiting DeSantis' signature, that define statements about Israel as anti-Semitic, but those are specific to describing common aspersions or falsehoods often cast in anti-Semitic rhetoric, or to include statements that single Israel out for standards not applied to other countries.
The bill also explicitly states: "However, criticism of Israel that is similar to criticism toward any other country may not be regarded as anti-Semitic."
The bill inserts "religion" into several anti-discrimination clauses in Florida statutes regarding public schools, colleges and universities, but does not, in any of those specific references, single out Judaism for any special protections.
Those additional protections come from new provisions added by the bill, seeking to define anti-Semitism as it is defined by the U.S. Department of State, including prohibitions of language such as that "[m]aking mendacious, dehumanizing, demonizing, or stereotypical allegations about Jews."