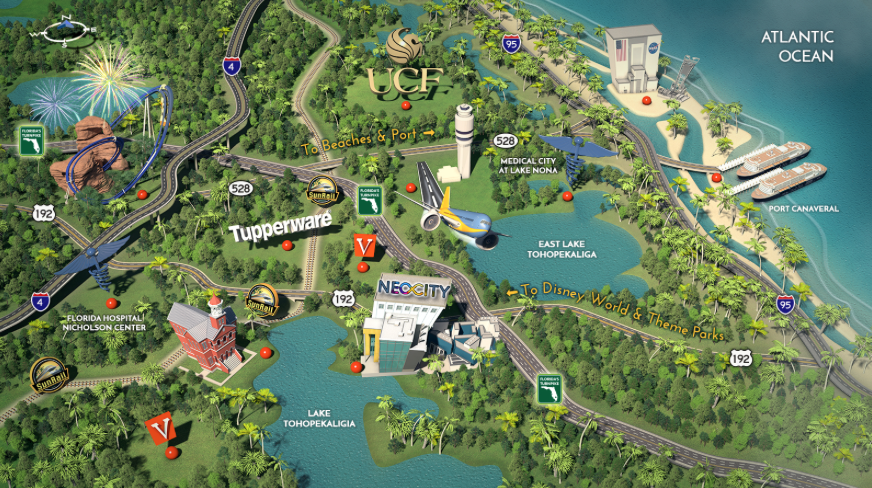 Valencia College, Daytona State also score millions.
Osceola County's BRIDG high-tech center was the big Central Florida winner in supplemental appropriations coming out of the Florida Legislature's 2020 budget deals Tuesday night.
It's in line to receive $4.5 million in the proposed 2019-20 state budget.
That makes it the top-funded item for Central Florida to be found in either the House or Senate supplemental funding — or "sprinkle" lists — that were released.
The Bridging the Innovation Development Gap center, known as BRIDG, opened two years ago, as a publicly backed, commercially operated high-tech research, development and manufacturing center.
It focuses on microelectronics specialty sensors. Osceola County and Kissimmee officials see BRIDG as anchoring the county's NeoCity high-tech research and industrial park. and help balance the region's economy with tourism.
The $4.5 million would buy and install high-tech tools.
Funding for the center was the top priority for the county's legislative delegation, though they had hoped for $10 million for tools, plus $8 million to support operations.
BRIDG also has received previous state and local grants, and has a partnership arrangement with the University of Central Florida.
UCF, not a favorite this year of the Florida Legislature in the wake of the university's spending scandal, is not in line to receive any direct money through either the House or the Senate's sprinkle lists.
However, Valencia College scored $3 million in operational support in the Senate's list, tied for the second largest supplemental appropriation in Central Florida.
Daytona State College also is in line to receive $3 million, from the House list, for construction and other improvements for classrooms, labs, and offices at its rising Deltona campus.
Among other sprinkles of state money targeting Central Florida priorities:
— $500,000 in the Senate list for Wekiva Springs State Park traffic improvements.
— $500,000 in the Senate list for an Oviedo regional storm water pond.
— $500,000 in the Senate list for a Sanford nutrient reduction project for Lake Monroe and Lake Jesup.
— $475,000 in the House list for Embry-Riddle Aeronautical University's hybrid propulsion test cell.
— $450,000 in the Senate list for Daytona State College's on-time graduation scheduling platform.
— $300,000 in the House list for Astronaut High School in Titusville for a new welding technology program.
— $175,000 in the Senate list for Seminole County's Lake Jesup Basin-Lake of the Wood project.