In eight days, Jacksonville voters will have two at-large City Council races decided citywide, with another three district races in what has been an under-the-radar runoff election.
This late in the game, the narratives are all but set in most cases.
All candidate fundraising referenced below is through Apr. 26, with filings submitted on May 3.
____
Inside baseball: As we observed previously, the battle between Democrat Lisa King and Republican Terrance Freeman in At Large Group 1 is an inside baseball campaign between two candidates whose thirst for "public service" has never been slaked.
Over the course of the campaign thus far, Freeman raised $192,440 in hard money, with King hauling in $127,581. Freeman committed to a $70,000 spend on TV in late April, a number King can't match.
With Republicans still ahead in turnout, it will be incumbent on King to change the narrative without the advantage of an ad buy. The Freeman side is confident in its polling, which shows a Freeman lead outside of the margin of error.
____
Last hurrah: Jacksonville City Councilman Tommy Hazouri looks likely to defeat Republican challenger Greg Rachal, despite Republican momentum elsewhere.
Though a Democrat, Hazouri (a former Mayor) has name recognition that most other local politicians could only dream about.
Over the course of the campaign, Hazouri raised over $242,000; Rachal, new to the campaign world, just $32,000.
Though the local Republican Party puts on a brave face, Mayor Lenny Curry's political operation backs Hazouri, whose goal is to become Council President in the next two years.
Hazouri appears likely to get at least 60 percent of the vote, a remarkable number in a year of Democratic self-abnegation.
____
Cash prizes: In the District 8 race, incumbent Democrat Ju'Coby Pittman had a unique community event over the weekend … one involving cash prizes for attendees.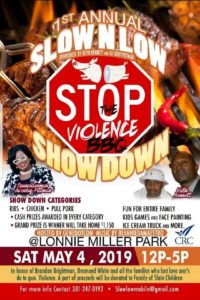 No reports yet as to who walked away with $1,150, alas. But as recently re-elected Democrat Reggie Gaffney could attest, cash prizes at Jacksonville political events are just part of the game.
Yet another irony, since we're here: Pittman was appointed to fill the unfinished term of Katrina Brown, removed from office because of federal fraud charges related to using economic incentive money for her personal use.
The irony, of course, is that Brown was in the BBQ sauce game … raising questions as to why cash money and BBQ sauce are recurrent themes in this District.
Pittman has outraised runoff opponent Tameka Gaines Holly, and as of the most recent campaign finance filings, Pittman had over $34,000 on hand: a three-to-one advantage over Holly as of Apr. 26.
_____
Momentum shift?: The District 10 money race between Democrats Brenda Priestly-Jackson and Celestine Mills is still in favor of Priestly-Jackson.
The former Duval County School Board chair has raised over $46,000, doubling Mills' raise; however, Mills and Priestly-Jackson are roughly even in cash on hand, with both below $8,000.
One potentially meaningful endorsement, that of Rep. Tracie Davis, went Mills' way in recent days.
However, Priestly-Jackson nearly won the whole thing outright in March, and with every defeated opponent endorsing her, it's hard to see Davis' endorsement turning that around.
_____
Poison pen: The Lenny Curry political machine sets traps for opponents, and the unwary fall into them.
Exhibit A: Democrat Sunny Gettinger spending campaign resources responding to claims in a mailer from Curry-backed Republican Randy DeFoor.
DeFoor's campaign has spotlighted donations from outside the state for Gettinger, and in the closing days, Gettinger has responded.
Time will tell whether that approach resonates or not. In 2018, state House Democratic candidate Tracye Polson called a press conference to respond to an ad from current Rep. Wyman Duggan painting her as a tool of the radical left.
That didn't win the race for Polson, and one wonders if an infographic can counter the "mail piece a day" campaign from DeFoor.
DeFoor has raised $316,000 in hard money in this cycle, with $109,000 on hand as of the most recent filings; Gettinger's $197,000 raised put her among the top Democrats this cycle, and she carried $65,000 of that into the stretch run.