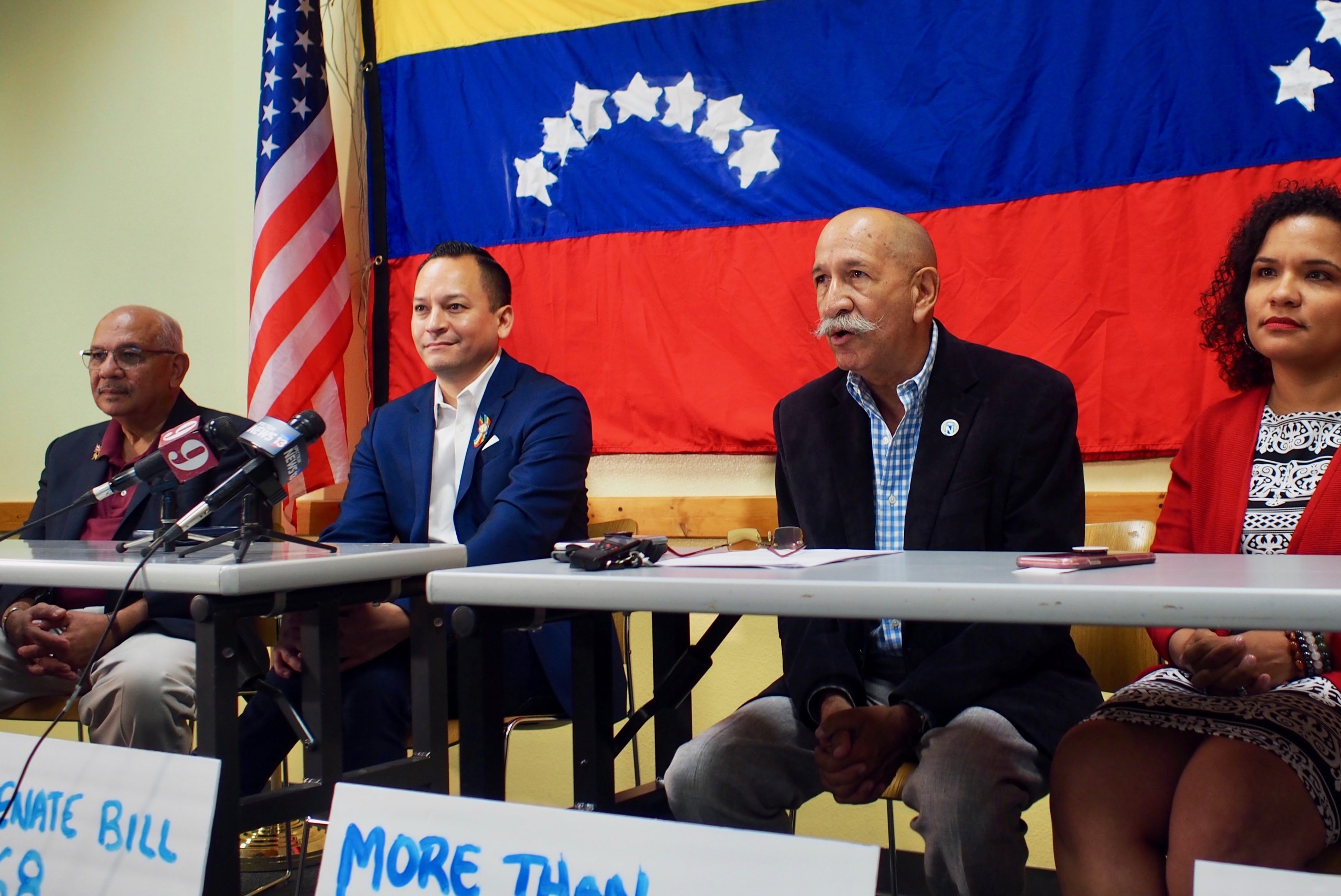 SB 168 puts Venezuelan refugees at greater risk of being sent back to Maduro, Diaz said.
Key Venezuelan activists said "thanks for nothing" to the Florida Legislature Monday for approving SB 168 to crack down on undocumented immigrants, saying it will hit Venezuelan refugees to Florida hard.
At a news conference in Orlando Monday, William Diaz of Casa de Venezuela-Orlando, Vicente Perez of VeneLegal and others were joined by three Orlando Hispanic Democratic lawmakers, state Sen. Victor Torres, and state Reps. Carlos Guillermo Smith and Amy Mercado, in charging that the bill heading toward Gov. Ron DeSantis' desk is not only bad for immigrants in Florida, but hypocritical for Republicans trying to support freedom and democracy in Venezuela.
The so-called "Rule of Law Adherence Act," was approved last week, forbidding Florida cities from declaring themselves sanctuaries for undocumented or illegal aliens, and requiring that state and local officials cooperate with federal immigration officials offering detainers on jailed undocumented immigrants, or illegal aliens, or seeking information. DeSantis had made the measure a priority piece of legislation for his administration and intends to sign it.
Diaz, who has thrown his support behind such Republicans as U.S. Reps. Rick Scott and Marco Rubio, said Monday that SB 168 will put thousands of Venezuelan refugees in Florida in greater risk of deportation back to the country ruled by dictator Nicolás Maduro, known for cracking down on returning political refugees.
Perez said Venezuelan refugees in Florida are at risk in part because the administration of President Donald Trump and Congress have not acted on attempts to authorize temporary protective status for the Venezuelan refugees, and have, in Perez's assessment, made asylum far more difficult for any of them to achieve.
Diaz said he wanted to send a message to DeSantis and Florida Republicans that support for Venezuela must include support for Venezuelans in Florida, and that includes pushing for more asylum and TPS at the federal level, and includes not supporting laws such as SB 168 at the state level.
He said the Republicans he has supported "know Venezuelans. Oh, yes. But they approve SB 168, and you approve HB 527 [the House version.] So where do we go with that?" he added.
He said he also wants to send a message back to Venezuela.
"We want to let our brothers and sisters in Venezuela know that we are here fighting for them, fighting for their freedom," Diaz said.
Diaz said there are more than 38,000 Venezuelans just in Central Florida, "so we deserve respect."
Diaz also said that Republican state Rep. Rene Plasencia of Orlando, supported their concerns, though he was unable to attend the press conference. Plasencia was one of three Republican lawmakers who last week voted against the bill. The bill bans sanctuary cities in Florida and calls for public officials to cooperate with federal agents in requests for detainers and information about undocumented or illegal aliens.
Diaz also called out Republican state Rep. Ana Maria Rodriguez of Doral, whose House District 105 is home to a large Venezuelan population, for voting yes on the bill. "It seems like she's got no clue what's going on, Diaz said. "She's not representing the Venezuelans in Doral. She's not representing the Venezuelans in the state of Florida."
Rodriguez was not available Monday evening to respond.
"We've seen a 35 percent increase in the last year of deportations of Venezuelans back to Venezuela, the fact that it is harder and harder for asylum seekers, particularly Venezuelans, to be able to get the protection they need here in Florida, and the fact that they are now more likely to be deported back to Maduro's Venezuela is very troubling, and very disturbing," Smith said. "If we care about freedom for Venezuelans, and we support Venezuelans seeking freedom, why are we not supporting their seeking freedom here in the United States."
Torres noted that the Senate passed a resolution expressing support for those seeking freedom in Venezuela, a spirit he said was lost when the Senate passed SB
168."This is unfair to the community," he said. "This is what's going on in Florida: deprive, suppress, get people in fear of going out, working, enjoying their livelihood their families. This is unfair folks."
Mostly, Mercado, Smith, and Torres spoke more broadly about SB 168 and its potential impacts on all the estimated 775,000 undocumented immigrants in Florida. They repeated the criticisms of the bill they had raised on the floors of the Florida House of Representatives and the Florida Senate, where they each had tried, unsuccessfully, to attach various amendments that would have exempted various classes of immigrants including those seeking asylum; those identified as "DREAMers", brought here as young children; and those who had served in the United States military.