The most expensive runoff race.
In the most expensive of all the run-off races for the Jacksonville City Council, it was perhaps inevitable that the king of political fundraising won the day by the closest margin imaginable.
Backed by Mayor Lenny Curry, Republican Randy DeFoor (who raised more than $400,000 between hard money and committee cash) defeated Democrat Sunny Gettinger.
The margin was narrow: 51.2 to 48.8 percent. Just 246 votes. But a win's a win, and DeFoor overcame a volunteer-heavy campaign on the other side.
The two combined to raise more than $550,000 in hard money over the course of the campaign. Of that sum, DeFoor raised more than $337,000. DeFoor's Safe and Prosperous Jacksonville political committee reported $44,000 of its total $87,000 raised in April, with the Jacksonville Jaguars coming through with $10,000.
But money in itself didn't carry the day by itself. What did: DeFoor aggressively defining the narrative, with Gettinger struggling to respond down the stretch.
In a measure of the skill gap between the campaign operations, DeFoor's messaging shredded the relatively underfunded Democrat as "Big Money $unny."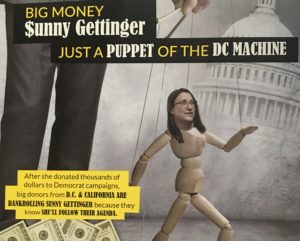 This line of attack trolled Gettinger into using a finite budget to spotlight and counter the claims in DeFoor's advertisements.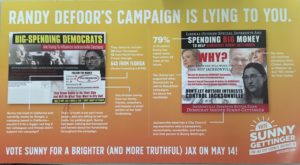 The "out-of-state money" claim was used to drive a narrative that Gettinger, despite having served on the Riverside Avondale Preservation board, was simply an outsider compared to DeFoor, whose family roots run as deep as those of a Riverside oak.
DeFoor credited teamwork with the win.
"We did it!!! Without each of you, this wouldn't be possible. From the bottom of my heart, THANK YOU!!! I am incredibly honored to have this opportunity to serve our community and our city," DeFoor posted to Facebook.
The Duval County Republican Party took its share of credit.
"DeFoor's victory over her Democrat opponent keeps the seat in Republican hands, this despite Andrew Gillum winning the district in 2018. After tonight's runoff election, Republicans hold a 13-6 lead on City Council, their first super majority in 8 years," the party noted.
This was the second straight expensive election Democrats lost by a close margin in the area.
In 2018, Rep. Wyman Duggan narrowly defeated Tracye Polson, after a million-dollar campaign in which Polson made the fateful choice to respond to Duggan's campaign attacks.
While the outcome was expensive, the donor class considered it money well spent.