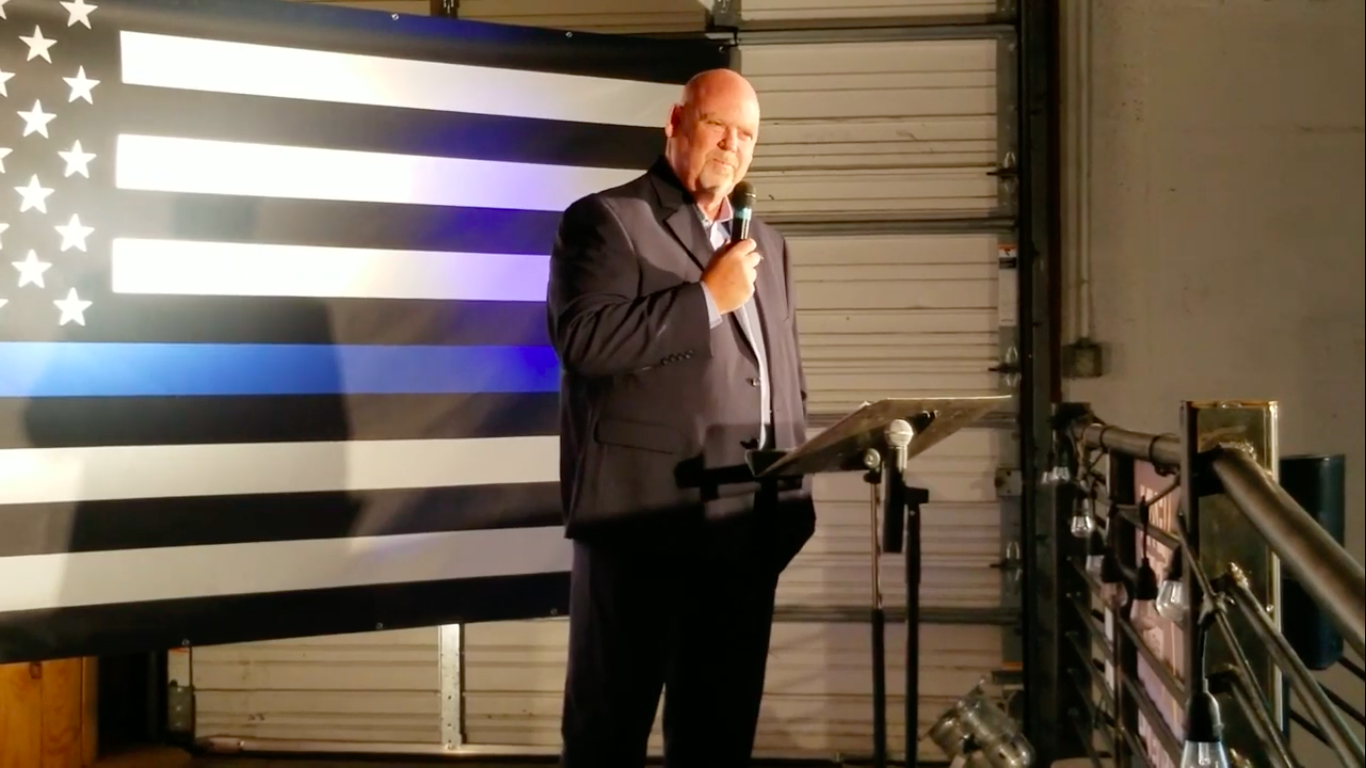 Retired major challenges sitting Sheriff Carmine Marceno.
Retired Major Jim Leavens spent 30 years in a Lee County Sheriff's Office uniform. Can he now convince voters to fire the current Sheriff and put him in charge?
The North Fort Myers Republican in January formally threw his hat into the ring to run the agency. He's challenging Sheriff Carmine Marceno, former Sheriff Mike Scott's hand-picked successor.
"Mike Scott was a machine and was unbeatable. Everybody knows that," Leavens said. "But once he handed the reins over, Carmine is very beatable. I'm just looking to educate voters. When they compare apples to apples, there's no way they can choose him [Marceno] over me."
Scott retired before completing his fourth term as Sheriff, citing family concerns, according to the News-Press. Gov. Rick Scott afterward appointed Marceno, Scott's undersheriff at the time, NBC-2 reported.
Marceno had been with the department in 2013, and has worked in other agencies since 1996.
Leavens, though, started his career in Lee County as a corrections officer in 1988 and retired as a major last year. That means his roots in the community run deeper and his career spans longer.
Along the way, he oversaw road patrol, homicide, juvenile assessment and internal affairs for varying stints. A former deputy, detective and commander, he's worked almost every beat.
Leavens, sitting in a Cape Coral restaurant with his wife, Angela, said it was a family decision to run. He knows running against an incumbent sheriff won't be easy. The man with the badge right now gets free publicity and enjoys connections with the most prominent political power players.
But he's quickly become a fixture of local Republican club meetings. This marks the first time Leavens ever ran for office.
Then again, Marceno also stands before voters for the first time next year, and there's some personal issues for the incumbent bound to draw scrutiny.
For the record, Leavens still speaks highly of Scott, and says he regularly communicates with the former Sheriff.
"I would certainly have done some things different, just like any two adults would have," Leavens said of Scott. "It's not disagreements, but we just have different opinions about things. That's it. He ran a good agency, and he cares a lot about his guys."
But Leavens said he has more disagreement about current policies.
He's upset the Sheriff's Office just canceled its Project Lifesaver program, designed to track populations prone to wandering, like Alzheimer's patients. He said it helps speed up searches for missing persons wearing special bracelets. He worries searches will not have such positive outcomes once bracelets get returned.
"Without it, we're just going to find this person in a canal," he fears.
The cost will also go up, with search teams and helicopters tracking people who could have been found quickly by a single deputy using the tracking system.
There's broader fiscal management issues to address as well, Leavens said. He fears the department has grown too top-heavy. As more officers have been promoted, that means few patrolmen on the roads. The agency also started cracking down on overtime.
"You can't investigate homicides and certain sex crimes on 12-hour shifts," Leavens said. "You cant work two days and then say I'll come back to this in two days and leave the case. It doesn't work like that."
Of course, Sheriffs also weigh in on bigger picture political issues.
Leavens said he's pro-life.
He's also a defender of the Second Amendment.
So what if the Florida Legislature or Congress passes a law he thinks infringes on that right? If the Constitution butts up against a law, he's not going to haul people in on that law, he said.
"If you feel an arrest is not going to be prosecuted to the fullest in the State Attorney's Office, you don't have to make that arrest," he said. "That's where your discretion comes in. If you know there's two laws fighting one another, that's not going to be a successful arrest."
On arming teachers, he still needs to be convinced.
"What's more important than known when to shoot is knowing when not to shoot," Leavens said. "That comes with training. And that comes with experience that you don't just get on the range."
He won't come down for or against the expanded Guardian program approved by the Legislature this year without further study. But he certainly has reservations about introducing guns in civilian hands when it comes to breaking up schoolyard brawls.
While Marceno has Scott on his side, Leavens recently picked up the endorsements of former Lee Sheriffs Rod Shoap and John McDougal. Still since announcing, he's pulled in just $14,320 for his campaign compared to Marceno's $102,225.
The political newcomer has more than a year to change things, and predicts voters will ultimately elect for change.
"The norm in Lee County has been to elect a politician to Sheriff. I say, let's think outside the box," Leavens said. "Let's make a cop the Sheriff and we can teach him about politics."