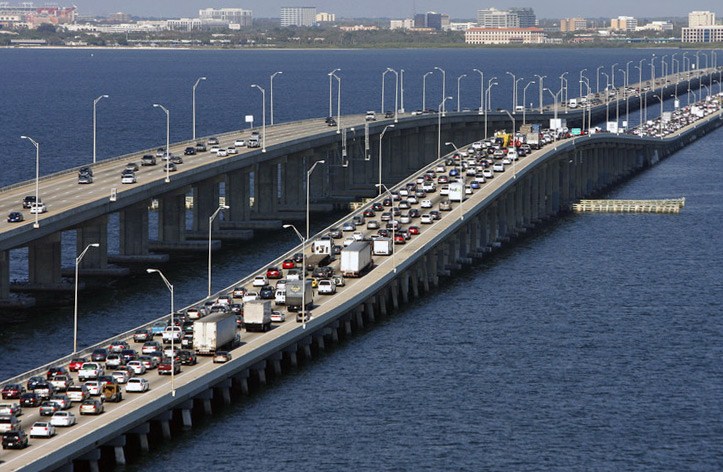 "While we have to wait, our transportation problems continue to grow."
As the Hillsborough Area Regional Transit Authority's new CEO, Ben Limmer, was talking up the vast opportunities for transit enhancements under the county's new 1 percent transportation and transit sales tax, attorneys were in court arguing to keep it.
Limmer, attorneys and the general public might have to wait another two weeks to find out whether the $130 million in extra anticipated HART revenue, as well as millions more for the cities of Tampa, Plant City and Temple Terrace, will actually come through.
Circuit Judge Rex Barbas concluded hearings with attorneys for HART, All for Transportation and Hillsborough County Friday in a lawsuit initially filed by Hillsborough County Commissioner Stacy White seeking to overturn the voter-approved sales tax.
Supporters of the tax feel confident Barbas will rule in their favor.
"It's is not just the people who are on the side of All for Transportation and its allies, the law is too," said All For Transportation Chair Tyler Hudson. "We are grateful for the opportunity to have been heard at today's hearing and look forward to the judge's ruling."
"While we have to wait, our transportation problems continue to grow," Hudson said. "We urge local leaders to be as courageous as their constituents and continue the work of implementing the All for Transportation plan with vigor."
HART is doing just that. The transit agency is in the midst of identifying both immediate and long-term transit fixes and enhancements that will restore previous cuts to service and create new routes to serve currently underserved areas of the counties as well as increase frequency on existing routes.
During a talk at Cafe Con Tampa Friday, Limmer told attendees he and agency leaders plan to have a project list ready to submit to the All For Transportation-required Independent Oversight Committee by September.
Possible projects include new bus shelters, expanded routes, new bus facilities to accommodate a larger fleet and, in the longer term, potential bus rapid transit or light rail transit corridors.
After voters overwhelmingly approved the tax last November, White took to the courts arguing the charter amendment violated overarching state laws governing local government authority to self-determine public spending. At the center of the debate is whether or not the Independent Oversight Committee's authority to audit spending plans usurps the county's own discretion over projects.
The county, HART and All For Transportation argue the charter amendment falls well within legal limits. The oversight committee does not determine how funding agencies including Hillsborough County, HART and the cities of Tampa, Temple Terrace and Plant City spend allocated revenue. All it does is review their plans to ensure they meet the guidelines under the All For Transportation charter.
During the final hearing Friday, attorneys stuck to that point and further added Hillsborough County Commission has already taken steps to implement interlocal agreements to pave the way for new spending once the sales tax revenue begins being distributed by the state. White, they pointed out, was the only no-vote on those matters.
Nearly $70 million in tax revenue has already been distributed under the new tax, but those funds are on hold pending an outcome of White's legal challenge.