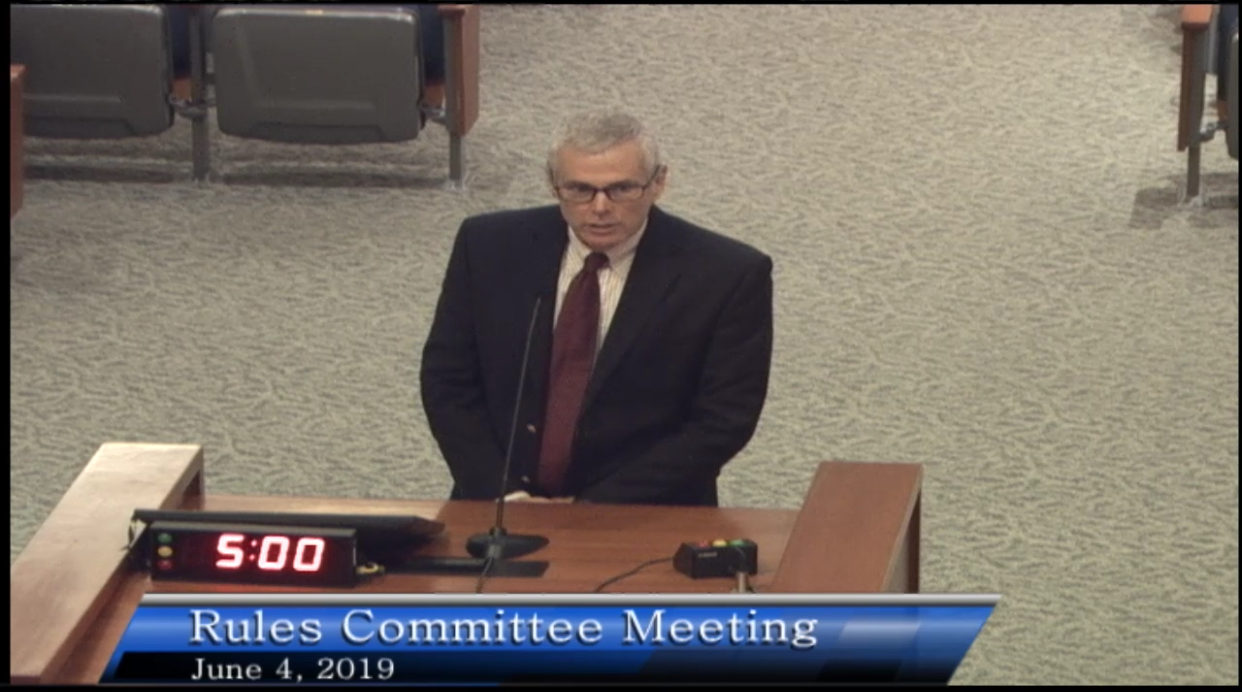 Some interesting picks for the commission, which meets once a decade.
No drama (or no votes) awaited appointees to the Jacksonville charter review commission in the City Council Rules committee Tuesday.
The appointees, picked by Council President Aaron Bowman, reflect the priorities of the Jacksonville Chamber of Commerce (for which he works) and the donor class.
While some are capable of mild stabs at dissidence, expect a familiar consensus to emerge as this body moves forward.
Former Florida Times-Union editor Frank Denton said he "look[s] forward to having his hand in government."
"You're going to bring an interesting perspective," predicted Councilman Greg Anderson.
Heidi Jameson, the director of business development for the Chamber's JAXUSA wing, has been in the county for two years. She lives in Atlantic Beach.
Anderson lauded her "young perspective," saying "she was really nice."
Nick Howland, a director of corporate development from the Council President's district, has lived in Jacksonville since 2007.
Howland lost a school board race recently, yet he hopes to shape education in this appointed role.
Former School Board member Scott Shine, often at odds with the rest of the board, likewise sailed through the panel.
Shine has been a critic of his board, saying it was "gaming the system" with student test scores last year.
Anderson noted that Shine would get a chance to shape education policy, an interesting take given that he could have done that from the board more directly.
Chairman Tommy Hazouri, a former school board member himself, noted that Shine ditched school board meetings at the end, wondering if he would also bail on this gig.
"I attended about 96 percent of the voting meetings," Shine said, adding that he didn't bother with workshops in more cases.
Lindsey Brock, a politically connected Republican lawyer, also passed muster. As did non-profit director Nelson McCoy, "hyperconnector" Betzy Santiago, Rules Committee member Matt Schellenberg, Duval County Health Department comms director Charles Griggs and Anne-Marie Knight, an administrator at Mayo Clinic.
W.C. Gentry, the former head of the School Board and the Jacksonville Journey, got voted through on an emergency basis. As was Historical Society head Emily Lisska.
Jessica Baker, a former mayoral staffer who is married to Curry's political strategist, Tim Baker, got through.
Anderson said she will "bring great energy and insight."
There is a bit of committee work to go on this panel.
Chris Hagan, out of the state, will be voted up by this committee in two weeks. And Celestine Mills, who was endorsed by the Jacksonville Chamber in a failed bid for the City Council this year, couldn't get the voters' interest, but is just ideal for an appointed gig like this.
The members voted up today will get voted up by the full Council on July 11.