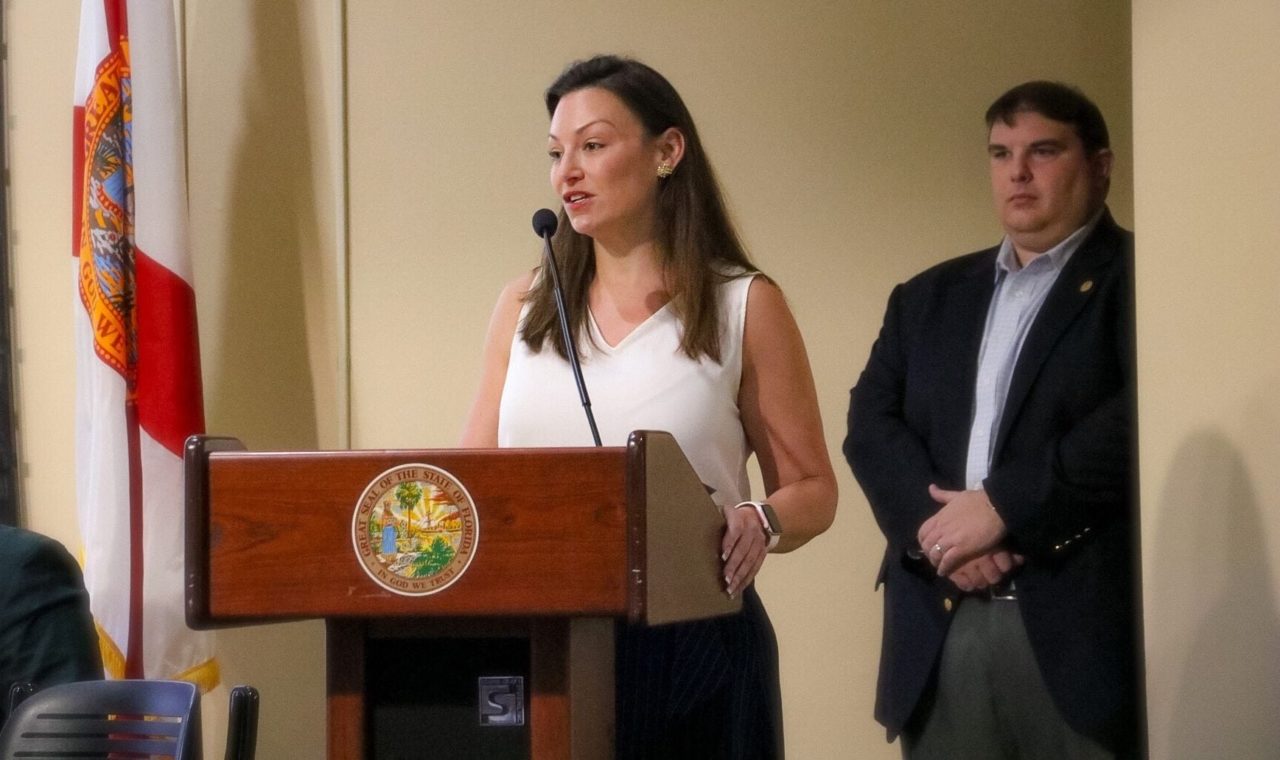 "We're going to be as aggressive as we can."
Agriculture Commissioner Nikki Fried said products now on shelves in Florida containing the cannabis compound CBD may be "coming off the shelves" under a new law and rules being written by her department.
Fried, a first-term Democrat elected last November, spoke with reporters Monday in Tallahassee outside the last of three hemp rulemaking workshops held across the state.
The Farm Bill that was passed and signed by President Donald Trump last year legalized regulated production of hemp, and a bill (SB 1020) passed this Legislative Session creates a state hemp program.
Fried's Department of Agriculture and Consumer Services is tasked with writing the rules. Gov. Ron DeSantis is expected to sign the bill, sponsored by Senate Appropriations Chairman Rob Bradley, into law by a Saturday deadline.
Earlier this year, Fried had warned that her regulators would send "cease and desist letters" to retailers who sell CBD oil and other products, though a spokesman at the time said none had yet been issued.
In Florida, scores of over-the-counter products claiming CBD as an ingredient are now on shelves in independent pharmacies, specialty shops, and even supermarkets.
"I think that I've made it very clear along the way that I have a concern about what's on the marketplace right now," Fried, a lawyer and former medical marijuana lobbyist, said Monday. "We have no idea what's in those products. We have no idea if there's THC in their CBD, if there's other types of chemicals."
Cannabidiol (CBD) and tetrahydrocannabinol (THC) are the major compounds in cannabis. The "non-euphoric" CBD is mostly extracted from hemp, a form of cannabis, and used for treating pain and relieving inflammation. THC is the "psychoactive" ingredient that causes marijuana's "high."
"There's going to be a window of time where everybody in the state of Florida will have to be compliant and bring in products that have the right labeling, the right testing standards," Fried added. "For all the other stuff that's on the shelves that doesn't comply, then they're outside the law."
That's despite now-outgoing U.S. Food and Drug Administration (FDA) Commissioner Scott Gottlieb's position that the feds have exclusive "authority to regulate products containing cannabis or cannabis-derived compounds."
Nonetheless, Fried said her office will first be "educating (local) law enforcement, so law enforcement understands and knows what is legal and what is not. Products coming through our program are going to be legal. Everything else is not."
In Tallahassee, local police last year seized a half-million dollars' worth of hemp-derived product from a specialty retail store, according to the Tallahassee Democrat. The product in question still has not been returned to the Natural Life store, its representative said.
"… And then we're also going to have our AgLaw (Office of Agricultural Law Enforcement) and inspectors as well, out in the field," Fried said. "If we're finding things that are not in compliance, then we will ask those stores to take them off the shelves and to provide their consumers with products that are safe and being tested and (are) reliable through our program."
The Commissioner promised "to be as aggressive as we can, because my first and foremost priority is the consumer. And if there are safe products out there, we want those promoted. The ones that are not tested, not labeled correctly, those are going to come off the shelves."
___
Ed. Note — This version corrects an earlier post that said CBD products seized from a Tallahassee store had later been returned. A store representative later Friday said they have not been returned.