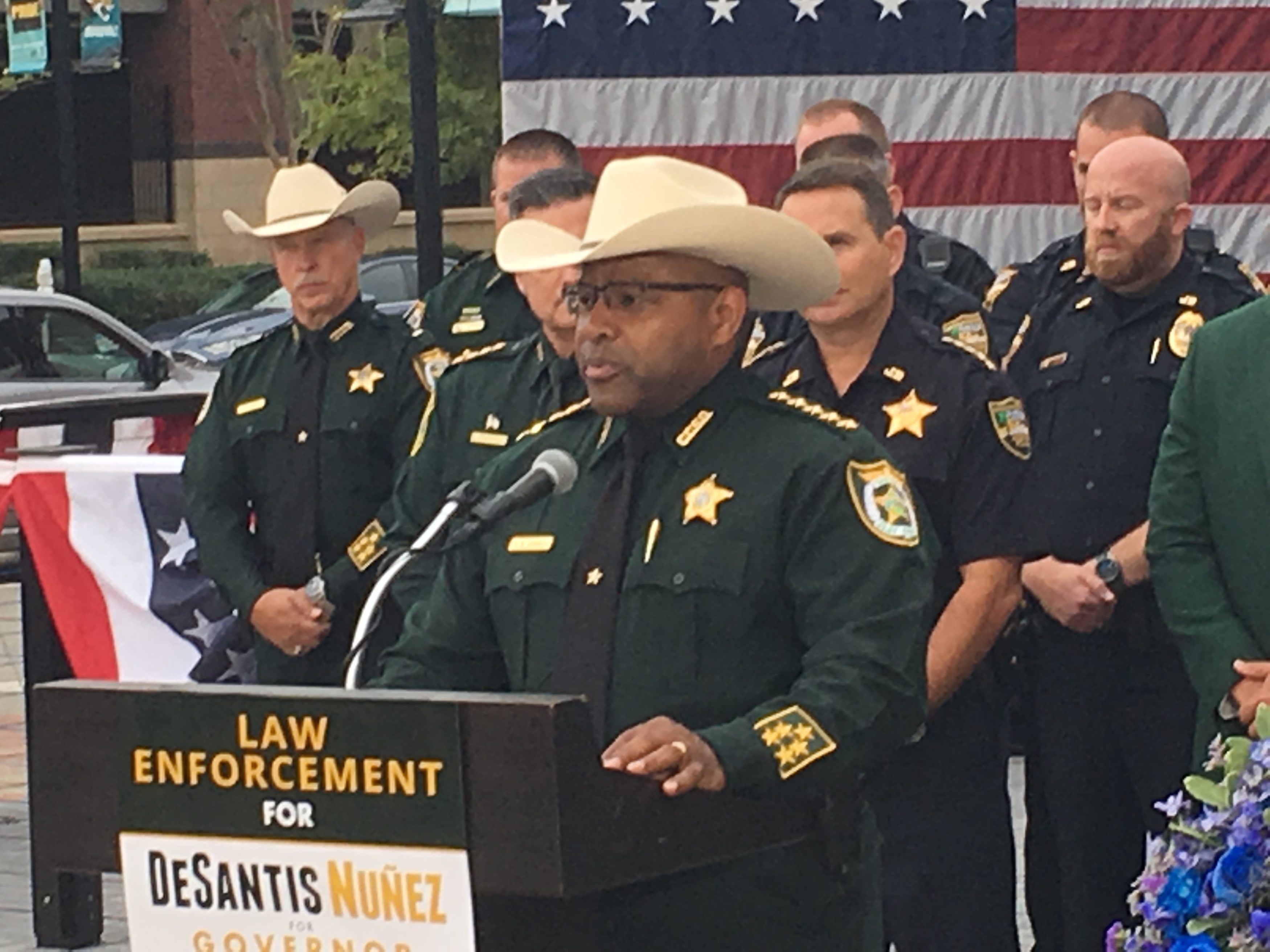 'Major concerns' from local legislators....
Clay County Sheriff Darryl Daniels is under investigation by the Florida Department of Law Enforcement.
Folio Weekly was first to report the FDLE is looking into him … and Daniels, per the alt-weekly, is "'unhinged' with paranoia," it said, making threats of violence and even murder of leakers. Folio also first reported about an anonymous complaint to Gov. Ron DeSantis. 
"We are concerned about not only the reputation of the Sheriff's office, but also our safety," the complaint reads. "He is losing touch with reality and appears violent."
The author (or authors) purport to be members of the Clay County Sheriff's Department.
Sen. Rob Bradley and Rep. Travis Cummings, both from Clay County, issued a joint statement Wednesday evening.
The two powerful legislators said that if the report is true, they have "major concerns,"
The full statement: "If FDLE's investigation confirms what has been reported we will have major concerns. The public must always have confidence that its chief law enforcement officer will treat every citizen equally under the law.  In this instance, a woman was arrested and detained in front of her child. It is serious and cannot be dismissed as merely a private matter."
The issue at hand: Daniels ordered the apprehension of a former workplace subordinate and lover, Cierra Smith.
Daniels accused her of "stalking" him — a charge that proved groundless.
Daniels strongly backed DeSantis during the 2018 general election. But in May, he said he wouldn't hesitate to act if events mandated in the manner Bradley and Cummings suggest.
The Governor is taking his time to make a move.
He told reporters in Jacksonville Thursday that he has "not been briefed on anything beyond the initial statement that went out probably a week or a month ago" and wants "a formal report or something because there has been an investigation."
"We can not comment on any pending or ongoing investigation," said spokesperson Helen Ferré.
The Governor has had weeks to move on this, but the narrative is static.
"I've not been given any official briefing," DeSantis said back in May. "I've heard through the media and other things that there [were] issues."
When reminded of Daniels' general election support, DeSantis kept his distance, noting that Daniels "campaigned against [him] in the primary."
"That's just how these things go," the Governor noted. "It is what it is."
"But if there's anything I've shown in my short time as Governor, it's being willing to hold people accountable regardless of party," DeSantis added, noting he suspended the Republican Superintendent of Schools in Okaloosa County early in his term.
"I cleared out all of Rick Scott's appointees on the Water Management Board," DeSantis continued. "If this rises to the level after I review it, we're going to treat it like anybody else."
With a confirmed FDLE investigation into the Clay Sheriff, locals in Clay await a definitive statement, one way or another, from the Governor.
Attorney General Ashley Moody also benefited from Daniels' support as a candidate but is deferring comment at this stage.
"FDLE is tasked with a full and comprehensive investigation as it relates to these allegations and until that investigation has concluded, our office will refrain from comment," asserted spokesperson Lauren Schenone Wednesday afternoon.
Regardless of where things ultimately fall with the Governor's office, Sheriff Daniels already faces a primary challenge for 2020.
Harold Rutledge, a former sergeant with the Clay County Sheriff's Office and Clay County Commissioner, currently is executive director for the Florida Public Service Association.
He has run before. Expect a crowded and expensive race, as is typical when Clay County Republicans run against each other.