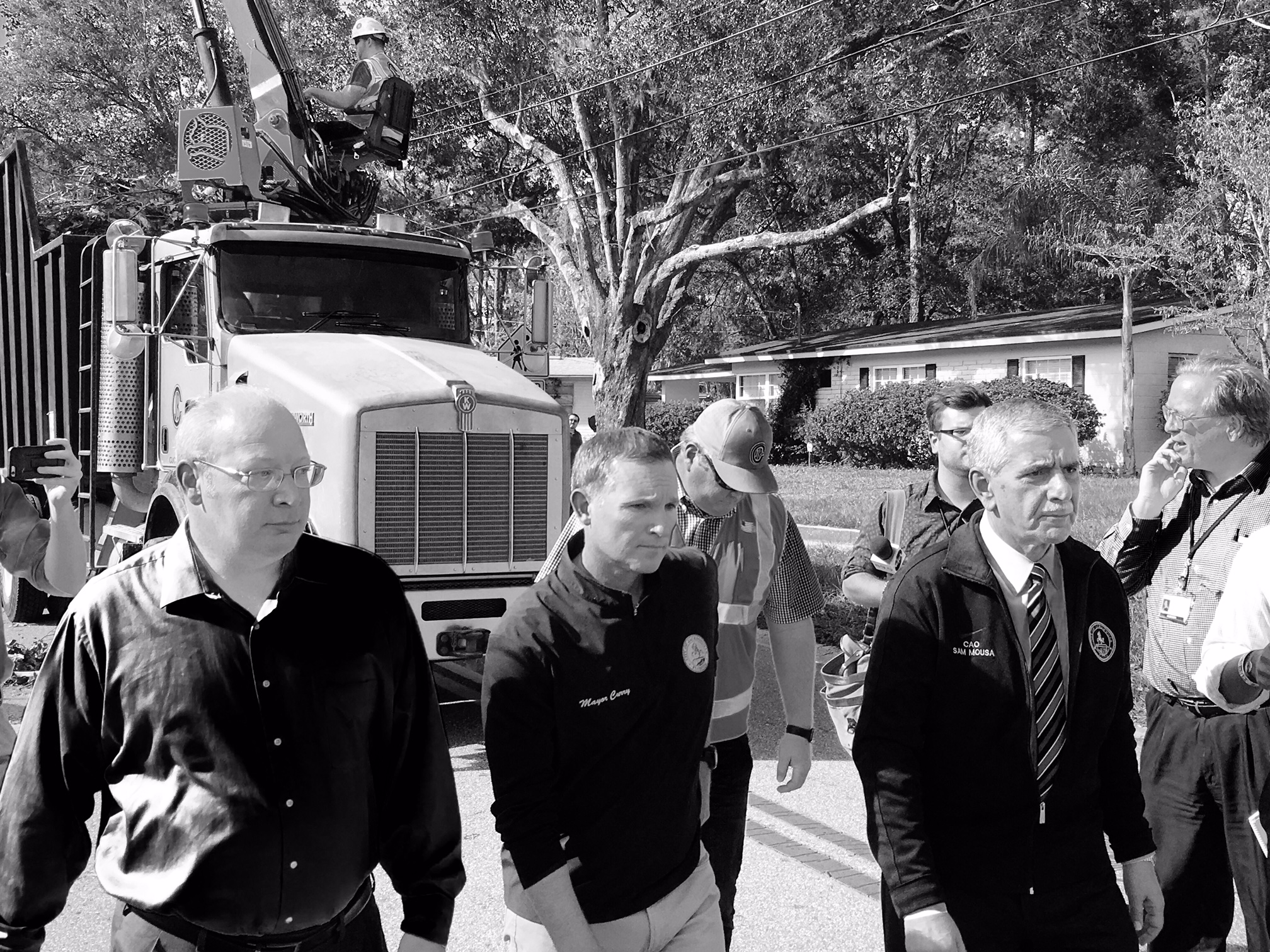 A workhorse, not a show horse.
Jacksonville City Council leadership is set for the next 12 months, after a Thursday evening investiture.
Southside Republican Scott Wilson moves from Vice-President to President. And Democrat Tommy Hazouri, a former Mayor and political lifer, takes the second job.
The new President won the VP spot in his second bid for the office. A former assistant to a former Councilman, staunch social conservative Don Redman, Wilson spent his career before that in the Clerk of Court's office.
Wilson, who described himself as a "workhorse" in his remarks, has been an advocate for his district, which contains pockets of poverty comparable with other areas in the city.
Wilson's remarks stressed cooperation, with phrases like "more reason to work together than to be divided" and calls for debate with "dignity and mutual respect."
He vows to encourage mentoring, via a program called "Boots and Badges," and also "challenged Visit Jacksonville" to bring more youth sporting events to town.
Wilson, who left school at the age of 15 to work in a steakhouse before getting a city job at the age of 18, knows very well the importance of structure for wayward youth.
Hazouri, a Democrat who has not been afraid to buck the party as needed, sought Council leadership as a goal when he ran four years prior.
If all goes as it should, Hazouri will have a clear path to the presidency, making him the first Democrat to lead the body since the 1990s.
Hazouri and Mayor Lenny Curry have collaborated on key issues, and Jacksonville City Hall is often a place where party label falls far below personal affinity when it comes to doing business.
If Hazouri takes the presidency, the action to watch who will end up as his Vice President.
Typically, year three of a Council term is when someone from the new class makes a run for leadership.
New members, many of them from the Curry camp, will be major presences on the most important committees starting next month.
Finance is especially loaded.
The Finance Committee is as favorable a draw as the Mayor's Office could want during the budget process this summer.
Joining Chairman Aaron Bowman, the current Council President: Council newcomers LeAnna Cumber, Randy DeFoor, and Ron Salem did, as well as Terrance Freeman, Bowman's former assistant elected in his own right this year.
All four of them used Curry's chief consultant to win (Cumber didn't even draw a challenge).
Freeman may have the leg up on the newcomers in tenure in a leadership bid.
Rules sees a group of new members: Rory Diamond, a Curry Republican, along with non-machine wildcards: Republicans Michael Boylan and Matt Carlucci, and Democrat Brenda Priestly-Jackson.