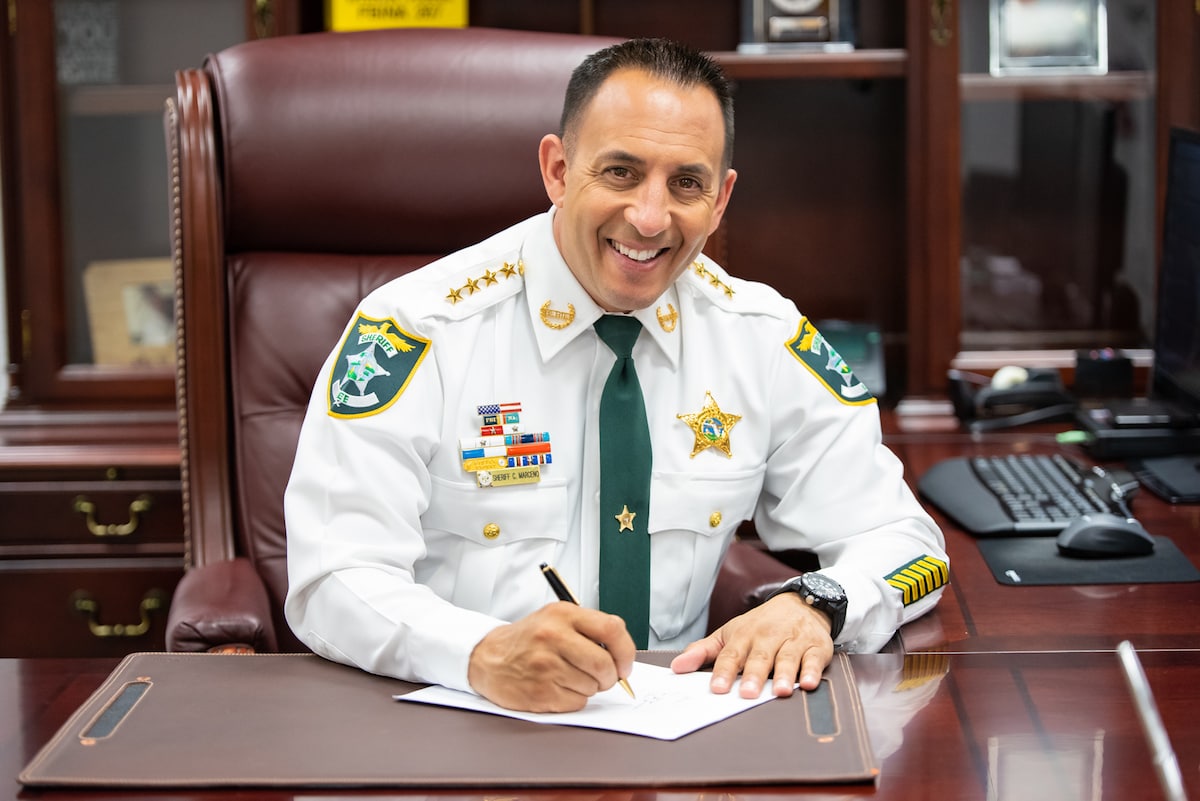 The Republican lawman criticized after laying off long-time staff.
A decision to lay off long-time employees has political opponents of Lee County Sheriff Carmine Marceno crying foul.
Meanwhile, former staffers question if budget concerns truly drove the decision that cost their jobs.
An internal memo distributed within the Sheriff's Office asserts state-level demands played the greatest role in decisions to trim staff.
A request for comment to the Republican lawman placed earlier Tuesday was still pending by that afternoon.
Marceno said in an email to staff that a careful budget review resulted in the elimination of 22 positions.
That included 17 empty posts, along with five positions held by individuals, some with a long history in the agency.
"Absorbing the duties of these positions elsewhere in the agency along with other improvements in our policies and practices have saved the Sheriff's office over $2.7 million," Marceno wrote.
"There are no further changes in staffing expected — these savings will allow the Sheriff to continue to increase salaries and benefits, while meeting the additional demands placed on the agency that are outside our control."
Some employees shown the door, however, express frustration Marceno already hired new people since layoffs occurred.
Terri Valentine Taylor, former executive assistant to the Sheriff, questions the reasoning.
She worked for 14 years as former Sheriff Mike Scott's secretary, and for the agency itself much longer.
"I think I was just considered part of Mike Scott's camp and he didn't need his input anymore," Taylor said.
Marceno previously served as Scott's Undersheriff. Gov. Rick Scott appointed Marceno to the sheriff's position after Mike Scott's retirement last year.
Ever since then, Taylor said she was given less to do. She served all the top command staff at the Sheriff's Office, which was itself a shift.
But she didn't expect to be laid off two years before reaching retirement.
"That day I came in and none of the command staff showed up to work," she said. "I wondered if something major had happened and they were at all a crime scene. Then after lunch, I was told about this and realized they just didn't want to see me or talk to me."
She wasn't the only long-time employee let go. Stacey Payne, director of community relations, worked more than 23 years at the agency. She, too, was laid off last week by Marceno.
"At this point, I question [Marceno's] reasoning," she said. "Perhaps it was the new outreach effort they opened in Miramar, or the deputy dogs program taking precedence over other outreach like senior services in the county."
The email from Marceno said laid-off individuals were "offered employment opportunities elsewhere in the agency."
But neither Payne nor Taylor was offered another job. Payne said she was told she could apply for a different job opening in the agency but would be given no preference over a new applicant.
"We're all over 50 and all near retirement," Payne said. "I am sure we made more than bringing in some college-age student."
Political opponents of Marceno jumped on the layoffs as further evidence of poor budget decisions during Marceno's tenure.
"He is in a desperate search for money and playing a shell game," said Jim Leavens, a Republican challenging Marceno in the GOP primary.
Since taking over the department, Marceno faced criticism for promoting more individuals in his command staff.
Under Marceno, the department lists an additional commander position compared to the end of Scott's tenure, for example.
But Leavens said the bloat at the top extends further.
"He had a busy first week in that he made 20 promotions, 18 of which were created positions. This spending frenzy cost the taxpayers millions," Leavens said.
And that's not counting a $70,000 renovation of the commander's hallway at the Sheriff's Office. That included about $8,300 worth of new cinnamon cherry doors in the office.
Marceno's message to staff addresses and counters assertions the cost cuts could have been averted but for promotions and capital improvements.
"The Lee County Sheriff Office has recently absorbed substantial additional expenses and obligations, resulting from burdens placed on the agency by statute and state administrative actions," Marceno wrote.
"Unlike expenses the agency incurred through increases in members pay and benefits, these additional expenses are for the most part outside the agency's control."
That included requirements for more student resource officers, increases in employee pension rates and increased health care costs, both for inmates and for employees and retirees still covered by the sheriff's office.
Much of that has come from unfunded mandates. Certainly, budget demands from the Marjory Stoneman Douglas High School Public Safety Act have added stress on departments through the state.
But amid other program cuts, like the elimination of the Project Lifesaver program, Leavens sees poor judgment on the incumbent's part.
"In his short reign he has already exhibited a gross misuse of taxpayer funds and a complete lack of understanding for what would be considered 'mission critical' expenditures," Leavens said.