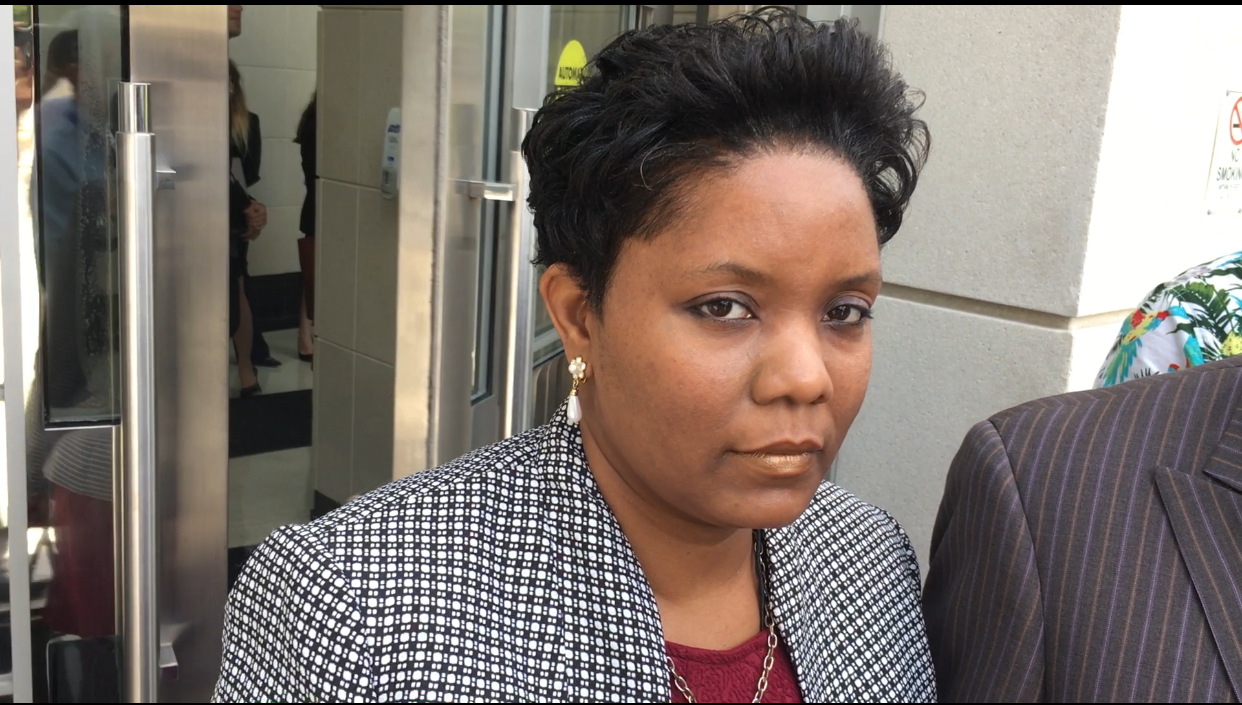 Brown doesn't want a "government lawyer."
On Thursday, just weeks before her trial was scheduled to begin, former Jacksonville City Councilwoman Katrina Brown attempted to make a case for representing herself in federal court
Brown's position: that she had a "Constitutional right" to moving forward without counsel, waiving court-appointed representation.
And she also sought a continuance to marshal her own defense. But the government opposes yet another extension of the trial date.
There is no guarantee such a continuance would be provided, a situation that could leave a legal novice with less than two weeks to prepare for a federal trial that could be that long.
This pretrial movement — known as a Faretta hearing — was just the latest twist in a trial of two Jacksonville City Council members indicted on charges of misuse of economic incentive funds ceded out to Ms. Brown's family barbecue sauce plant.
Katrina Brown and unrelated former Council colleague Reggie Brown face 38 counts. Ms. Brown individually faces 37 of them.
The list is extensive: Conspiracy to defraud, 13 counts of mail fraud, 13 counts of wire fraud, six counts of illegal monetary transactions (money laundering charges, all of them involving checks of over $20,000), two counts of attempted bank fraud (trying to secure a loan using forged information), two false statements to a federally insured institution.
Cumulative potential penalties for Katrina Brown is 720 years, as well as more than $12 million in fines.
According to the indictment, misappropriated money included $2.62M Small Business Administration loan from BizCapital, and city of Jacksonville money (nearly $600,000 in grant money and loans), intended for economic development plans regarding a BBQ Sauce Plant that never appeared seriously meant to come to fruition.
As the hearing progressed, Judge James Klindt repeatedly reminded Ms. Brown that she still had "an absolute right" to counsel as of now. To represent herself, she must "knowingly, voluntarily, and intelligently … clearly and unequivocally" make that decision.
"Yes, I want to waive my rights to an attorney and represent myself," Brown said.
Ms. Brown attempted to make the case that her experience on City Council somehow prepared her for trial, as she sometimes addressed criminal justice issues.
Ms. Brown struggled when asked to consider the possibility that she may not know all of her potential defenses.
"The court is not going to be able to help you represent yourself," Klindt said. "You'll be serving two roles … acting as the attorney and as the accused."
Ms. Brown has cycled through several attorneys. Most recently, Richard Landes and John Leombruno had their turns.
Judge Klindt noted that the case needed a pair of lawyers because the defense was so complicated; for the first time in 33 years, there were two court-appointed attorneys for the defendant.
"I don't want counsel from the government," Brown said. "I want to represent myself," though she eventually agreed to have the two lawyers as "standby counsel."
It's entirely possible Brown could decide to let standby counsel take over in the end — but going in, that's not the plan.
"Be ready to go," Klindt advised lawyer Landes.
The former Councilwoman lobbied for a continuance, but given previous extensions, Judge Klindt was disinclined to push back the trial even further — warning Brown that she may not have her request granted.
Klindt tried, in vain, to let Brown know the stakes: "If your house was on fire, would you call 911 or get a hose and put out the fire yourself?"
Those words were not heeded, setting the stage for another theatrical political trial involving a Duval County Democrat.
Those who recall the Corrine Brown trial, in which the former Congresswoman was her own primary witness, remember her "one-woman show" approach.
Corrine Brown also cycled through lawyers but never hazarded representing herself. However, her histrionic testimony overshadowed any maneuvers from her attorney, James Smith.
Katrina Brown has no legal training and likely will struggle to keep up with federal attorneys Michael Coolican and Tysen Duva: the same crew that defeated the Congresswoman.
Jury selection follows on Aug. 14 and 15, ahead of an Aug. 19 trial date.
The government expects to wrap its case within five days, and a two-week trial for the "high-profile" case is expected, with special precautions because this is a case of public interest.
Earlier this year, Brown and Brown requested separate trials, saying their defenses could be "mutually antagonistic." But that request was denied.