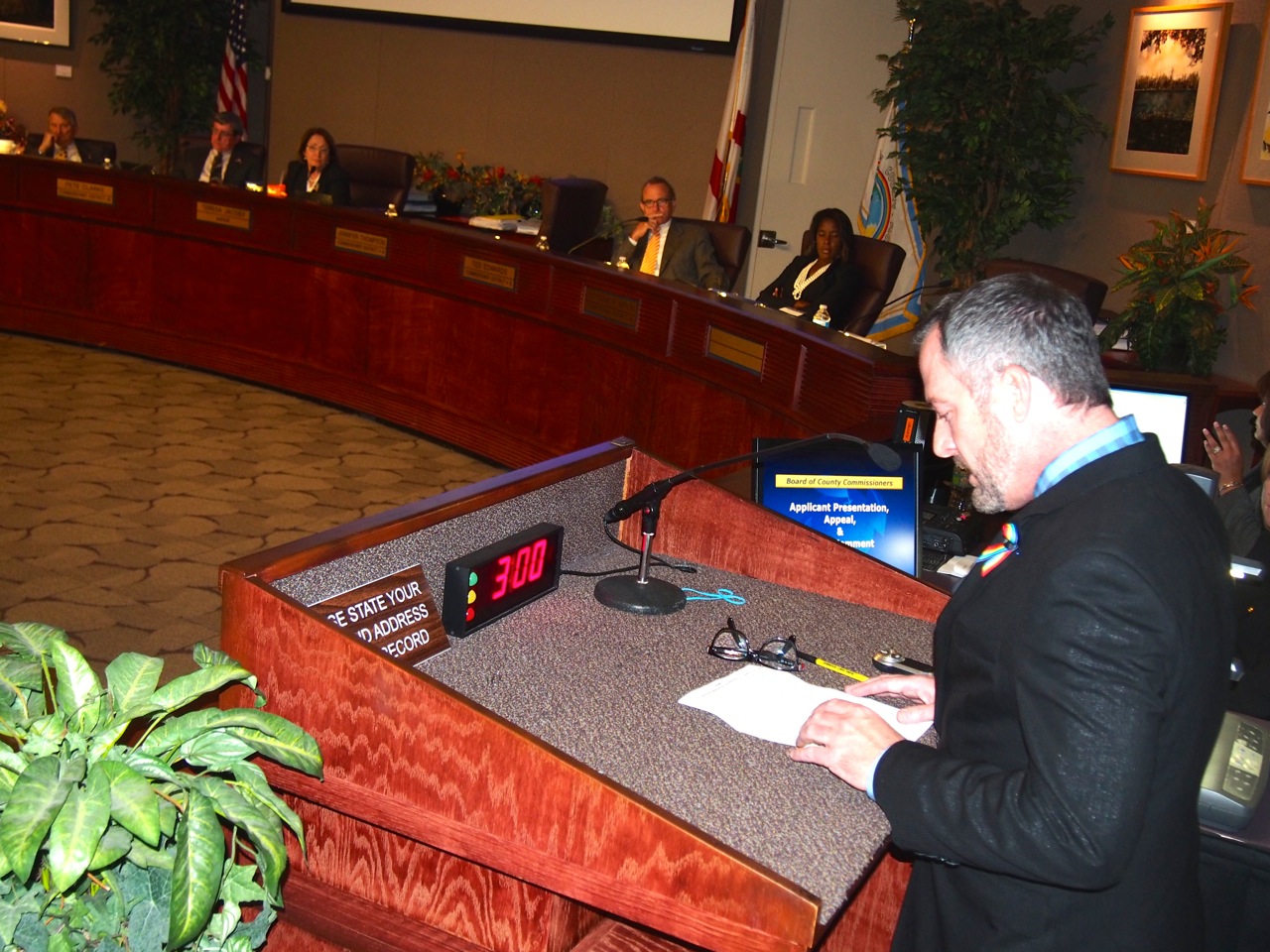 'What we're trying to do is stop that abuse,' Eric Rollings said.
A coalition of organizations involved in protecting children and LGBTQ people and rights is organizing a push to get the controversial counseling practice known as "conversion therapy" — programs intended to get minors to give up being gay — banned in Orange County.
Organizers led by Eric Rollings met with Orange County Mayor Jerry Demings last week and have communicated with at least four of the other six members of the Orange County Commission.
They are seeking to get Orange County to adopt an ordinance similar to one adopted this spring in Alachua County, banning the practice throughout the county, including in all its cities and towns.
The coalition, including Equality Florida, the OneOrlando Alliance, the Zebra Coalition, and the Orlando Youth Alliance, is planning a rally around the drive for Thursday evening at the Stonewall Bar in Orlando.
Rollings said a petition drive to support a county ordinance has collected more than 3,000 signatures. He and other supporters are hoping to land the question on the Orange County Commission agenda in September.
Three Florida counties have banned the practice: Alachua, Broward, and Palm Beach. It also has been banned in 18 cities, including Miami, Tampa, Miami Beach, West Palm Beach, Key West, and Gainesville. It also has been banned in at least 18 states.
There are almost annual attempts in the Florida Legislature with bills to ban the practice statewide. But to date none has gotten out of a first committee. The latest (HB 41) was filed Friday for the 2020 Legislative Session by Democratic state Rep. Mike Grieco of Miami Beach.
His HB 41 would ban "conversion therapy" practiced on anyone under the age of 18. The bill defines the practice as "any practice or treatment performed on an individual with the goal of changing the individual's sexual orientation, including, but not limited to, efforts to change behavior, gender identity, or gender expression, or efforts to reduce or eliminate sexual or romantic attraction or feelings toward an individual of the same gender."
Rollings and others seeking to ban the practice in Orange County contend that efforts to force minors into the therapy against their wills, especially in secured retreats, amount to child abuse and in some cases to kidnapping. They contend that the practice often causes serious psychological harm, convincing youth to hate who they are, which can last a lifetime.
"What we're trying to do is stop that abuse. Minors that go through this, even later in life, after they're finished, after they graduate, as they go through life, that damage is there," Rollings said.
"I have so many friends, I've had a dozen people reach out to me, and I had no clue that they went through that. And more than half of them, these are people in their 40s and 50s, and they're telling me 'I'm still so messed up about it, I still can't talk about it,'" Rollings said. "These are leaders in the community, and they went through it."
The practices are commonly rooted in fundamentalist Christian beliefs that homosexuality or the desire for gender change are choices or even mental health problems, and that counseling can bring the individuals back to a lifestyle consistent with fundamentalist Christian doctrines.
Supporters of the practice say it simply is counseling therapy, and deride the term "conversion therapy" as loaded.
Much of the establishment psychology, psychiatric, behavior therapy, and medical professions have condemned the practice. The medical community has long concluded that homosexuality is largely genetically-driven, not a matter of choice.
Among groups that have released statements opposing the practice are the American Psychology Association, the American Psychiatric Association, the American Academy of Pediatrics, American College of Physicians, the American School Counselors Association, and the World Health Organization.
The Orlando-based Christian rights legal defense organization Liberty Counsel has been contesting such ordinances in several Florida cities, notably Tampa, and also taking the lead in the national fight, in numerous other cases throughout the country.
Liberty Counsel Chair Mat Staver advice to Orange County: Don't do it, unless you are willing to take on expensive litigation which he is confident his organization will won.
Staver said the key legal issue in the fights is over the concept of "professional speech", that the messages of professional, licensed therapists can be regulated. That concept, he said, already has been recently rejected by the U.S. Supreme Court in two cases unrelated to therapy, and it's only a matter of time before he gets a case before the High Court to have the concept rejected in the therapy laws as well.
"It's not a matter of if, it's when," Staver said.