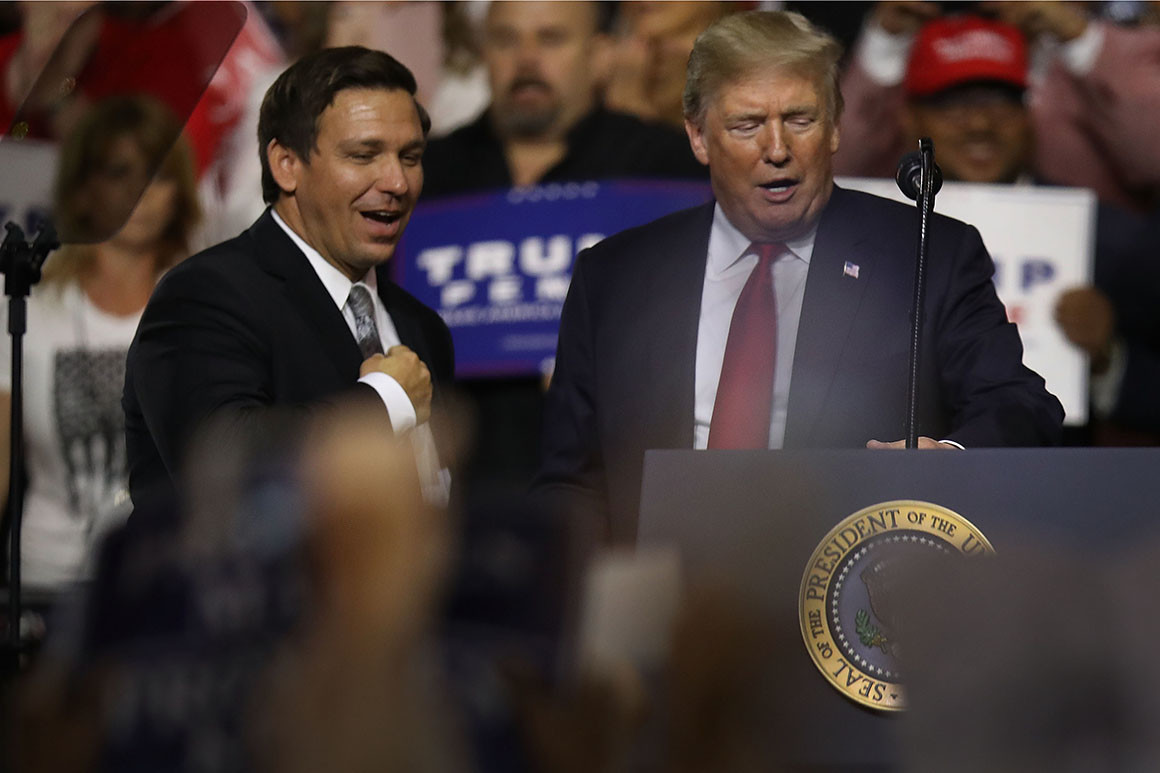 DeSantis will be in Washington, D.C. Friday night.
Gov. Ron DeSantis is in Washington, D.C. Friday night, attending President Donald Trump's second state dinner.
Trump is organizing the event at the White House for the visit of Australian Prime Minister Scott Morrison and his wife, Jennifer. The state dinner is being held at the Rose Garden.
The event is listed on the Governor's Friday schedule, with DeSantis slated to appear at the dinner at 6 p.m.
Trump's first state dinner as President was held in April 2018 during the visit of French President Emmanuel Macron. Australia's leader has not been granted a state dinner since 2006.
"Americans and Australians hold within our hearts a great love of family, a profound allegiance to our fellow citizens, a deep respect of law and liberty, and a determination to protect our independence at any cost," Trump said Friday night.
The menu for Friday's dinner includes a first-course pasta topped with sunchokes, carrots and kale. The entree is Dover sole and squash blossoms, followed by apple tarts for dessert.
Dinner tables were covered in yellow and green cloths, a slight offshoot from Australia's national colors.
Joining DeSantis were Fox Business hosts Maria Bartiromo and Lou Dobbs, former Secretary of State Henry Kissinger, Attorney General William Barr, Supreme Court Justice Clarence Thomas and former golfer Greg Norman.
Counselor to the President Kellyanne Conway also attended the event. But she was without her husband, George, who is a vocal critic of the President and has called for his impeachment.
More than 170 guests were invited in total.
"This, of course, was once the home of President Teddy Roosevelt, who I have always greatly admired," Morrison said of the White House.
"He was also a New Yorker. He was also unconventional."
Morrison arrived in the U.S. Thursday night as part of a week-long trip. On Sunday, Morrison and Trump plan to visit an Australian-owned manufacturing facility in Ohio.
Morrison will then head to New York City Tuesday for the gathering of the United Nations General Assembly. The Prime Minister is also slated to visit NASA headquarters, as well as hold a meeting in Chicago focused on the tech industry.
Trump and Morrison held a news conference earlier Friday where the pair fielded several questions from members of the press.
Trump was bombarded with questions surrounding recent reports an unidentified call with a foreign leader prompted a whistleblower report to be filed. That prompted a finding from the complaint was "urgent."
That finding was made by Michael Atkinson, the Trump-appointed Inspector General of the Intelligence Community. It's not yet clear the contents of the call or who Trump was speaking to.
Trump has denied any wrongdoing.