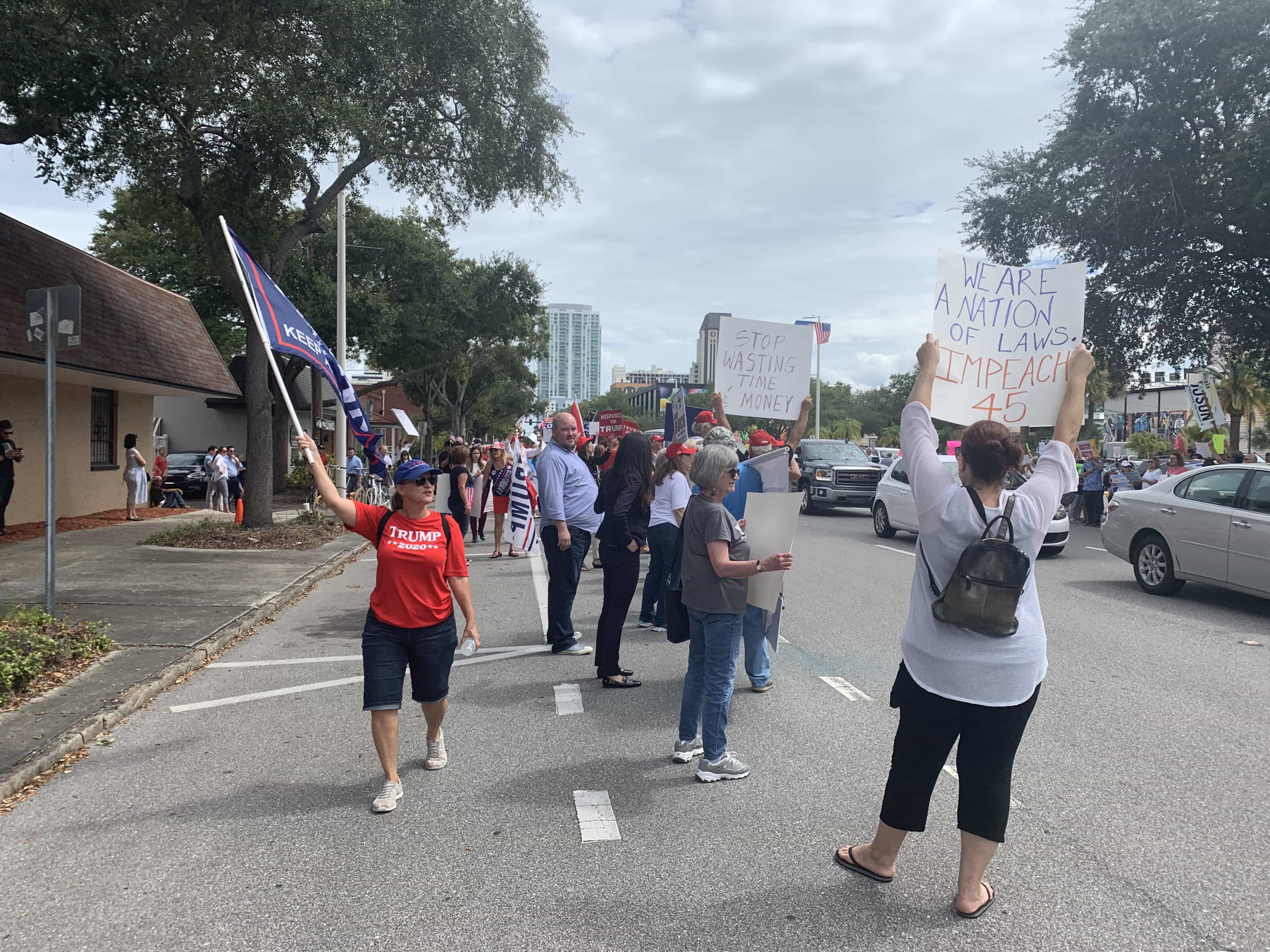 Gaetz cited miscommunication between his office and the RNC.
Republican U.S. Rep. Matt Gaetz was a no-show at his own rally Monday afternoon in downtown St. Pete.
Gaetz announced last week he would be rallying voters and speaking in front of Democrat Congressman Charlie Crist's office Monday.
But Gaetz canceled his appearance about an hour before the event was scheduled, citing a "miscommunication."
"Due to a miscommunication on the RNC's part, Congressman Gaetz will no longer be attending today. The event has shifted to a training and rally supporting the President," Trump Victory Spokesperson Danielle Alvarez said.
Alvarez offered another statement later.
"Instead of focusing on what they were elected to do, Democrats like Rep. Crist, have broken their promise to voters, choosing to waste taxpayer dollars on a baseless impeachment inquiry.
"Crist pretends to be a moderate in rhetoric only, but when it comes time to act, he turns around and votes with the socialist squad," Alvarez said.
Word of the rally spread quickly over the weekend and Tampa Bay Democrats quickly organized a counterprotest.
By the time 1 p.m. rolled around, there were at least twice as many pro-impeachment protesters as there were participants in Gaetz's rally. A Trump supporter who attended the rally later followed up saying by 2 p.m. the impeachment crowd had thinned to just a handful of people while the pro-Trump crowd still had about 50 people remaining. Florida Politics was not able to independently verify his information, but the emailer offered a photo showing Trump supporters standing where the pro-impeachment crowd had been as evidence.
The two groups stood on either side of First Avenue North as motorists flooded by, many of them on their way to the Tampa Bay Rays playoff game at Tropicana Field, which caused traffic to be extra heavy in the area.
The two groups exchanged chants back and forth across the street from one another. Those in the pro-impeachment camp chanted things like the usual "show me what democracy looks like" followed by "this is what democracy looks like" and "impeach Trump now."
On the other side of the street, rallies clad in red, white and blue and waving American flags shouted "where's your flag" and mocked the anti-Trump crowd for lacking patriotism.
Gaetz had been planning the rally as part of the "Stop the Madness" campaign seeking to shield Trump from impeachment proceedings already underway in Washington.
"I'm ready for a change in Washington, ready for a change at the top," said anti-Trump protester Wayne Clark. "It's gone far enough."
Another protester carrying a sign with a picture of Gaetz that said, "does this ass make my country look small" said the crowd size at the counter-protest gave her "faith in humanity."
"Sometimes living in Florida, which is a fairly red state, and looking at comments on news stories, you see so many comments that are so pro-Trump, it can be really disheartening. Like, am I one of the only ones? But you come here and you see that people really have shown up and are putting their money where their mouth is and it just feels a lot better," said Jennifer Tyson, who attended the rally on her lunch break.
Tyson said she doubts Gaetz had a scheduling conflict.
"He's known as a rabble-rouser and he likes to stir things up during this insane time of impeachment," Tyson said. "Trump is literally a criminal in many aspects. The Mueller report made it very clear Congress needs to act. We're in a constitutional crisis."
The tone was obviously different across the street where Trump supporters dismissed claims against Trump related to his phone conversation with the Ukrainian President in which Democrats claim Trump used his office to solicit foreign interference in an American election.
"I think they're ridiculous and madness," said one man calling on Democrats, including Crist, to drop impeachment proceedings. "I'm concerned that most people over there don't like him because of his hair."
The man, who gave his name only as Greg, rejected claims that Trump had done anything wrong.
"His oath of office is to defend us. All of those people over there were concerned about influence in our 2016 election. President Trump, as far as I'm concerned, if he doesn't ask for an investigation, there's a derelict of duty there," he said.
Only one pro-Trump protester Florida Politics spoke to was willing to his full name.
"I want to defend freedom for the country not slavery like the Democratic Party wants to do," said military veteran Gerald Radomski.
Asked what he meant by that, Radomski said he believes Democrats want "to turn over the sovereignty of our country to a bunch of money-grubbing politicians" who "don't care about the country and only care about themselves and how much money they make."
"They want to get rid of [Trump] because he's standing in the way of them taking over the world with a globalist government, with a worldwide dictator," he said, adding that House Speaker Nancy Pelosi was "a traitor."
Another protester who wouldn't give her name said Democrats are trying to impeach Trump because they don't want a 2020 election.
After pointing out there will be an election whether Trump is impeached or not, she clarified that Democrats just don't want to run against Trump.
She dismissed her group being outnumbered because St. Pete is a liberal city: "I used to live in South Carolina and we had far more people there," the protester said.