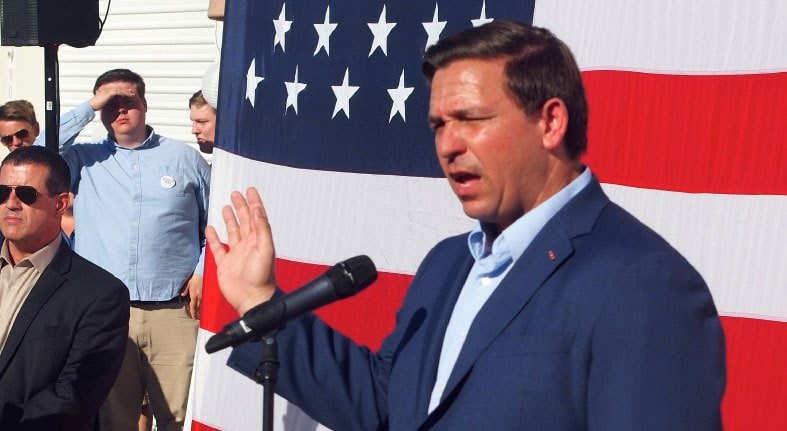 The show of unity comes after weeks of reported friction.
Florida Gov. Ron DeSantis joined Republican Party of Florida Chairman Joe Gruters on a conference call with state committee members.
"I was surprised," said one State Committeeman on the call. "The first thing Joe Gruters said was 'I'd like to introduce my friend, Governor Ron DeSantis."
The next morning, DeSantis suggested to reporters on Lover's Key in Lee County that things were fine with Gruters. When asked if the Governor still had full faith and confidence in Gruters, he answered simply, "Yes, I do."
The display of party unity came amid a barrage of negative press about friction within the party. POLITICO has reported DeSantis had worked to "effectively sideline" Gruters. Subsequently, sources told Florida Politics they were angry at DeSantis for party meddling and wanted Peter O'Rourke, DeSantis' choice for executive director of the state party, to resign.
DeSantis last week called reports of tension "stupid scuttlebutt."
During the Monday night call, DeSantis explained the reasoning for moving the Statesman's Dinner to Dec. 7. That allowed the state party to bring in President Donald Trump as a guest.
DeSantis announced Trump as a guest and the new date for the dinner during the Associated Press Legislative Briefing, hours after the party announced it would postpone the event.
The conference call marked a show of unity for the party chairman and the most prominent Republican elected official for the state.
Earlier in the day, a meeting had been convened with DeSantis, Gruters and Senate President Bill Galvano to smooth over any real or perceived friction.
Galvano declined to discuss what took place at the meeting.
Gruters did not discuss the meeting itself either. But afterward, he said he felt positive about the state of relations.
"All is great," he told Florida Politics. "Thankful for the Governor and his commitment to Florida and the Republican Party."