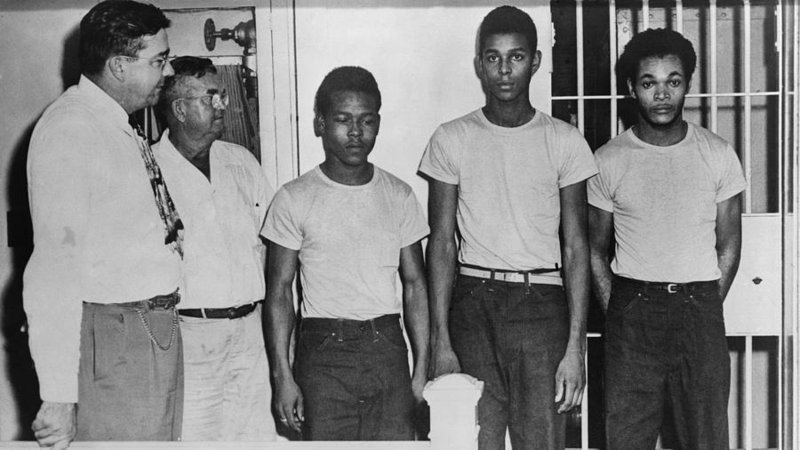 The four, falsely accused of rape in 1949, were pardoned in January.
The four young black men who had been falsely accused of raping a white woman in Lake County in 1949 and were pardoned in the first Florida Cabinet meeting of Gov. Ron DeSantis in January deserve more than just pardons, they deserve full exoneration, Agriculture Commissioner Nikki Fried and state Rep. Geraldine Thompson say.
Fried, a member of the Florida Cabinet who joined in issuing the posthumous pardons last Jan. 11, and Thompson, an Orlando lawmaker who has pushed to clear the Groveland Four since 2014, have called a press conference in the State Capital for next week to open a new effort. They intend to pursue full exonerations for Ernest Thomas, Samuel Shepherd, Walter Irvin, and Charles Greenlee, all now deceased.
"That's always been my intention, to seek full exoneration," Thompson said Tuesday.
Pardons are official statements of forgiveness, while exonerations are official recognitions of innocence. "What we want is for them to be acknowledged for their innocence, which is what they deserve," Thompson said.
In a written statement Tuesday, Fried called the pardons a "first step" toward justice.
"As I said in January, the families of the Groveland Four deserve justice that has been long denied," Fried said. "We took an important, bipartisan first step with their pardon, and I'm hopeful we can work in that same bipartisan fashion towards the full exoneration these Floridians deserve. I'm pleased to partner with Rep. Thompson on this important issue and look forward to discussing it next week."
Fried and Thompson expect to be joined at next week's press conference by family members of the Groveland Four and activists who've worked for years to clear the four.
Thompson said DeSantis has been approached about the exonerations, and that he has asked Attorney General Ashley Moody to explore how they might legally be pursued. The matter is complicated by the fact that the case is 70 years old, and many records are hard to find. The Florida Department of Law Enforcement also is involved in research, Thompson said.
Last January they all were celebrating, when DeSantis, Fried, and Moody, all newly elected and freshly inaugurated, and returning Chief Financial Officer Jimmy Patronis, did what the previous Florida Cabinet had refused to do, grant official pardons. However, even in joyfully accepting those pardons, some of the family members, and Thompson, also had called for exoneration.
"Pardon is not the right word. The right word is exonerate, because it never happened," Irvin's cousin Beverly Robinson said during the Jan. 11 Florida Cabinet meeting.
"My father was not there. The evidence, the proof, is in the record that he was not there. He was accused, put in jail, tortured for something that he did not do," said  Carol Greenlee.
The woman who made the 1949 accusations of rape, Norma Padgett Upshaw of Lake County, also appeared at the Jan. 11 Cabinet meeting and insisted that everything she had said in 1949 was true. She and some of her family members rejected pleas from speakers who contended the Groveland Four were innocent.
But the Cabinet, officially acting as the Florida Executive Clemency Board, saw clear injustice.
Shepherd and Thomas were killed in custody awaiting trial. Irvin and Greenlee were convicted and imprisoned. Even at the time, evidence was mounting that the four had been railroaded through Jim Crow era racism. Records released by the FBI, efforts by Civil Rights crusaders, and books by investigative writers created a compelling case that, as DeSantis declared, "justice was miscarried."
Thompson has been championing the Groveland Four cause for many years. In 2014 and again in 2016, when she was in the Florida Senate, she had sponsored resolutions calling for exonerations of the Groveland Four. But they did not pass.
However, in 2017, while Thompson was out of office, the Legislature unanimously approved a resolution, CS/HCR 631 , that declared that the Groveland Four were falsely accused, declared the case to be "a shameful chapter in this state's history," apologized, and called for state pardons, though not exonerations. Then-Gov. Rick Scott and his Cabinet ignored that call for the rest of their terms. But DeSantis, Fried, Patronis, and Moody took up the cause quickly and decisively during the first week of their term together as the Florida Cabinet.
"Most of what we are looking at are the actions of the officials, government officials acting on behalf of Lake County and the state of Florida, for what was termed by the leading Supreme Court Justice of his generation, Robert Jackson [who served on the U.S. Supreme Court from 1941-54], [as] one of the best examples of one of the worst menaces to American justice," DeSantis said at the Jan. 11 meeting.