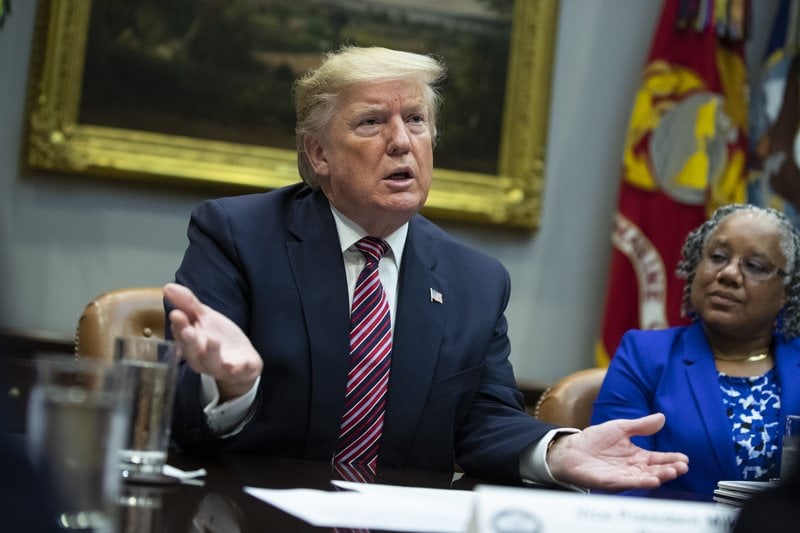 Party line votes as expected in 8-minute meeting Friday morning.
In a meeting that lasted only eight minutes, articles of impeachment against President Donald Trump were swiftly and perfunctorily approved Friday morning by the U.S. House Judiciary Committee.
The committee voted along strict party lines, 23-17, to approve each of the two articles independently, to impeach Trump for abuse of power, and for obstruction of Congress. One Democrat, Ted Lieu of California, was absent due to illness.
There was no further debate nor any introductory remarks Friday, following Thursday's marathon 14-hour markup hearing and an earlier five hours of debate Wednesday evening.
Democratic U.S. Reps. Ted Deutch of Boca Raton, Val Demings of Orlando, and Debbie Mucarsel-Powell of Miami all voted aye on both articles.
Republican U.S. Reps. Matt Gaetz of Fort Walton Beach and Greg Steube of Sarasota each voted no on both articles.
Demings, Gaetz, Steube, and Democratic U.S. Rep. Debbie Wasserman Schultz of Weston were among those who quickly commented after the meeting.
House Resolution 755, containing the two articles of impeachment, now goes to the floor of the House for debate and a final vote next week.
Judiciary Committee Chair Jerrold Nadler, a New York Democrat, went right to the votes Friday morning after abruptly recessing Thursday's hearing shortly before midnight, saying he wanted members to have a chance to reflect and be fresh before voting. That had followed two days of often contentious hearings on HR 755.
After Friday's votes, Nadler gave members two days to submit views for the record.
Ranking Member U.S. Rep. Doug Collins of Georgia advised that he would be submitting dissenting views.
Trump is accused, in the first article, of abusing his presidential power by asking Ukraine to investigate his 2020 rival, Joe Biden, while holding military aid as leverage, and, in the second, of obstructing Congress by blocking the House's efforts to probe his actions.
Keeping with the theme of brevity, Nadler approached the media after the hearing and gave about 30 seconds of comments, taking no questions.
"Today is a solomn and sad day. For the third time in a little over a century and a half, the House Judiciary Committee voted articles of impeachment against the President, for abuse of power and obstruction of Congress. The House will act expeditiously. Thank you," he said. He then turned and left.
The President insists he did nothing wrong and blasts the Democrats' effort as a sham and harmful to America. Republican allies seem unwavering in their opposition to expelling Trump, and he claims to be looking ahead to swift acquittal in a Senate trial. That hearing is expected in January.
White House Press Secretary Stephanie Grisham issued a statement referencing fair treatment and due process Trump expects in the Senate, but not mentioning a trial, perhaps signaling credence for reports that Senate President Mitch McConnell intends to use procedures to dismiss the articles before a trial can take place there.
"This desperate charade of an impeachment inquiry in the House Judiciary Committee has reached its shameful end. The President looks forward to receiving in the Senate the fair treatment and due process which continues to be disgracefully denied to him by the House," Grisham said.
Trump's reelection campaign manager Brad Parscale also underscored the President's position in a written statement issued shortly after the hearing.
"This committee vote is just another act in the Democrats' political theater. The baseless, sham impeachment is just out-of-control partisan politics and the American people are rejecting it," Parscale said.
Gaetz expressed his reaction in a brief TV appearance and in a tweet after the hearing: "For Democrats, impeachment is their drug, their obsession, their focus. They said the evidence would be overwhelming. It wasn't. They promised there would be support for impeachment after hearings. There wasn't. Today, they failed to meet the standard they set for themselves."
So did Demings, in a series of tweets: "I just voted yes on an article of impeachment for abuse of power. May God bless the United States of America and our Constitution.
"I have also voted yes on an article of impeachment for obstruction of Congress. Everybody counts. And everybody is accountable.
Steube made his statement in a news release.
"What we witnessed here today will be remembered in American history for generations to come and unfortunately, history will not look kindly on what this committee has done tonight, or in the weeks leading up to this vote," Steube said. "This impeachment inquiry was a partisan attack against a duly elected president, attempting to nullify the votes of 63 million Americans. Many who have served in Congress much longer than I have warned against such a partisan approach to impeachment, including Speaker [Nancy] Pelosi and Chairman Nadler."
Wasserman Schultz stated her views on MSNBC.
"He has violated his oath of office, he has violated the Constitution, and needs and must be held accountable as a result," she said of Trump. "No one is above the law. And what is particularly, particularly disturbing here is he put his own personal and political interests above our national security interests. And that is why Congress has to act."
Trump is only the fourth U.S. president to face impeachment proceedings and the first to be running for reelection at the same time.
The Associated Press contributed to this report.