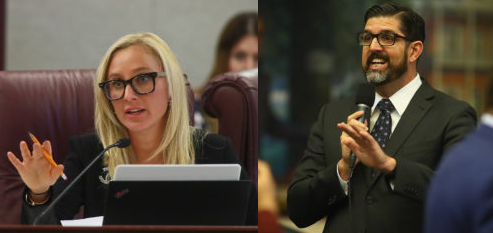 Spoiler: South Florida Man Donald Trump made the list.
A once-in-a lifetime pandemic. A record-setting presidential election. A possible shifting of the political alignment in Miami-Dade County.
This year had plenty of major storylines throughout South Florida and beyond. Politicians from the state's most populous region looked to navigate those waters and will now be looking ahead to a challenging legislative year in 2021.
Who made an impact on 2020? And who will carry that momentum forward into the New Year? Here's a rundown of South Florida's 10 (or so) biggest newsmakers to watch.
Lauren Book/Manny Diaz
The two are already well-established in the Legislature and are tied for the most committee assignments among South Florida senators heading into the 2021 Session. Both also worked intently on legislation in the aftermath of the Marjory Stoneman Douglas High School shooting. Book sat on the Marjory Stoneman Douglas High School Public Safety Commission, which helped make recommendations to update school safety laws in the state. Diaz sponsored legislation, with the help of Book and others, to put those recommendations into law. Book, a Democrat, has been an adept lawmaker despite serving as a member of the minority party, earning several legislative wins this past year. She's already hard at work on proposals for 2021, and may have her eyes on a statewide office during the 2022 midterms. Diaz, meanwhile, will continue his focus on education in 2021 as he serves as vice chair for the Appropriations Subcommittee on Education. A proponent of expanding the state's voucher system, he has an ally in Gov. Ron DeSantis, who has shown a desire to focus on education issues during his tenure.
Carlos Giménez
The outgoing Miami-Dade County Mayor rode a red wave in Miami-Dade County (more on that later) to upset incumbent Democratic Rep. Debbie Mucarsel-Powell in Florida's 26th Congressional District. Republican Maria Elvira Salazar deserves an honorable mention for pulling a similar upset in Florida's 27th Congressional District. But Giménez stands out due to his time navigating the COVID-19 pandemic in Florida's most populous county. Handling the outbreak wasn't always smooth sailing for Giménez (or many others), and he earned his share of criticism. But voters rewarded him with a spot in the U.S. House after eight years as county Mayor, putting him in a spot to help direct further federal aid to the region. That experience could cement Giménez as a player in Miami-Dade politics for years to come.
Shevrin Jones
His role as the state Senate's first ever openly LGBTQ Senator might be noteworthy enough to earn him a spot on this list. But focusing only on that distinction, though admittedly historic, sells Jones' legislative talents short. Jones enters the Senate after eight years in the House. This past Session, Jones sponsored legislation to reduce the use of solitary confinement for pregnant prisoners. That builds on his work in the criminal justice space. Jones has already shown a desire to continue that work in 2021, filing legislation to make it harder for police accused of misconduct to dodge charges under the qualified immunity doctrine. Jones also enters the year on a high note after his consistent support for Democratic presidential nominee Joe Biden culminated in a General Election win. Jones, a former teacher, will also serve as vice chair on the Senate Education Committee.
Daniella Levine Cava
Levine Cava will succeed Giménez as County Mayor after winning the November runoff against Esteban "Steve" Bovo. While Giménez was tasked with handling the beginning of the COVID-19 outbreak, Levine Cava is set to navigate its next phase and its (hopefully near) end. She'll also need to build the region's status back up as a tourist hub and will look to recoup revenue lost due to the economy's struggles during the outbreak. Levine Cava's 2020 victory as a left-leaning candidate stands out in a year where Republicans cleaned up in Miami-Dade County. Levine Cava was clearly aligned with the Democratic agenda in her nonpartisan mayoral race. Her win is arguably the lone highlight in a year where Miami-Dade Republicans won nearly every other highly-contested election in the region. Can Levine Cava use that win as a mandate to push more progressive reforms in cooperation with the County Commission? That's something to watch in 2021.
Debbie Mucarsel-Powell/Donna Shalala
The two outgoing Democratic congresswomen from Miami-Dade County were on the wrong side of that red wave, losing their respective seats after just one term in the U.S. House. They may not be stepping aside just yet, however. Shalala has been rumored as a potential Biden cabinet member, given her experience as Secretary of Health and Human Services under former President Bill Clinton. Mucarsel-Powell, too, has continued to be outspoken following her defeat, and could lay the groundwork to another run in 2022. While both stood out as advocates for greater federal COVID-19 relief during the past year, they'll likely be remembered as two of the most high-profile victims of Republicans' success in U.S. House races this cycle. Keep an eye on whether one or both can turn those losses into a political comeback story.
Jason Pizzo
Pizzo is entering the final two-year stretch of his first Senate term. As lawmakers prepare to legislate the state out of the coronavirus crisis, Pizzo has earned a spot helping guide that process. The Democratic lawmaker may be in the minority party, but he's been dogged in his efforts to help aching Floridians navigate the state's flailing unemployment system, which buckled under the pressure of the pandemic early on. That system has improved, but those still left in the lurch have turned to Pizzo for help. He's called for reform of the state's unemployment system next Session. Beyond that, Pizzo wants a public investigation into why the unemployment site failed in the first place. The Miami Democrat will have a chance to help mold the state's response, earning a spot on the Select Committee on Pandemic Preparedness and Response.
Ana Maria Rodriguez
The Republican Rodriguez will chair the Finance and Tax Committee in her first Session as a state Senator. She earned the reward after emerging from a hard-fought Senate District 39 contest against fellow former Rep. Javier Fernández. Rodriguez moved over to that contest after incoming Senate GOP leadership courted her specifically for the seat. While Rodriguez ran to the right during her 2020 bid, she may be looking to legislate closer to the middle. Rodriguez has already filed a measure looking to expand workplace protections for pregnant employees. She's already earned the faith of Republican leaders in seeking the seat. That backing should continue for her legislative goals now that she's a member of the upper chamber.
Francis Suarez
Perhaps no city-level Mayor in Florida has stood out during the coronavirus pandemic as much as Suarez. He's led Miami during the turbulent period, at times clashing with fellow Republican Giménez at the county level. Suarez was one of the first major Florida officials to test positive for the virus, though plenty more would join him including Giménez, Levine Cava and now-Sen. Jones. Since then, Suarez has pushed for serious safeguards to help tamp down the virus's spread in Miami. Suarez has advocated for more local control as Gov. DeSantis has sought to implement a more uniform — and hands-off — policy throughout the state. Those conflicts could continue into the New Year. Suarez may stand out for another reason entirely, however. He's been actively courting tech companies to relocate to South Florida in an effort to turn the region into a premier American technology hub. Such a move could do wonders for the economy, which will likely be hurting even once the virus danger dissipates.
Gregory Tony
The Broward County Sheriff won his first election to the post after originally taking over via gubernatorial appointment. Tony's November win was mostly a formality. The real show was in the August Democratic primary, where Tony edged former Sheriff Scott Israel, who DeSantis removed from the role. Tony has sought to up the Sheriff's Office safety standards, ensuring his deputies will more effectively respond to a crisis incident going forward. Israel garnered criticism for BSO's response to the 2018 Parkland attack. With voters backing Tony, he can continue pushing for changes in 2021. Tony also made internal reforms regarding excessive force violations a pillar of his campaign. A full term will give Tony a chance to show whether that campaign talk will extend into additional action.
Donald Trump
Yes, he's a South Florida resident now. No, he won't be remaining in the White House beyond Jan. 20 despite spinning wild conspiracy theories about his second term being stolen. While Trump won't be President, he won't be going away. His final days of 2020 — spent throwing a wrench into both defense spending and COVID-19 relief efforts — show a man still flailing to make an impact on the political scene. With a large chunk of the GOP base still behind him despite his November loss, Trump will have plenty to say — and tweet — in 2021 and beyond.