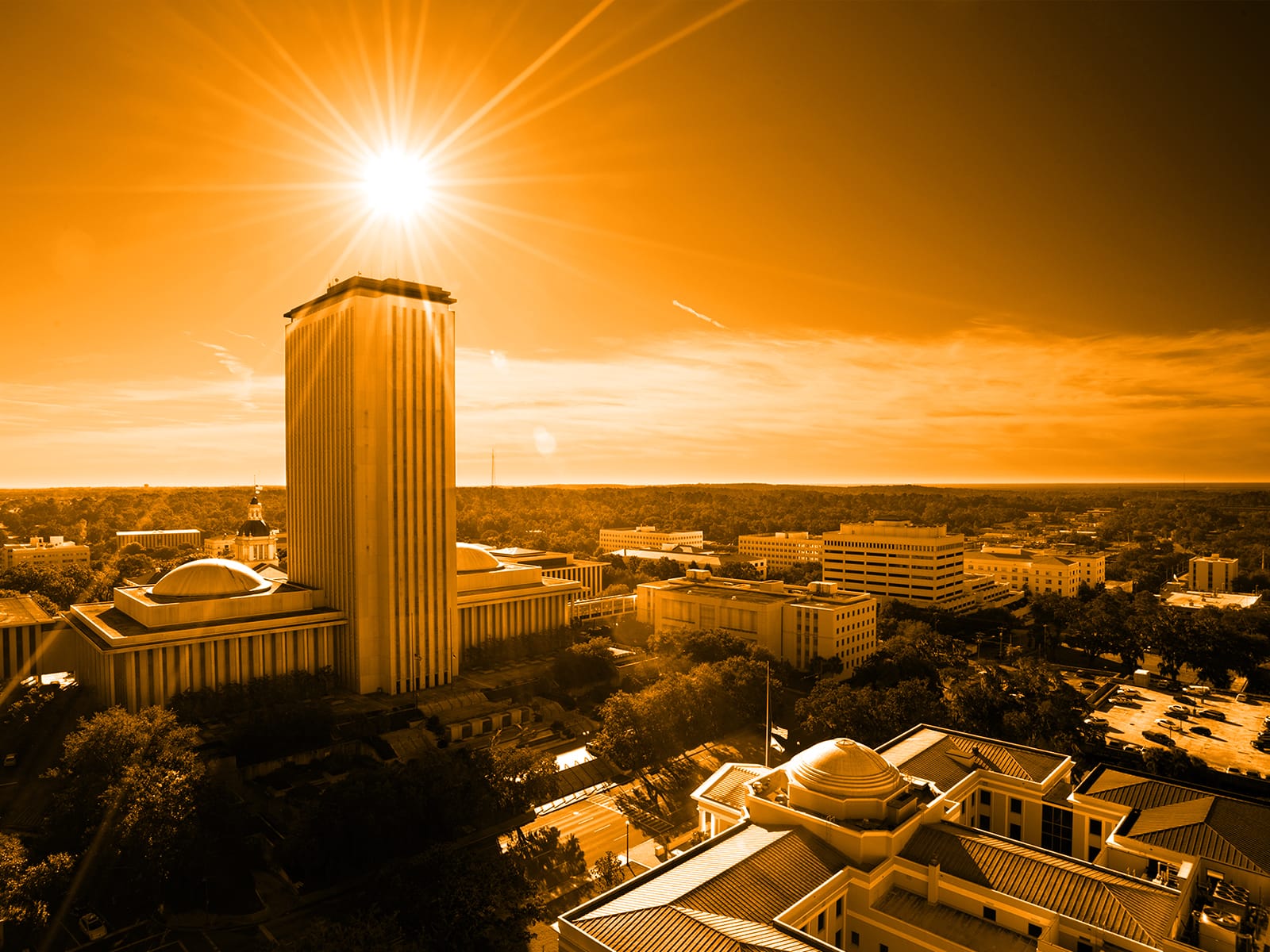 Here's the day that was — and will be — in Florida politics.
Early morning advisory — Gov. Ron DeSantis is hosting a press conference at 8:30 a.m. at a Publix (123 Honeybell Way) in Jupiter.
___
The Florida Democratic Party announced Tuesday the hire of veteran political operative and labor leader Marcus Dixon as its new Executive Director.
In this role, Dixon will run FDP's day-to-day operations and work alongside newly elected FDP Chairman Manny Diaz to oversee the party's fundraising, recruiting and candidate support operations.
Florida Politics first reported Dixon was the front runner for the position last week.
Dixon led Diaz's campaign for FDP Chair and most recently worked as the Florida executive director for the Service Employees International Union, the second-largest and fastest-growing union in North America with 2.1 million members, including more than 55,000 active and retired health care professionals, public employees, and property service workers in Florida.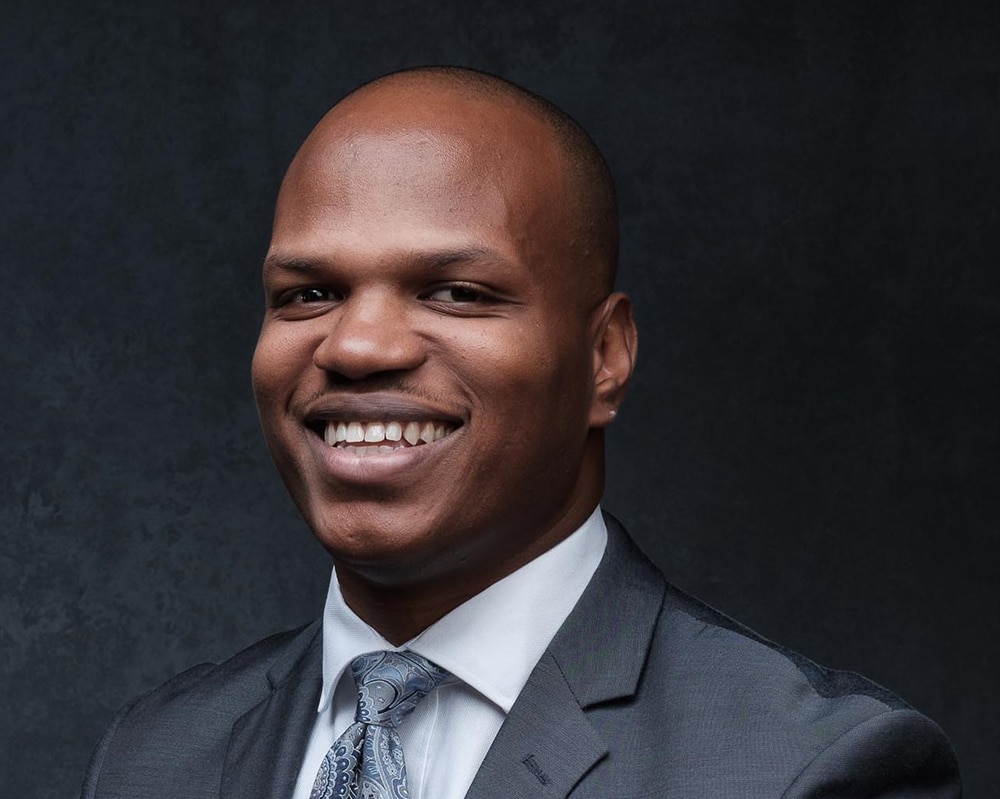 "Marcus is a proven, exemplary leader. I am thrilled that he has agreed to partner with me in this effort," Diaz said. "Marcus brings with him the passion and commitment to working people and public service that we need to move our party forward. His career embodies the core principle of the Democratic Party — the promise of the opportunity to fight for the American dream for all Americans."
A native of Miami and University of Florida graduate, Dixon has dedicated his career to worker issues. Before being named executive director at SEIU Florida, he served as the organization's state political director. He was also an executive committee member on the Amendment 2 ballot initiative, which will raise Florida's minimum wage to $15 an hour by 2026.
"I am humbled by the trust and support of our party's leadership and clear-eyed about the monumental task ahead," he said. "At the core of what we fight for is equity and inclusion, the dignity of work, and the realization of equal justice and opportunity for all. The pandemic has highlighted the real-life consequences of losing elections. If we are to ever achieve our vision, we have to lead with these values."
___
The Florida Capitol will be illuminated amber tonight at the request of Agriculture Commissioner Nikki Fried.
The Capitol lighting is part of a national moment of unity and remembrance for the 397,612 Americans, including 24,136 Floridians, who have died from COVID-19.
The Presidential Inaugural Committee for Joe Biden and Kamala Harris announced earlier this month that it would host a memorial and lighting around the Lincoln Memorial Reflecting Pool on Tuesday.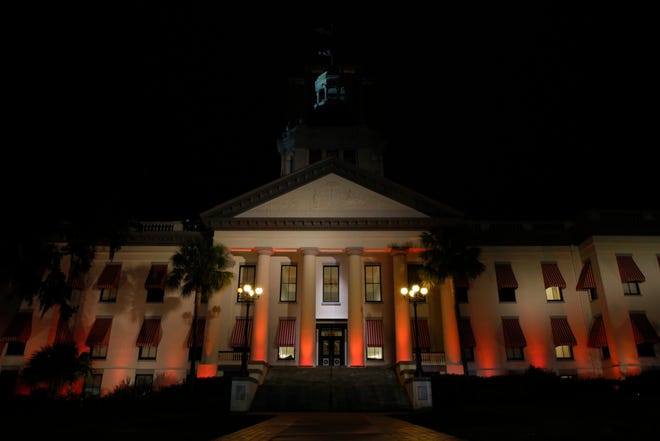 PIC invited cities and towns around the country to join by hosting memorial lightings of their own and ringing church bells at 5:30 p.m.
"As part of President-elect Biden's and Vice President-elect Harris' inauguration, state capitols and city halls across America are being lit in recognition of the lives lost to COVID-19," Fried said.
"More than 24,000 Floridians have perished from this pandemic, leaving behind shattered families and communities. It's my honor to request that Florida's Capitol be lit in their memory, with hope for brighter days ahead."
The lighting in Washington will be the first-ever lighting around the Reflecting Pool to memorialize American lives lost.
___
Here are a few other notes this Tuesday morning:

 — Axios' Off the Rails podcast is as timely as it is compelling: From a "premeditated lie" that "lit the fire" to a "descent into madness," this series of podcasts (and print stories for those more into reading than listening) documents Donald Trump's "postelection meltdown," one that culminated, thus far, into a U.S. Capitol insurrection and the unprecedented second impeachment of a U.S. President.
— 41 minutes of fear: It started at 2:12 p.m. at the U.S. Capitol on Jan. 6 as a mob of pro-Trump protesters turned to insurrection, breaking through a window and launching what turned out to be the most serious attack on the Capitol since the War of 1812. The Washington Post walks through a timeline on the attack, a complete video showing some of the most shocking moments. It also includes a reconstructed map showing the insurrectionists' movement in an analysis portraying the grave danger lawmakers and D.C. staffers faced that fateful day.
— Watch the latest Capitol chaos footage: New Yorker reporter Luke Mogelson, a veteran war correspondent, followed Trump supporters from Trump's speech on Jan. 6 to the U.S. Capitol, where they eventually breached the building. Using his phone to capture the events, Mogelson documented a surreal moment in which rioters occupied the Senate chamber and rifled through Senators' desks looking for incriminating documents and verbally suggesting establishing a new government. The video is shocking less for the violent scenes other videos have captured and more for its calculated coup attempt.
— A must-read on the American Abyss: Following the violent insurrection at the U.S. Capitol Jan. 6, New York Times author Timothy Snyder penned a must-read cover story highlighting the persisting dangers to democracy following not only the attack but the political mindset that caused it — one rife with right-wing paranoia, complacency and outright racism. It evaluates Trump as a post-truth President who set the tone for a pre-fascist America and portrays a Republican party in crisis, split between those who aided and defended an unhinged President and those who didn't.
— SITUATIONAL AWARENESS —
— @CraigMelvin: You can't quote Dr. [Martin Luther] King on social media one day out of the year and live a life that runs counter to his words and teachings the other 364.
—@BPopeTV: If you stormed the Capitol and defended the people who did, go ahead and keep that MLK quote in the drafts.
— @OmariJHardy: I see politicians in Florida tweeting about #MLKDay while promoting radical legislation that would have made felons out of civil rights heroes like MLK and John Lewis. We see you. We are not fooled.
— @JaredEMoskowitz: Honoring Martin Luther King by working to get more people the vaccine. Making sure everyone has equal access.
Tweet, tweet:
It was a Covid Style #MLKDay in Miami Gardens with Councilman @RLStephens3_ , knocking on doors, passing out #PPE to our seniors. #dayonnotoff pic.twitter.com/5ibxLGJjVl

— Shevrin "Shev" Jones (@ShevrinJones) January 18, 2021
Tweet, tweet:
It has been a great MLK Day in District 70! Our youth are doing fantastic work in cultivating the St. Pete Youth Farm. On the Deuces, J Carl DeVine and Power Plug Radio celebrated St. Pete Black Pride in honor of Dr. King.

Thank you all for serving with LOVE. ♥️ pic.twitter.com/zbGF81xgic

— Michele Rayner-Goolsby (@micheleforfl) January 18, 2021
— @SenAudrey2eet: Happy MLK Day! The King paved the way for a Judge Peoples Waters, a Councilwmn Joyce Morgan, a UNF VP Diversity/inclusion Whitney Meyer, a Vice Prez-Elect Kamala Harris, a State Sen. Audrey Gibson plus many more in the trenches. Say his name Dr. Martin Luther King Jr.!
— @elonmusk: Cars & trucks stuck in traffic generate megatons of toxic gases & particulate, but @boringcompany road tunnels under Miami would solve traffic & be an example to the world. Spoke with @RonDeSantisFL about tunnels last week. If Governor & Mayor want this done, we will do it.
Tweet, tweet:
Few people realize the roots of QAnon goes all the way back to 1962, as was documented in the 1978 film Animal House.
Here we see a re-enactment of the ceremony where the QAnon Shaman swears in a new group of members. pic.twitter.com/YOWZWw87sO

— Jim DeFede (@DeFede) January 18, 2021
— DAYS UNTIL —
The 2021 Inauguration — 1; Florida Chamber Economic Outlook and Job Solution Summit begins — 9; Super Bowl LV in Tampa — 19; Daytona 500 — 26; "Nomadland" with Frances McDormand — 32; 2021 Legislative Session begins — 42; "Coming 2 America" premieres on Amazon Prime — 46; "The Many Saints of Newark" premieres — 52; 2021 Grammys — 54; 'Godzilla vs. Kong' premieres — 66; "No Time to Die" premieres (rescheduled) — 73; Children's Gasparilla — 81; Seminole Hard Rock Gasparilla Pirate Fest — 88; "A Quiet Place Part II" rescheduled premiere — 93; "Black Widow" rescheduled premiere — 108; "Top Gun: Maverick" rescheduled premiere — 164; Disney's "Shang Chi and The Legend of The Ten Rings" premieres — 172; new start date for 2021 Olympics — 185; "Jungle Cruise" premieres — 192; St. Petersburg Primary Election — 218; "Dune" premieres — 256; St. Petersburg Municipal Elections — 288; Disney's "Eternals" premieres — 290; "Spider-Man Far From Home" sequel premieres — 332; Steven Spielberg's "West Side Story" premieres — 325; "Doctor Strange in the Multiverse of Madness" premieres — 430; "Thor: Love and Thunder" premieres — 472; "Spider-Man: Into the Spider-Verse" sequel premieres — 626.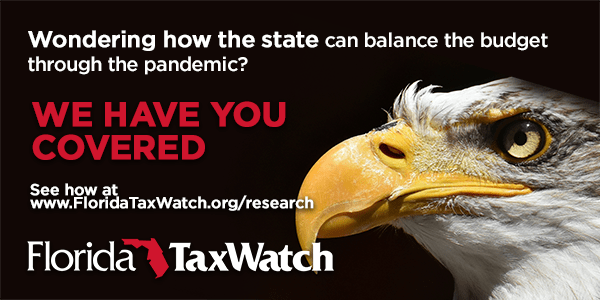 — AMERICA IN CRISIS —
"An inaugural lockdown comes at a price for Washingtonians" via Dionne Searcey and Matthew Rosenberg of The New York Times — The simple act of moving around the nation's capital is getting increasingly difficult as the city shores itself up against potential violence for Biden's inauguration on Wednesday. Thousands of troops have poured into the capital, where armored military trucks are parked in the middle of streets to block traffic and subway stations and roads are closed. Downtown Washington is locked down, boarded up and on guard for the ushering in of the new leader in hopes of preventing a scene like the one that played out to the nation's horror on Jan. 6. The tight security has left Washington anxious, as rumors spread about threats of attacks by domestic terrorists looking to upset the transfer of power.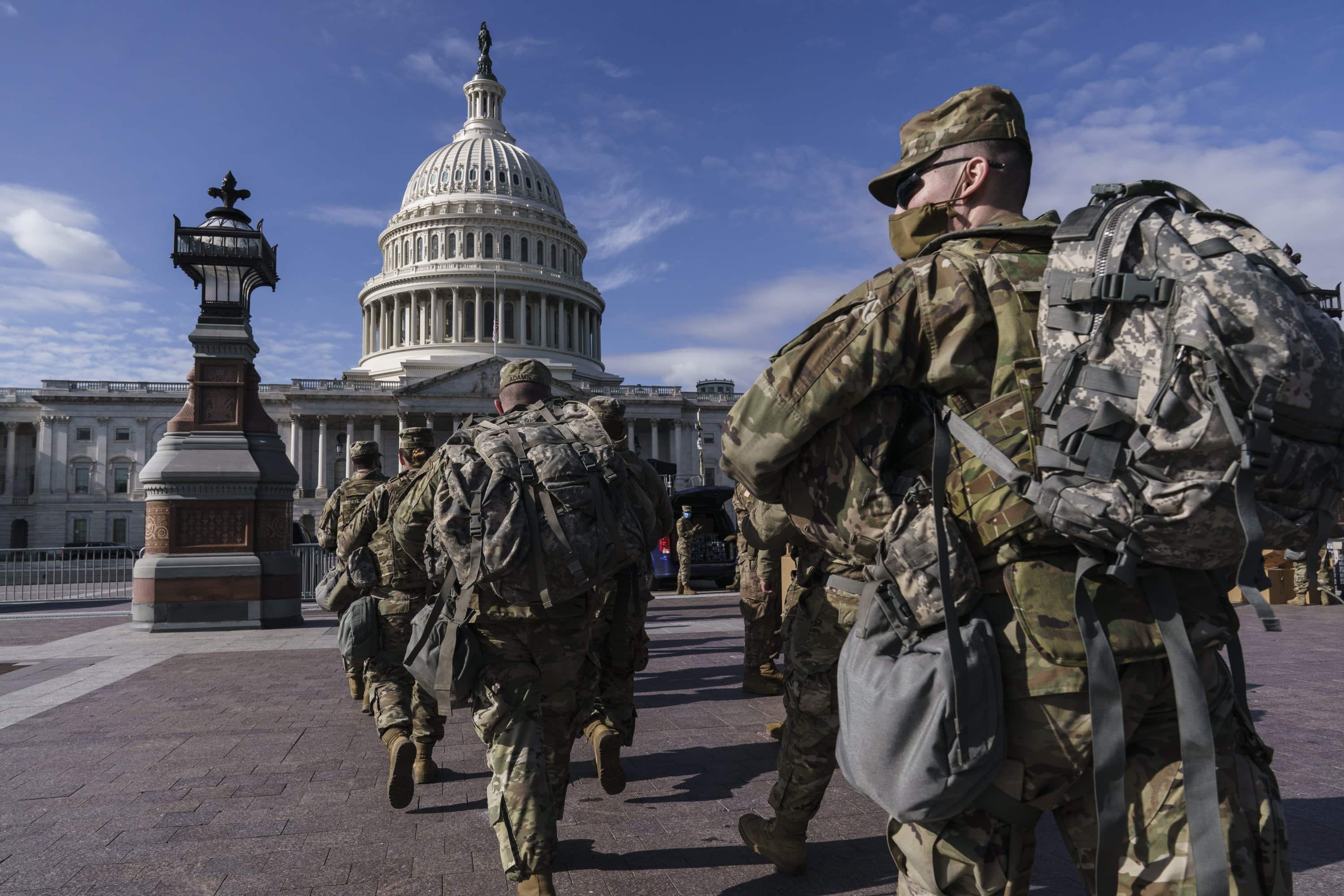 ICYMI — "Proud Boys, seizing Donald Trump's call to Washington, helped lead Capitol attack" via Georgia Wells, Rebecca Ballhaus and Keach Hagey of The Wall Street Journal — On Jan. 3, three days before the attack on the Capitol, Enrique Tarrio, the leader of the far-right organization known as the Proud Boys, shared a cryptic post on the messaging app Telegram: "What if we invade it?" The message was sent to his more than 7,000 followers on the app, with the first reply reading "January 6th is D day in America." Messages show the group repeatedly invoking Trump's rhetoric in the weeks leading to the Jan. 6 protest as they built momentum toward what became a violent showdown. Investigators have said they are scrutinizing online messages like these as they attempt to determine the planning and intent of those involved in The Capitol attack. 
"'A place to fund hope': How Proud Boys and other fringe groups found refuge on a Christian fundraising website" via Amy Brittain and David Willman of The Washington Post — A review by The Washington Post shows that GiveSendGo.com, a self-described Christian website, has become a refuge of sorts for outcasts and extremists, including fringe groups such as the Proud Boys as well as conspiracy theorists who seek to undercut the results of the presidential election by promoting debunked claims of fraud. Some of the users claim to have been booted from other crowdfunding websites for violating terms-of-service agreements. Postings on GiveSendGo show that at least $247,000 has been raised for 24 people — including at least eight members of the Proud Boys — who claimed online that the money was intended for travel, medical or legal expenses connected to "Stop the Steal" events, including the Jan. 6 rally.
"Capitol rioter plotted to sell stolen Pelosi laptop to Russian intelligence" via Tom Winter and Corky Siemaszko of NBC News — A Pennsylvania woman accused of being one of the Capitol rioters told a former "romantic partner" she planned to steal a laptop computer from Pelosi's office and sell it to Russian intelligence, court documents revealed Monday. Riley June Williams was charged with disorderly conduct on Capitol grounds with the intent to disturb a session of Congress and other charges after her former flame turned her in. William's ex called the FBI and told them she "intended to send the computer device to a friend in Russia, who then planned to sell the device to SVR, Russia's foreign intelligence service."
ICYMI — "Nancy Pelosi says any lawmaker who helped insurrectionists could face criminal prosecution" via Kyle Cheney of POLITICO — Speaker Pelosi said lawmakers found to have aided any aspect of the mob violence and insurrection that overran Capitol Hill last week could face prosecution. "If in fact it is found that members of Congress were accomplices to this insurrection, if they aided and abetted the crime, there may have to be actions taken beyond the Congress in terms of prosecutions," Pelosi said at a news conference, choking up at times as she decried the racism and bigotry some of the rioters displayed openly on Capitol grounds. Pelosi said she's tapping a retired lieutenant general, Russel Honoré, to conduct a thorough review of Capitol security measures ahead of Biden's Jan. 20 inauguration.
"Justice Dept. charges militia members, including military veterans, in Capitol assault" via Katie Benner, Alan Feuer and Adam Goldman of The Washington Post — The Justice Department has charged suspected members of the Three Percenters, a militia group from the extremist wing of the gun-rights movement, and of the Oath Keepers, a far-right militia group founded by law enforcement and military veterans, as it works to determine whether the extremist groups conspired to attack Congress. The recent arrests of veterans and former law enforcement personnel underscore the Justice Department's worry that some of the attackers may have been part of more coordinated efforts to attack Congress and that they employed specialized skills in the assault. Videos and photos have revealed chilling scenes of rioters weaving through the mobs inside the Capitol in tight formation, wearing tactical gear, carrying restraints, and using hand signals.
"Trump promoted N.M. official's comment that 'the only good Democrat is a dead Democrat.' Now the man is arrested in the Capitol riot." via Aaron Blake of The Washington Post — A man with a personal connection to Trump — and whose violent rhetoric Trump promoted to the world — has been arrested in the riot. Otero County, New Mexico, Commissioner Couy Griffin was arrested Sunday for illegally entering the Capitol on Jan. 6. Griffin, the head of a group called Cowboys for Trump, claims he got caught up with the crowd and didn't actually enter the building. Still, the affidavit says a video on his personal Facebook page showed him in restricted areas. Griffin also pledged to return to Washington with guns for Biden's inauguration Wednesday, and he alluded to the prospect of violence and another incursion into the offices of lawmakers.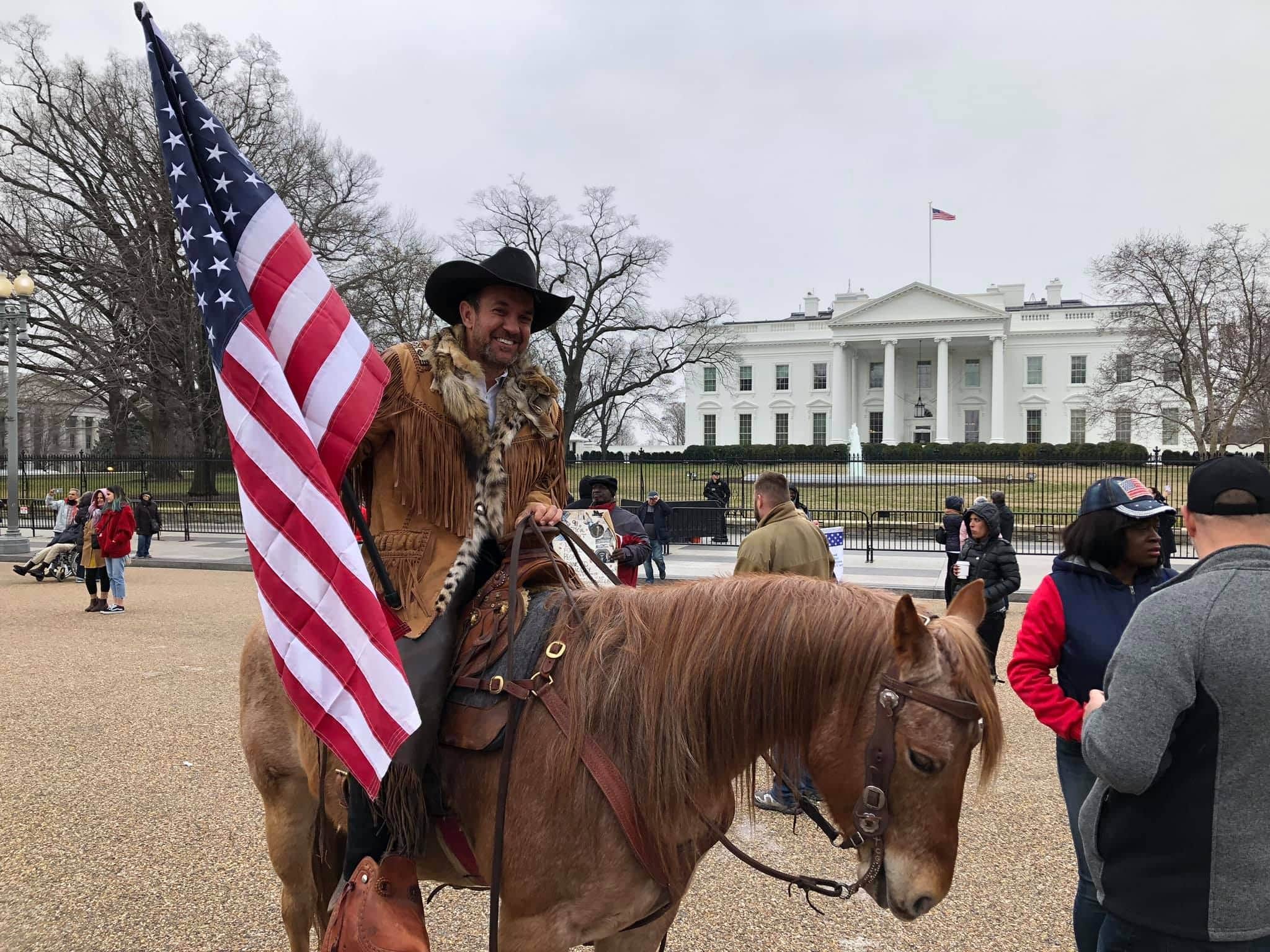 ICYMI — "U.S. charges man accused of smashing glass at Capitol just before fatal shooting" via Spencer S. Hsu of The Washington Post — Federal prosecutors have arrested a Kentucky man who they allege was part of a violent crowd that stormed the House Speaker's Lobby during the breach of the U.S. Capitol, smashing a window with a flagpole moments before Ashli Babbitt was fatally shot, court filings show. An FBI charging affidavit alleges that Chad Barrett Jones is the man shown in the video at Babbitt's left on Jan. 6, wearing a red-hooded jacket and gray skullcap and striking the lobby door's glass panels as a mob chanted "Break it down!" and "Let's f—–g go!" Jones allegedly used a flagpole to break the glass.
"Capitol rioter who smoked pot in Senator's office arrested" via William Turton and Kartikay Mehrotra of Bloomberg — One of the supporters of Trump who entered the U.S. Capitol on Jan. 6 has been arrested and charged with violent entry and interfering with the certification of the 2020 vote. Brandon Fellows, of upstate New York, was arrested late on Saturday. Fellows previously said he had "no regrets" for having entered the Capitol through a broken window, roaming the halls, and smoking a joint in the office of Sen. Jeff Merkley, a Democrat from Oregon. In his garbled, minutelong recording, Fellows said he turned himself in "for supporting the Constitution" and that he's committed to continuing his fight.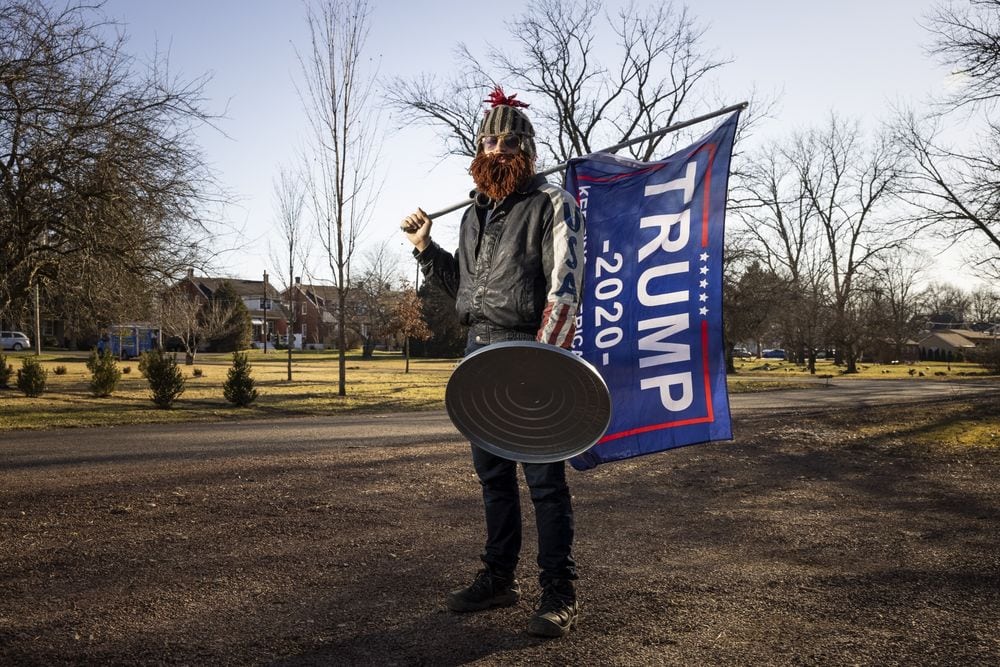 "'I let you down': Klete Keller's path from Olympics to Capitol riot" via Karen Crouse of The New York Times — Of the dozens of people now facing charges and possible prison sentences for invading the Capitol, only a handful have drawn more attention than Keller, a three-time Olympian who won two gold medals as a relay teammate of Michael Phelps. To those who know Keller best, it was nothing less than bizarre to see a man who had once stood atop an Olympic medals podium with his hand over his heart during the national anthem, acting as a part of a mob bent on disrupting the United States' democracy. But they could not say they were surprised. In addition to his successes, they also knew of his professional setbacks and the slow personal unraveling that had followed his triumphs.
"House security chief said lawmaker wariness of military at Capitol drove his resistance to early request for National Guard" via The Washington Post — After nearly a decade working for the House of Representatives, the chamber's top security official thought he knew how its political leadership would react if asked to station troops at the Capitol during a major rally supporting President Donald Trump.  That's why House Sergeant-at-Arms Paul Irving balked when the chief of the Capitol Police suggested activating the National Guard two days before the Jan. 6 event, he later told a friend. "There's a reality there — the leaders of the House and the Senate don't want the military up there," said Bill Pickle, who served as the Senate sergeant-at-arms from 2003 to 2007.
"Police command structure crumbled fast during Capitol riot" via Nomaan Merchant and Colleen Long of The Associated Press — As the rioters stormed the U.S. Capitol, many of the police officers had to decide on their own how to fight them off. There was no direction. No plan. And no top leadership. One cop ran from one side of the building to another, fighting hand-to-hand against rioters. Another decided to respond to any calls of officers in distress and spent three hours helping cops who had been immobilized by bear spray or other chemicals. Three officers were able to handcuff one rioter. But a crowd swarmed the group and took the arrested man away with the handcuffs still on.
"Pentagon accelerates efforts to root out far-right extremism in the ranks" via The New York Times — The Pentagon is intensifying efforts to identify and combat white supremacy and other far-right extremism in its ranks as federal investigators seek to determine how many military personnel and veterans joined the violent assault on the Capitol. In the days since a pro-Trump mob breached the Capitol on Jan. 6, senior leaders of the 2.1 million active-duty and reserve troops have been grappling with fears that former or current service members will be found among the horde. The F.B.I. investigation into the Capitol siege, still in its very early stages, has identified at least six suspects with military links.
"QAnon adherents discussed posing as National Guard to try to infiltrate inauguration, according to FBI intelligence briefing" via Carol Leonnig and Mark Zapotosky of The Washington Post — The FBI privately warned law enforcement agencies Monday that far-right extremists have discussed posing as National Guard members in Washington and others have reviewed maps of vulnerable spots in the city — signs of potential efforts to disrupt Wednesday's inauguration. The document, a summary of threats that the FBI identified in a Monday intelligence briefing, warned that both "lone wolves" and adherents of the QAnon extremist ideology, some of whom joined in the violent siege on the Capitol on Jan. 6, have indicated they plan to come to Washington for President-elect Joe Biden's swearing-in ceremony.
"U.S. pundits keep comparing Washington to a war zone. People who know war disagree." via Miriam Berger of The Washington Post — A massive security operation is underway in Washington ahead of President-elect Biden's inauguration on Wednesday, two weeks after a pro-Trump mob stormed the Capitol. As images of National Guard troops circulate online, some in the United States have compared the capital to a war zone. The commentary has drawn pushback from people who have lived or worked in areas actually beset by conflict, who say such remarks are misleading and trivializes the reality of war. On Friday, CNN anchor Wolf Blitzer tweeted a picture of members of the U.S. National Guards standing in the street with the caption: "It reminds me of the war zones I saw in Baghdad or Mosul or Falluja. So sad." "HOW is the current situation in D.C. Baghdad??," demanded a Twitter user named Soroya.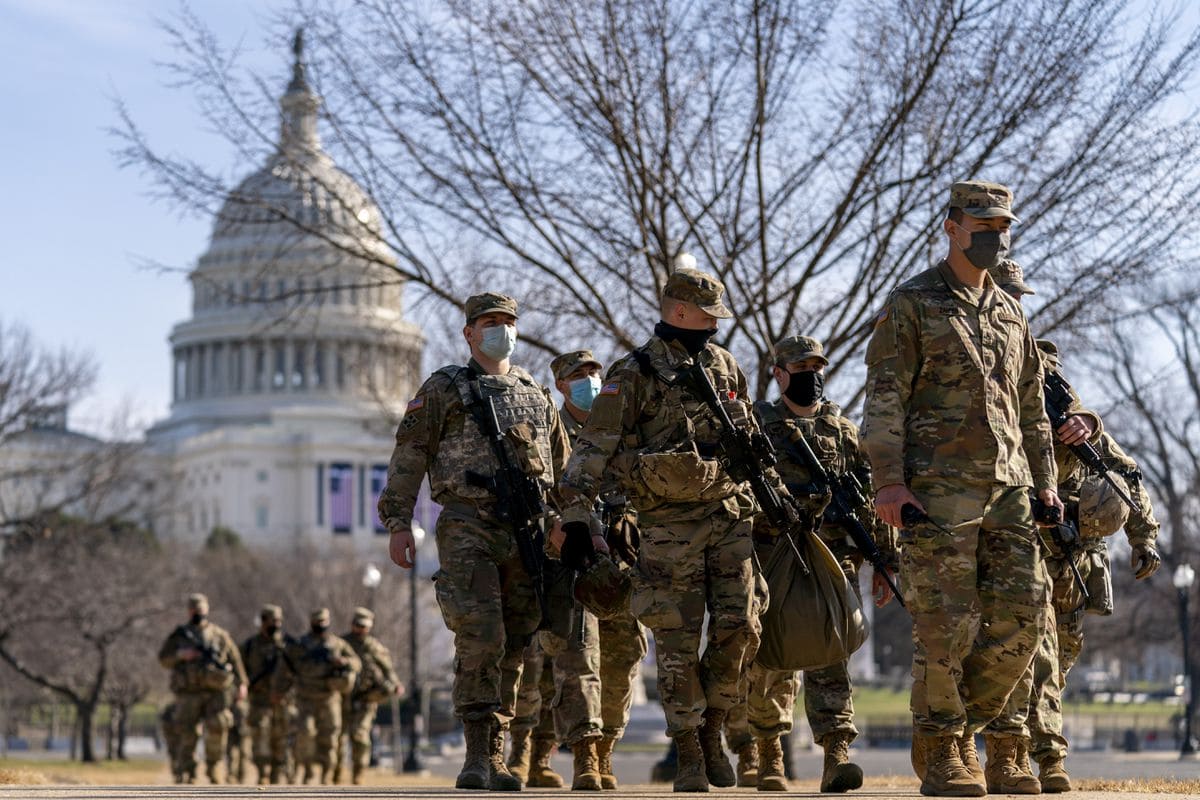 ICYMI — "Small numbers of protesters gather at fortified U.S. Capitols" via The Associated Press — Small groups of right-wing protesters gathered outside heavily fortified statehouses around the country as National Guard troops and police kept watch to prevent a repeat of the violence that erupted at the U.S. Capitol. There were no immediate reports of any clashes. Security was stepped up in recent days after the FBI warned of the potential for armed protests in Washington and at all 50 state Capitol buildings ahead of Biden's inauguration on Wednesday. A few people demonstrated in some capital cities, with crowds of only a dozen or two, while streets in many other places remained empty.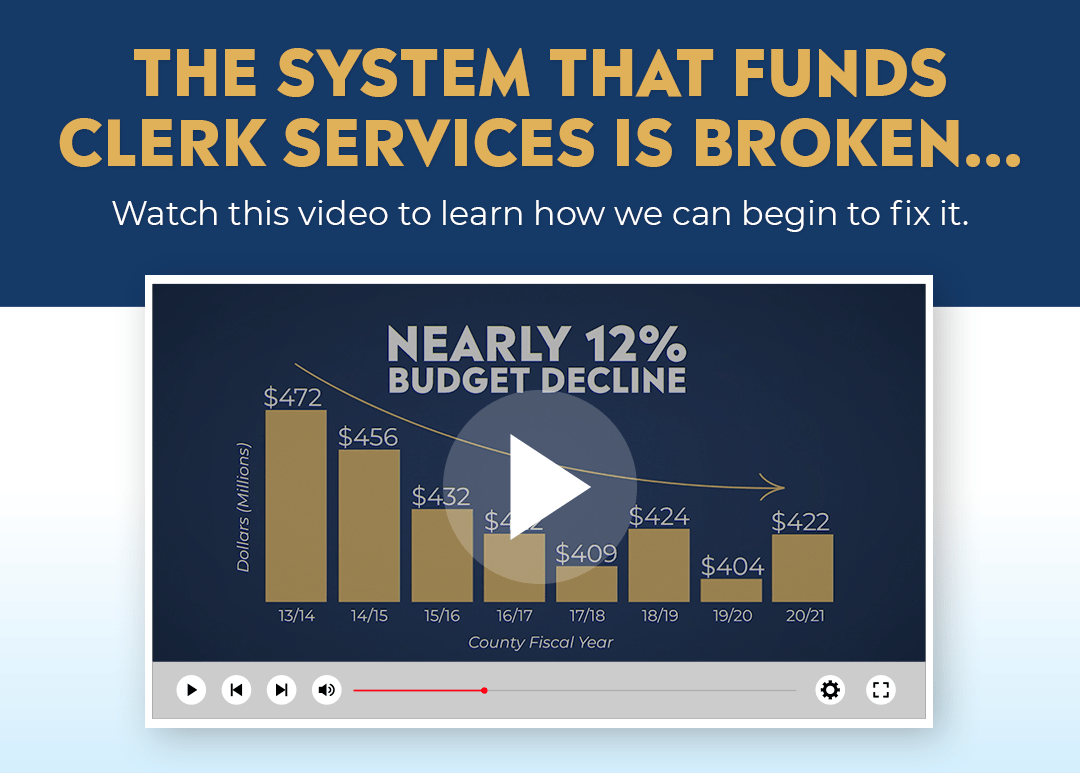 — CORONA FLORIDA —
"Florida reports 8,002 new COVID-19 cases, 137 deaths" via Lois K. Solomon of the South Florida Sun-Sentinel — Florida reported 8,002 new coronavirus cases on Monday and another 137 new resident deaths linked to COVID-19. The state has now reported 1,579,281 cases since the pandemic began. The new figures mark the lowest number of new cases this year so far. Public health experts say the virus is considered under control when the COVID-19 test positivity rate is under 5%. But since Oct. 29, Florida has exceeded 5% in its widely publicized calculation for assessing the rate for testing of residents. The state reported a daily positivity rate of 9.19% on Monday, up from 9.10% the day before. The state's pandemic data report shows a total of 24,274 Floridians have died from COVID-19.
"Many Floridians overdue for 2nd COVID vaccine dose, worried of side effects" via Alexandra Garrett of Newsweek — The two COVID-19 vaccines approved in the United States each requires a second dose about 3-4 weeks after the first one to be fully effective. The Pfizer vaccine requires a second dose after 21 days, and the Moderna vaccine after 28 days. More than 1 million Florida residents have been vaccinated for COVID-19, and nearly 92,000 of those have already followed up with their second dose, according to Florida's Department of Health. Of the remaining 915,000 people who received the first dose, more than 40,000 of them are overdue for their second shot. Many of them are seniors who are worried about side effects from the follow-up dose.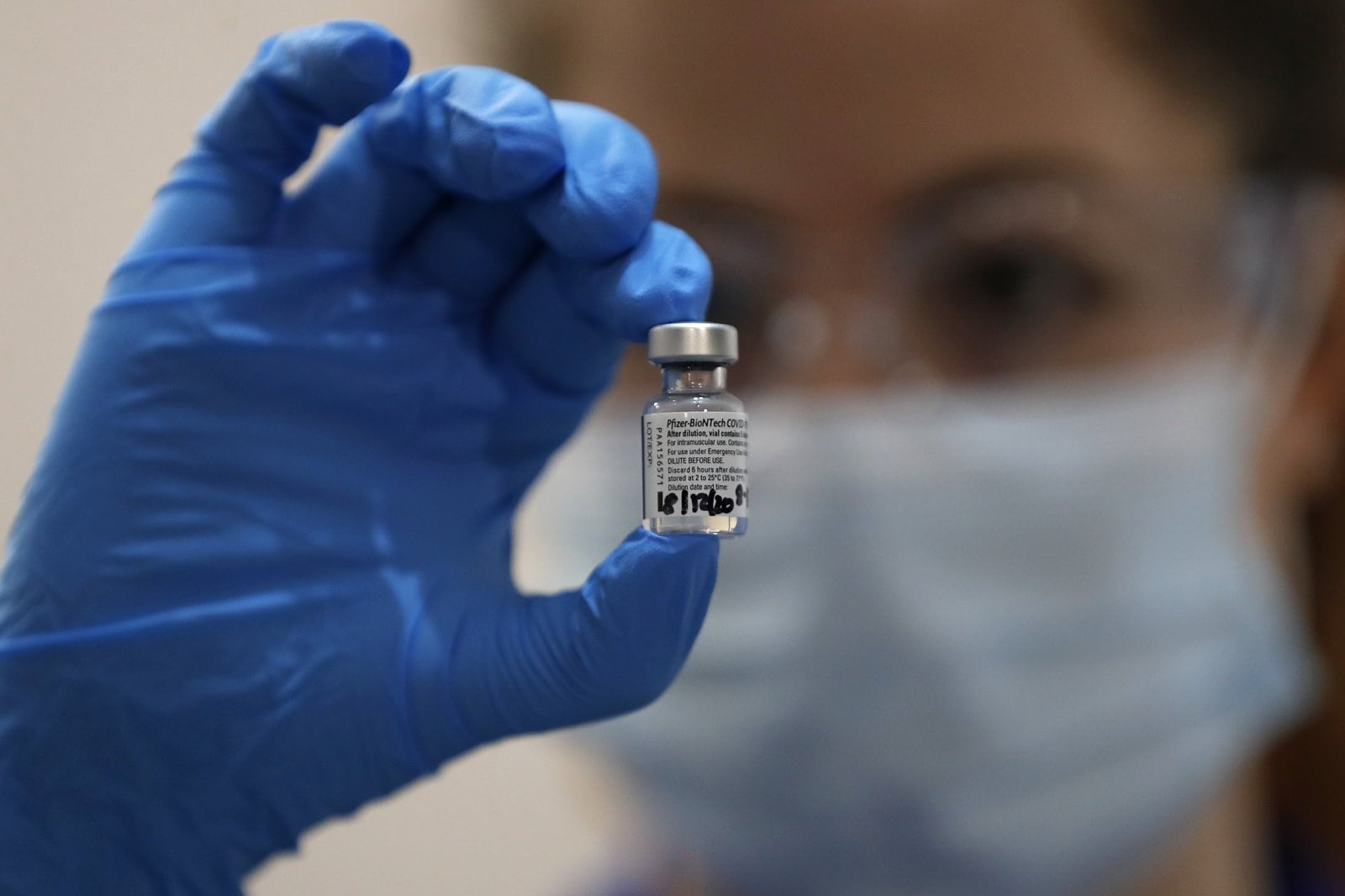 "With 46 cases, Florida has more instances of UK COVID-19 variant than any other state" via Adrienne Cutway of Click Orlando — Cases of the U.K. COVID-19 variant that's believed to be even more contagious have more than doubled in the past 11 days in Florida, bringing the total as of Monday to 46. On Jan. 7, the Centers for Disease Control and Prevention reported that there were 22 cases of the new variant in the Sunshine State. Now, the nationwide number has swelled to 122, compared to 52 earlier this month. More than a third of those cases are in Florida, which has more instances than any other state in the country. California is next with 40 cases followed by Colorado with six.
ICYMI — "With state officials mum, Floridians aren't being told about a public health threat: A troubling new COVID-19 strain" via Issac Morgan of Florida Phoenix — On New Year's Eve, a more contagious strain of COVID-19 that first appeared in the United Kingdom emerged in Florida, with the state health department tweeting information on Florida's first case. That one case has now jumped to 22 cases as of Thursday, the nation's second-highest number. Only California has more cases, 32, according to the federal CDC. The Florida Department of Health's tweets on New Year's Eve provided some details about the case in Martin County, north of Palm Beach County. And health officials and lawmakers held a news conference on Jan. 2 about the Martin County case. Since then, the public has been in the dark, with state officials mum about the troubling new cases that can spread more easily and make more people ill.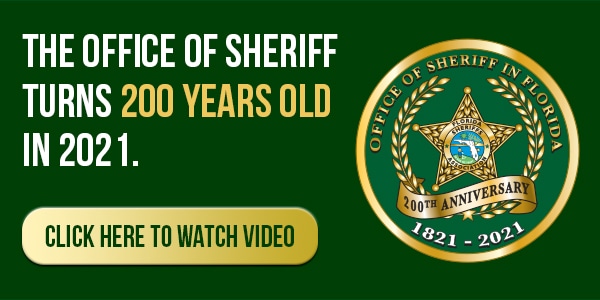 — CORONA LOCAL — 
"'Pro-liberty' group launched by former Brevard school board member targets student mask mandate" via Eric Rogers of Florida Today — A new "pro-liberty" group started by three current and former Florida school board members plans to fight back against measures they say infringe on the rights of parents to make decisions for their children. First on the list in Brevard: the School Board's COVID-19 student face-mask mandate. "We believe it should be a parental choice and not a mandate," said Brevard County mother Ashley Hall. Hall chairs the Brevard chapter of Moms for Liberty, a new organization launched in December by Descovich, former Indian River County board member Tiffany Justice and current Sarasota County School Board member Bridget Ziegler. Moms for Liberty opposes "government overreach" and promises to "fight those who stand in the way of liberty."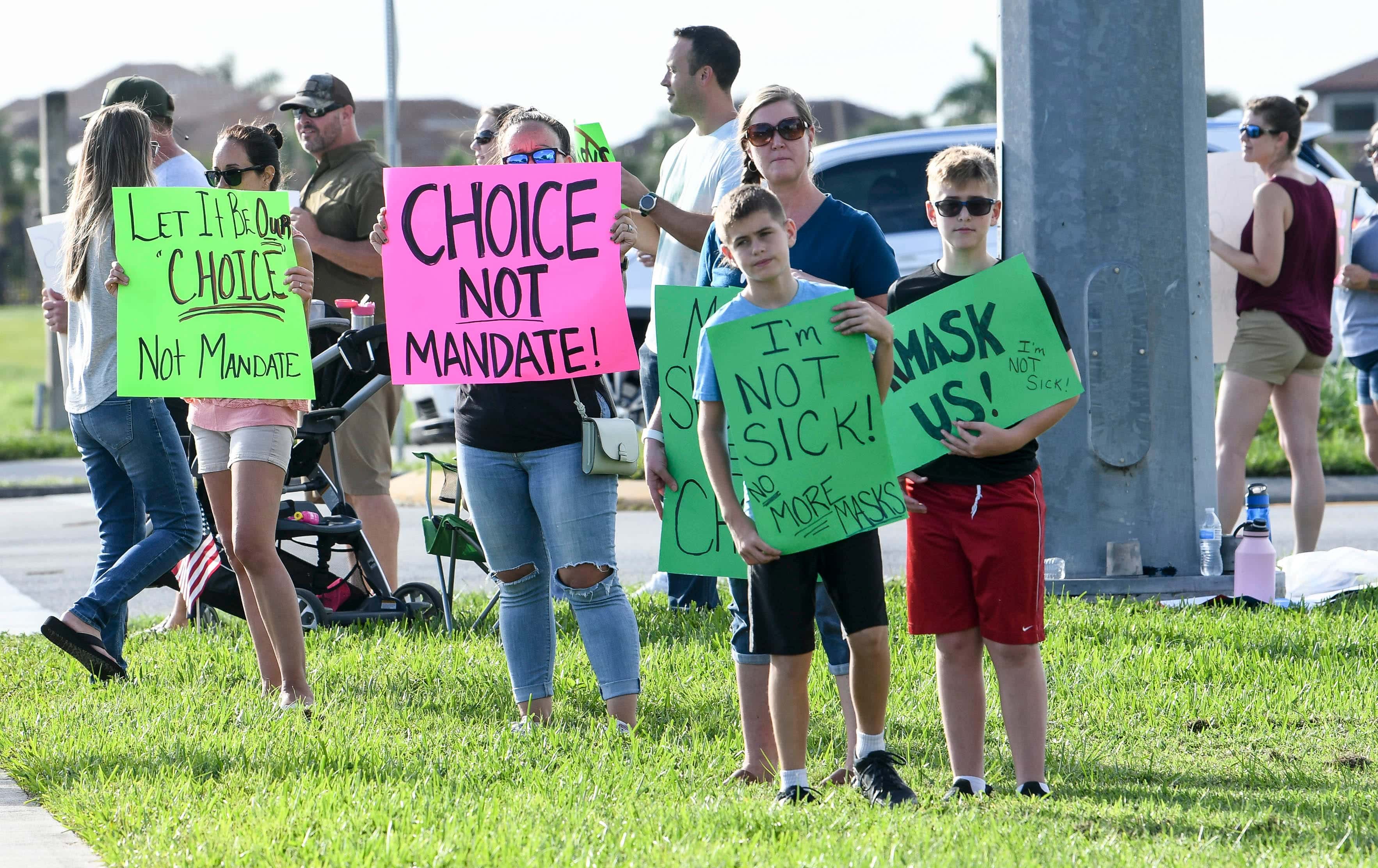 "Coronavirus in Tampa Bay schools: a weekly update" via Marlene Sokol of The Tampa Bay Times — The number of weekly coronavirus cases in Tampa Bay area schools is returning to levels seen in late November and early December, following an alarming spike after the winter break. Quarantines and illnesses are still widespread, with some areas showing increased activity. But the frenzied pace of late December was not sustained as January progressed. Since Dec. 18, Hillsborough has been seeing more than 300 cases per week, with 14,000 distance learners expected to return to in-person instruction for the second semester. No single school in Pinellas stood out this week in case counts, with 118 reported districtwide. Since Jan. 10, the University of South Florida reported that 43 students and 17 employees across the school's campuses have tested positive.
ICYMI — "'You are violating my rights!' Florida woman jailed (again) for refusing to wear a mask" via The Orlando Sentinel — Cindy Falco Dicorrado may have wanted a bagel at an Einstein Bros. Bagels near Boca Raton, but she may have had to settle for eating one in a Palm Beach County jail the next morning. Dicorrado, who lives in Boynton Beach, was arrested Thursday morning after she refused to leave an Einstein bagel shop at 9795 Glades Rd. because she refused to wear a mask. There is a mask mandate in Palm Beach County due to the COVID-19 pandemic, which is currently surging in Florida. Palm Beach County has had more than 96,000 confirmed cases and more than 2,000 deaths since the novel coronavirus pandemic began. But Dicorrado, according to a Palm Beach County Sheriff's Office probable cause affidavit, was inside the bagel shop "screaming" at customers and employees "you are violating my rights" and "you are violating the constitution" after manager Ann Marie Campian repeatedly asked her to wear the required mask.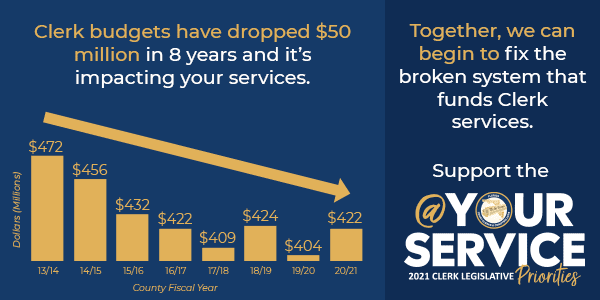 — CORONA NATION —
"'Blood on his hands': As U.S. nears 400,000 COVID-19 deaths, experts blame Trump administration for a 'preventable' loss of life" via Jorge L. Ortiz of USA TODAY — Besides being the first President to get impeached twice, Trump will have a stain on his legacy with arguably longer-lasting consequences: He's about to become the only American leader in a century with more than 400,000 deaths from one event on his watch. Not since Woodrow Wilson was in office during the 1918 flu pandemic — which killed about 675,000 in this country and 50 million worldwide — had a President overseen the loss of so many American lives. That total is fast approaching the 405,000 U.S. fatalities from World War II to rank as the third-deadliest event in the republic's history. About 618,000-750,000 were killed in the Civil War of 1861-1865.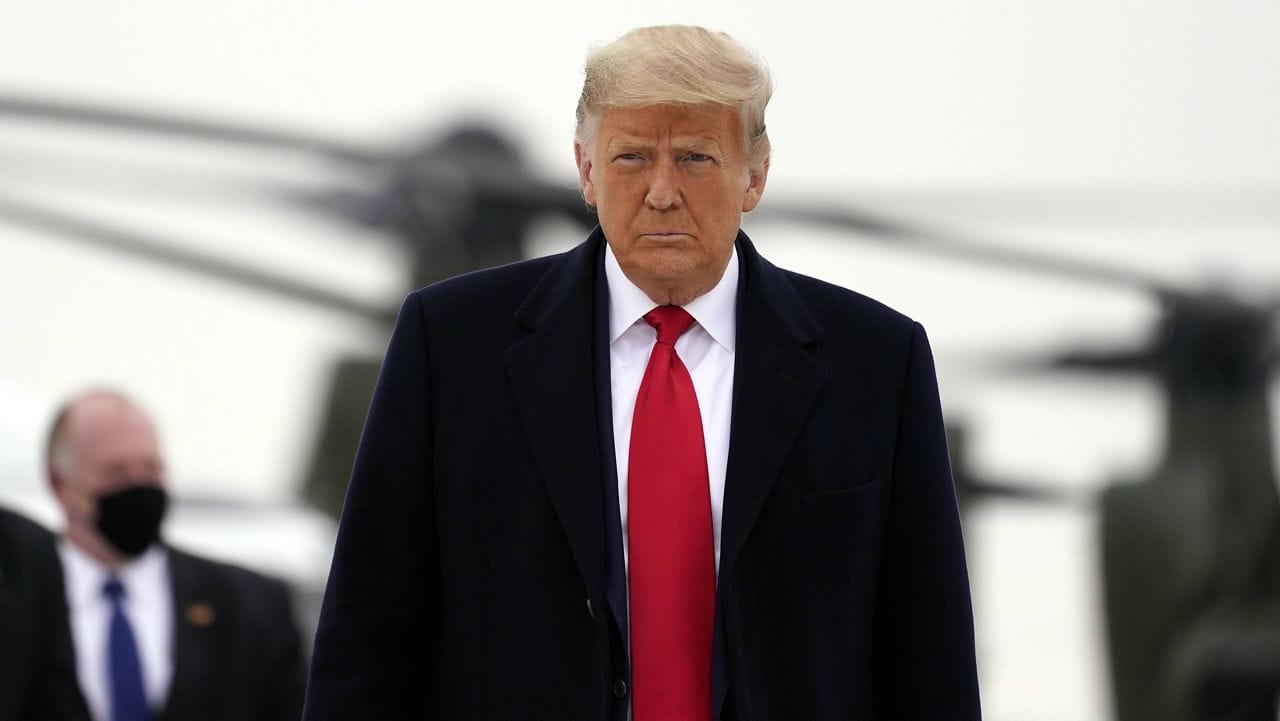 ICYMI — "The COVID-19 death toll is even worse than it looks" via Paul Overberg, Jon Kamp, Daniel Michaels and Lindsay Huth of The Wall Street Journal — The recorded death count from the COVID-19 pandemic as of Thursday is nearing 2 million. The true extent is far worse. More than 2.8 million people have lost their lives due to the pandemic, according to a Wall Street Journal analysis of data from 59 countries and jurisdictions. This tally offers the most comprehensive view yet of the pandemic's global impact. Deaths in these places last year surged more than 12% above average levels. Less than two-thirds of that surge has been attributed directly to COVID-19. Public-health experts believe that many, if not most, of the additional deaths were linked directly to the disease.
"'Dark weeks ahead': Incoming CDC director expects 500,000 COVID deaths by mid-February" via Nelson Oliveira of the New York Daily News — Dr. Rochelle Walensky, who is nominated to lead the U.S. Centers for Disease Control and Prevention, expects the country's coronavirus death toll to reach 500,000 by mid-February. That would be a jump of about 100,000 in just a few weeks since the number of confirmed deaths was just short of 400,000 on Monday. The grim prediction comes after another devastating week in the U.S., with the seven-day average for new deaths surging past 3,300, according to The COVID Tracking Project. The latest numbers reflect a surge of infections and hospitalizations in multiple states. Walensky said her estimate doesn't even account for the tens of thousands of people living with "a yet uncharacterized syndrome" long after recovering from COVID-19.
"A new COVID-19 challenge: Mutations rise along with cases" via Marilynn Marchione of The Associated Press — The race against the virus that causes COVID-19 has taken a new turn: Mutations are rapidly popping up, and the longer it takes to vaccinate people, the more likely it is that a variant that can elude current tests, treatments and vaccines could emerge. The coronavirus is becoming more genetically diverse, and health officials say the high rate of new cases is the main reason. Each new infection gives the virus a chance to mutate as it makes copies of itself, threatening to undo the progress made so far to control the pandemic. On Friday, the World Health Organization urged more effort to detect new variants.
"Trump admin enlists private firm to review some COVID-19 tests" via David Lim of POLITICO — The Department of Health and Human Services is paying a private firm to review the accuracy of some COVID-19 tests, the latest example of the department's political leadership attempting to bypass scientists at the FDA. The idea behind the last-minute contract, announced days before Trump leaves office, is that HHS would use the review to issue emergency use authorizations for the tests without FDA input. The current skirmish concerns the tests that labs develop for their own use, a particular point of contention between HHS and FDA during the pandemic. 
"The Trump administration bailed out prominent anti-vaccine groups during a pandemic" via Elizabeth Dwoskin and Aaron Gregg of The Washington Post — Five prominent anti-vaccine organizations known to spread misleading information about the coronavirus received more than $850,000 in loans from the federal Paycheck Protection Program, raising questions about why the government is giving money to groups actively opposing its agenda and seeking to undermine public health during a critical period. The groups that received the loans are the National Vaccine Information Center, Mercola Health Resources, the Informed Consent Action Network, the Children's Health Defense, and the Tenpenny Integrative Medical Center. Several of these organizations' Facebook pages have been penalized by the social network, including being prohibited from buying advertising for pushing misinformation about the coronavirus.
"Acceptance of COVID-19 vaccine is rising, but so is pessimism about getting back to normal" via Susan Page and Sarah Elbeshbishi of USA Today — Now 56% of those surveyed say they will get the vaccine as soon it was available to them, a jump of 10 percentage points since the USA Today poll in December and up 30 points since October. But optimism about when things in the United States will get back to normal has ebbed. In December, a 51% majority predicted things would return to normal by the end of this year. Now just 44% feel that way, down 7 points. The proportion who say it will take several years has risen 4 points, to 31%. One in 5, or 20%, asked when the nation will get back to normal, replied "never."
ICYMI — "Moderna CEO says the world will have to live with COVID 'forever'" via Berkeley Lovelace, Jr. Of CNBC — The CEO of COVID-19 vaccine maker Moderna warned Wednesday that the coronavirus that has brought world economies to a standstill and overwhelmed hospitals would be around "forever." Public health officials and infectious disease experts have said there is a high likelihood that COVID-19 will become an endemic disease, meaning it will become present in communities at all times, though likely at lower levels than it is now. Moderna CEO Stephane Bancel appeared to agree Wednesday that COVID-19 will become endemic, saying "SARS-CoV-2 is not going away."
— CORONA ECONOMICS — 
"How full employment became Washington's creed" via Jeanna Smialek of The New York Times — As Biden prepares to take office this week, his administration and the Federal Reserve are pointed toward a singular economic goal: Get the job market back to where it was before the pandemic hit. In the past, lawmakers and Fed officials tended to preach allegiance to full employment — the lowest jobless rate an economy can sustain without stoking high inflation or other instabilities — while pulling back fiscal and monetary support before hitting that target as they worried that a more patient approach would cause price spikes and other problems. That timidity appears less likely to rear its head this time around.
"The debt question facing Janet Yellen: How much is too much?" via Kate Davidson and Jon Hilsenrath of The Wall Street Journal — A big question hangs over Yellen this week at her confirmation hearing to become U.S. Treasury secretary: How much debt is too much? In the past four years, U.S. government debt has increased by $7 trillion to $21.6 trillion. Biden has committed to a spending program that could add trillions more in the year ahead. At 100.1% of GDP, the debt already exceeds the annual output of the economy. She has joined, cautiously, an emerging consensus concentrated on the left that more short-term borrowing is needed to help the economy, even without concrete plans to pay it back. Central to the view is the expectation that interest rates will remain low, making it more affordable to finance the borrowing.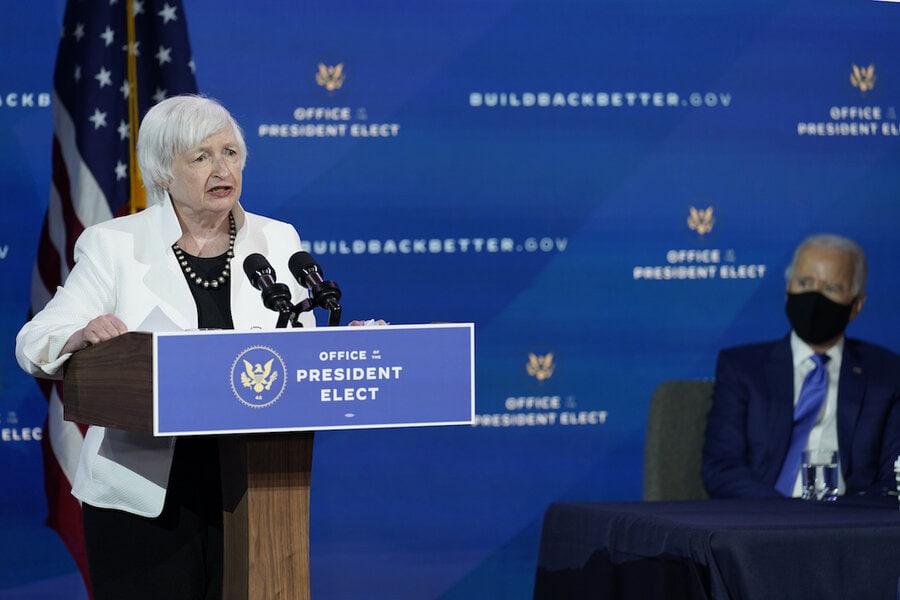 "Florida reaches 5.3 million jobless claims in pandemic" via Drew Dixon of Florida Politics — There were about 91,000 new unemployment claims in Florida in the past week, according to Florida Department of Economic Opportunity data released Monday. The state has now tallied 5.31 million claims since the beginning of the coronavirus outbreak in March. The weekly increase is less than the previous week, which saw about 143,000 new jobless filings in the state. It's likely the jump in new jobless claims in the past two weeks are due to the end of seasonal holiday jobs that always increase and then fall off soon after New Years Day. Before the beginning of 2021, unemployment claims had fallen between 50,000 to 70,000 new filings each week.
— MORE CORONA —
"Where did COVID-19 come from?" via Elizabeth Weise and Karen Weintraub of USA Today — The coronavirus that conquered the world came from a thumb-sized bat tucked inside a remote Chinese cave. Of this much, scientists are convinced. Exactly how and when it fled the bat to begin its devastating flight across the globe remain open questions. This month, a World Health Organization delegation of scientists from 10 nations finally was allowed into China to explore the origins of the virus. It's not clear how much evidence will remain a year later or what the team will be able to learn. But the effort is worth it, infectious disease experts said. Understanding the journey of SARS-CoV-2 may provide insights into how the relationship between humans and animals led to the pandemic and other disease outbreaks.
"China's economy is growing faster now than before the coronavirus pandemic" via Gerry Shih of The Washington Post — Economic data published Monday showed that China logged 2.3% growth for 2020, becoming the only major economy that grew during a year when the virus exacted a devastating global toll. As other major nations and geopolitical competitors struggle to beat back a winter wave, China's containment success has buoyed its economy and the ruling Communist Party's claims to global leadership in the post-pandemic world. In a sign of how quickly China has managed a turnaround, the National Statistics Bureau said that its GDP rose 6.5% during the fourth quarter of 2020, exceeding the 6% pace at the end of 2019, before the coronavirus took hold. China's GDP surpassed a milestone in 2020, topping 100 trillion yuan, or about $15 trillion.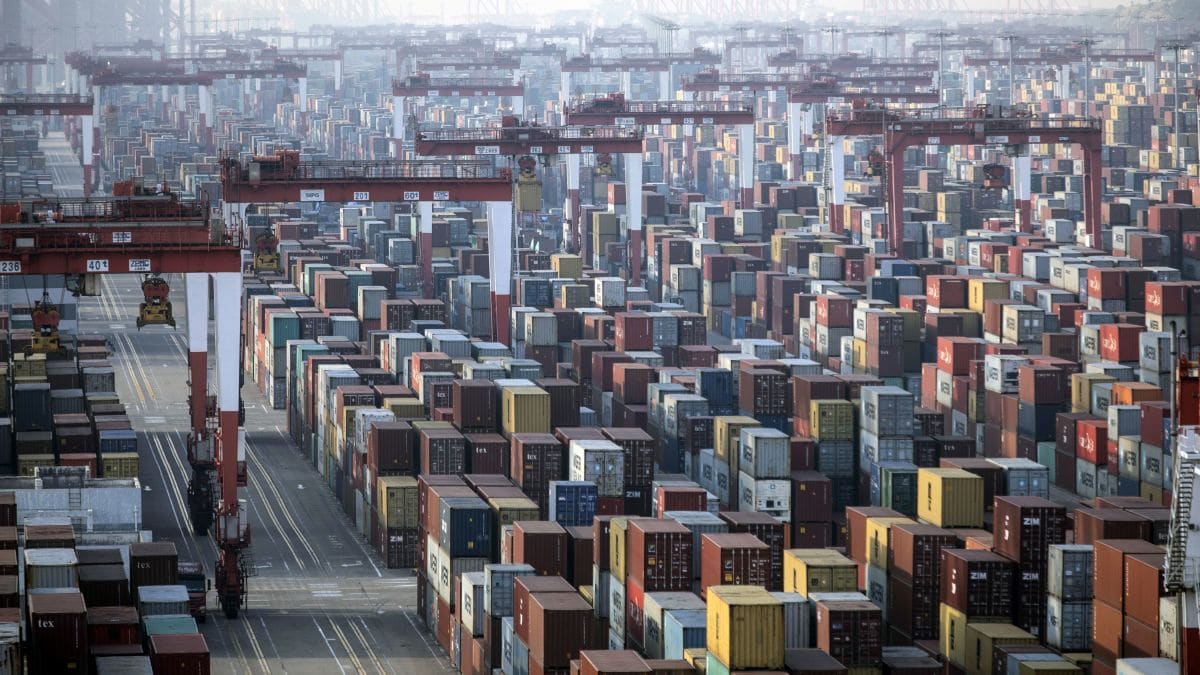 "Norway warns against vaccinating the terminally ill" via Bojan Pancevski of The Wall Street Journal — The Norwegian drug agency on Monday warned medical authorities in the country not to administer the COVID-19 vaccine to terminally-ill patients because a small number of elderly people had died shortly after receiving the shot in recent days. Authorities have reported 23 cases of elderly recipients suffering from serious medical conditions dying days after being inoculated. The agency said Norway's vaccination campaign, like many others around the world, had been giving priority to elderly people in nursing homes, some of whom have serious underlying diseases, and it was therefore expected that deaths might occur close to the time of vaccination. Pfizer and BioNTech are aware of the reported deaths and are working with Norwegian authorities to gather more information, a Pfizer spokeswoman said.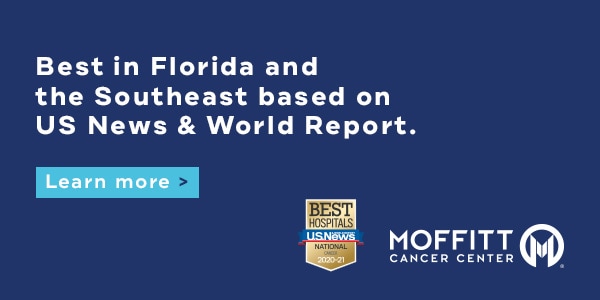 "Trump prepares to offer clemency to more than 100 people in his final hours in office" via Carol D. Leonnig, Josh Dawsey and Rosalind S. Helderman of The Washington Post — Trump is preparing to pardon or commute the sentences of more than 100 people in his final hours in office, decisions that are expected to be announced Monday or Tuesday, according to two people familiar with the discussions, who spoke on the condition of anonymity to describe the plans. In the past week, Trump has been particularly consumed with the question of whether to issue preemptive pardons to his adult children, top aides and himself, said the people familiar with discussions. But it remains unclear whether he will make such a move. Although he has mused about the possibility, no final decisions have been reached, and some advisers have warned against using his pardon power to benefit himself.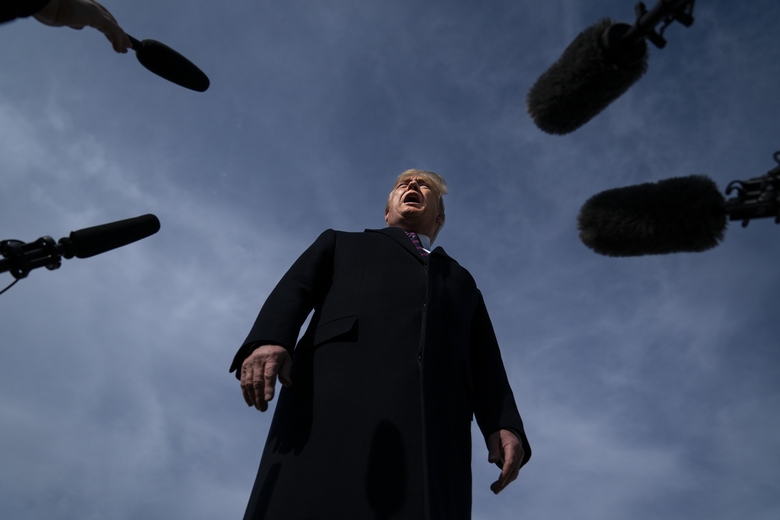 "The Trump presidency was marked by battles over truth itself. Those aren't over." via Jose A. Del Real of The Washington Post — Trump stands as a singular figure in American history for his willingness to entertain conspiracy theories from the Oval Office, and none has been more damaging or far-reaching than his unsubstantiated claim that the 2020 election was rigged against him. One out of every three Americans believes widespread fraud in the last presidential election despite no evidence to support that view. The social conditions that brought so many people to believe the falsehoods Trump has told about the election and a litany of other issues took root decades before he became a political figure and will extend far beyond the four years of his administration, according to scholars of disinformation and conspiratorial thinking.
"Giuliani will not be part of Trump's defense in the Senate impeachment trial." via Maggie Haberman of The New York Times — Giuliani will not be taking part in the President's defense in the Senate trial for his second impeachment, a person close to Trump said on Monday. Trump met with Giuliani on Saturday night at the White House, and the next day the President began telling people that Giuliani was not going to be part of the team. It is unclear who will be the defense lawyer for Trump, given that many attorneys have privately said they won't represent him. At first, Giuliani said he was taking part in the trial and then a day later said he had no involvement.
"Republicans call for unity but won't acknowledge Joe Biden won fairly" via Amy B Wang of The Washington Post — The call for unity came from one of Trump's most loyal supporters in Congress, Rep. Jim Jordan, nearly a week after a pro-Trump mob rampaged the U.S. Capitol in a riot that left five people dead. The committee chairman, Rep. Jim McGovern, pressed him on one point. Hadn't Jordan and more than 140 other Republicans given oxygen to the false conspiracy theory pushed by Trump that motivated the Capitol rioters when they had voted to object to certifying the electoral college results? McGovern's question was met with 17 seconds of silence before Jordan said Biden would indeed be inaugurated President, a clear dodge of the question about the nature of Biden's victory.
"Inauguration week is here, and with it questions about Trump's fate and the new dynamics in Washington." via Emily Cochrane and Glenn Thrush of The New York Times — Trump exits stage right this week, dethroned, denounced and, most painful to him perhaps, de-platformed. But his unfinished business will outlast his physical presence. Lawmakers are set to return to a militarized Capitol this week, with several serious questions remaining about the course of Trump's second impeachment trial, and the future of a new Democratic-controlled Senate that will be quickly tested during confirmation hearings for five of Biden's cabinet appointees. For several lawmakers, it will be their first trip back to Washington since the joint session on Jan. 6, where they were temporarily forced to flee the chambers as a mob stormed the Capitol.
"Trump is planning to sneak away to Florida instead of attending the Biden inauguration, FAA data reveals" via Thomas Pallini of Business Insider — Flight restrictions were just issued for the skies above Palm Beach by the Federal Aviation Administration for January 20, indicating the president will head south on his last day in office and skip the traditional Capitol send-off by choppering out of Washington on Marine One. The move is in line with one of the President's final tweets from his personal Twitter account, where he stated in no uncertain terms that he would not be attending Biden's inauguration. "To all of those who have asked, I will not be going to the Inauguration on January 20th," Trump said in a now-hidden tweet.
"Melania Trump says 'violence is never the answer' in farewell video urging Americans to 'rise above what divides us' — despite snubbing Jill Biden by refusing traditional White House handover tour" via By Emily Goodin of the Daily Mail — Melania Trump denounced violence and called on Americans to 'be best' to one another in a farewell video posted to her social media accounts on Monday, two days before she vacates the White House. "In all circumstances, I ask every American to be an ambassador of Be Best. To focus on what unites us, to rise above what divides us, to always choose love over hatred, peace over violence, and others before yourself," she said in the nearly seven-minute video. But her message also comes as Melania has left a final snub on incoming first lady Jill Biden — not giving her successor a tour of the White House's family wing.
To watch the video, click on the image below:
"As Trump's presidency recedes into history, scholars seek to understand his reign — and what it says about American democracy" via David Nakamura of The Washington Post — Trump's four years in office come to a close Wednesday after a reign defined by constant chaos, corruption and scandal, a tenure that numerous scholars predict is destined to rank him among America's worst Presidents. Trump's claims of policy victories will be vastly overshadowed by his mismanagement of the pandemic and his unprecedented assault on the U.S. election results, they said. "You never want to be ranked below William Henry Harrison, who was only President for one month. If you rank below him, it means you've harmed the country," said presidential historian Douglas Brinkley of Rice University. "Now you're getting into James Buchanan and Andrew Johnson territory. Trump will automatically be in that category."
"Attorney Roberta Kaplan is about to make Trump's life extremely difficult" via Karen Heller of The Washington Post — On the other side of Trump's turbulent presidency, the lawyers are waiting. Leaving aside his Senate impeachment trial, mounting government investigations include a civil probe by New York Attorney General Letitia James, a criminal probe by Manhattan District Attorney Cyrus Vance Jr., and a federal probe by acting U.S. Attorney for D.C. Michael Sherwin that may include Trump's role in the catastrophic storming of the U.S. Capitol this month. But already pending for the soon-to-be South Florida retiree is a trio of lawsuits that allege defamation, fraud and more fraud, all of which are helmed by one attorney. Kaplan's clients include writer E. Jean Carroll, who filed a defamation case after Trump claimed she was "totally lying" about her allegation that he raped her.
"'Rooting hard for you': Will departure notes end with Trump?" via Will Weissert of The Associated Press — Presidential traditions are usually known for their solemnity and carry the weight of future historical significance. This one began with cartoon turkeys and a reference to lunch. As he was preparing to leave the White House in January 1989, President Ronald Reagan wanted to leave a note for his successor, George H.W. Bush, and reached for a pad emblazoned with a cartoon by humorist Sandra Boynton under the phrase, "Don't Let the Turkeys Get You Down." It featured a collection of turkeys scaling a prone elephant, the symbol of both men's Republican Party. "Dear George, You'll have moments when you'll want to use this particular stationery. Well, go to it," Reagan scrawled.
— TRANSITION — 
—"Biden to propose 8-year citizenship path for immigrants" via The Associated Press
"Biden plans to roll out dozens of executive orders in his first 10 days as President." via Michael D. Shear and Peter Baker of The New York Times — Biden's team has developed a raft of decrees that he can issue on his own authority after the inauguration on Wednesday to begin reversing some of Trump's most hotly disputed policies. Advisers hope the flurry of action will establish a sense of momentum for the new President even as his predecessor is on trial. On his first day in office alone, Biden intends to issue executive orders including rescinding the travel ban on several predominantly Muslim countries; rejoining the Paris climate change accord; extending pandemic-related limits on evictions and student loan payments; issuing a mask mandate for federal property and interstate travel, and ordering agencies to figure out how to reunite children separated from their families after crossing the border.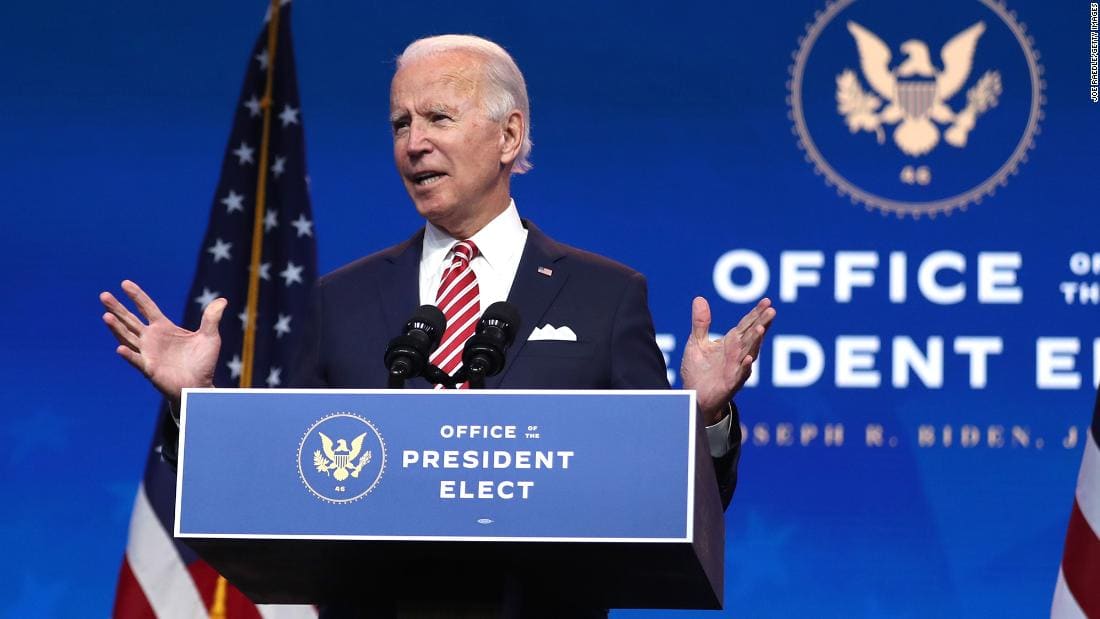 "Biden is expected to cancel the Keystone XL Pipeline permit on his first day in office." via Michael D. Shear of The New York Times — Biden is expected to cancel the Keystone XL pipeline permit on his first day in office, quickly reversing his predecessor's approval of a project to move oil from Canada to the Gulf of Mexico, according to a person familiar with Biden's plans for his first days in office. Environmentalists have long targeted the nearly 1,200-mile pipeline as both a contributor to climate change and a physical symbol of the country's unwillingness to move away from an oil-based economy. Many Republicans, including Trump, argued the pipeline would create jobs and help local economies.
"Biden to bring back fired Pentagon official who led anti-ISIS effort" via Lara Seligman of POLITICO — Biden is planning to bring back a top Pentagon official leading the fight against the Islamic State who was fired by the Trump administration late last year, according to two defense officials and a transition official. Christopher Maier, who served as the Pentagon's Defeat ISIS Task Force director between March 2017 and November 2020, will return to the Defense Department after the inauguration as the acting civilian overseeing special operations forces, according to the three officials, who spoke on condition of anonymity because they were not authorized to speak on the subject. The Pentagon announced on Nov. 30 that Acting Defense Secretary Chris Miller had accepted Maier's resignation after the department disbanded his office, reflecting the success of the U.S.-led effort to defeat the terrorist group.
ICYMI — "Biden wins wide approval for handling of transition, but persistent GOP skepticism on issues will cloud the opening of his presidency" via Dan Balz, Scott Clement and Emily Guskin of The Washington Post — Two-thirds of Americans approve of Biden's handling of the transition ahead of his inauguration Wednesday, but mixed confidence in his leadership on major issues along with Trump's hold on the Republican Party present sizable challenges for the early days of the new administration. Biden enters office with 49% of Americans confident that he will make the right decisions for the country's future, compared with 50% who take the opposite view. The 49% represents much greater trust than Trump's 38% mark four years ago but much lower than the 61% who expressed trust in Barack Obama's decisions.
"Silicon Valley braces for tougher regulation in Biden's new Washington" via Tony Romm and Elizabeth Dwoskin of The Washington Post — The aftermath of the Capitol attack sets the stage for a political reckoning between Washington and Silicon Valley, as long-simmering frustrations with Facebook, Google, Twitter, and their digital peers threaten to unleash the most aggressive regulatory assault against the tech industry in its history. On the eve of his inauguration, Biden and Democratic leaders in Congress are pledging to aim for the country's largest social media platforms out of concern that they imperil the very fabric of American democracy. Silicon Valley giants have muscled up politically. Internet companies together spent more than $59 million in lobbying over the first nine months of 2020, according to an analysis of the most recent federal disclosures by the Center for Responsive Politics.
"Inaugural event to celebrate resiliency of Black Americans" via Kat Stafford of The Associated Press — The resiliency, culture and heroism of Black Americans and the African diaspora will be the central theme of a virtual event that will celebrate the nation's diversity on the eve of President-elect Joe Biden's inauguration. Vice President-elect Kamala Harris is slated to speak at Tuesday's event, "We Are One," which will also honor the historic nature of her being the first Black and South Asian woman to become Vice President. Black voters nationwide helped deliver Biden's presidency, overwhelmingly supporting him from the start of his White House bid.
"Five frantic hours in the White House: How to move a new President in and the old one out" via Bonnie Berkowitz of The Washington Post — The most frenzied American ritual you've never seen is called the "transfer of families," a five-hour tsunami of activity that will transform Trump's home into Biden's. "I call it organized chaos," said Gary Walters, who choreographed several transfers of families in his 21 years as the White House chief usher. The hectic process is organized around the traditional Inauguration Day schedule, but this year's transfer will be extremely nontraditional. First, the pandemic has caused many of the usual inaugural events to be scaled back or eliminated, and it makes cleaning and disinfecting more critical. Trump, who never conceded that he lost the election, made none of the customary overtures to Biden, which upends the usual inaugural morning schedule.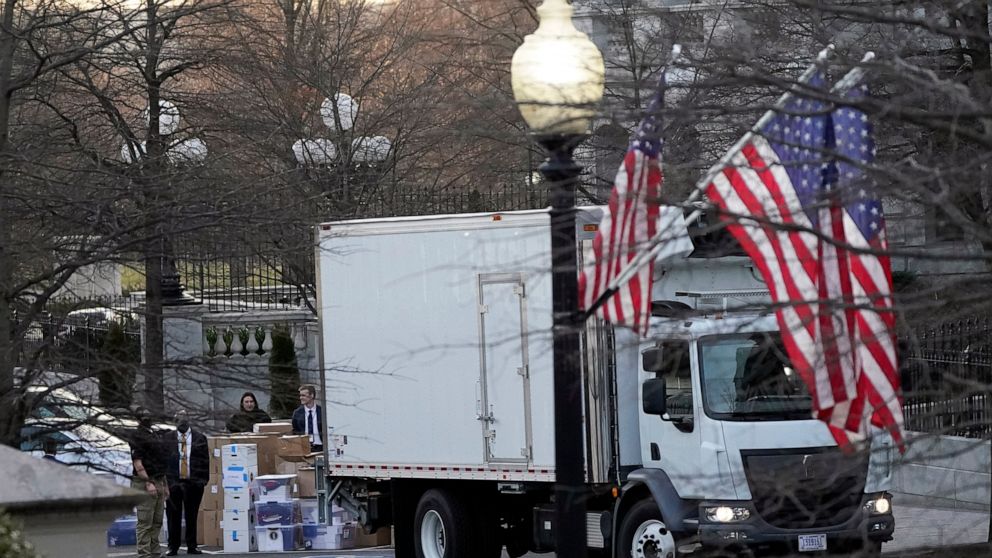 —"Biden-Harris team unveils inauguration playlist" via Joseph Choi of The Hill
—"Marco Rubio will not attend Biden's Inauguration" via Javier Manjarres of The Floridian
— D.C. MATTERS —
"'Expedited spree of executions' faced little Supreme Court scrutiny" via Adam Liptak of The New York Times — In 2015, a few months before he died, Justice Antonin Scalia said he would not be surprised if the Supreme Court did away with the death penalty. After Trump's appointment of three justices, liberal members of the court have lost all hope of abolishing capital punishment. In the face of an extraordinary run of federal executions over the past six months, they have been left to wonder whether the court is prepared to play any role in capital cases beyond hastening executions. Until July, there had been no federal executions in 17 years. Since then, the Trump administration has executed 13 inmates, more than three times as many as the federal government had put to death in the previous six decades.
"Matt Gaetz jokingly compares Biden administration to bathtub suicide" via A.G. Gancarski of Florida Politics — In a Monday night appearance on Fox News Channel's Hannity, the Panhandle Republican employed cutter imagery in a rhetorical slash at developing Democratic hegemony in Washington D.C. amid Trump's eclipse. "It's not just like tear-rolling-down-the-side-of-the-cheek depressing," Gaetz quipped. "It's draw-the-warm-bath-and-get-a-sharp-blade depressing."
>>>BTW, this tweet from last week is not doing Gaetz any favors: "Disney sought FL legislation to deem a theme park ticket, purchased by a parent, the waiver of a child's right to sue over broken rides when they get hurt. Using political influence to avoid compensating children they harm. Now we see virtue signaling from a company w/o virtue."
"Florida Republicans issue litmus test on Cuba, Venezuela policies for Biden nominees" via Michael Wilner and Nora Gámez Torres of The Miami Herald — Three Republican lawmakers from Florida are asking the Senate Foreign Relations Committee to reject Biden's nominees unless they agree to take a tough stance on Cuba and Venezuela. Reps. Michael Waltz, Maria Salazar and former Miami-Dade Mayor Carlos Giménez drafted the letter to the Senate panel just days before it is scheduled to hold a confirmation hearing on Biden's nominee for secretary of State, Antony Blinken. "We respectfully request you reject nominees that do not assure that American foreign policy will be firmly rooted in promoting democracy, economic liberalization, and basic civil liberties, given the human rights abuses in Cuba and Venezuela," the lawmakers wrote.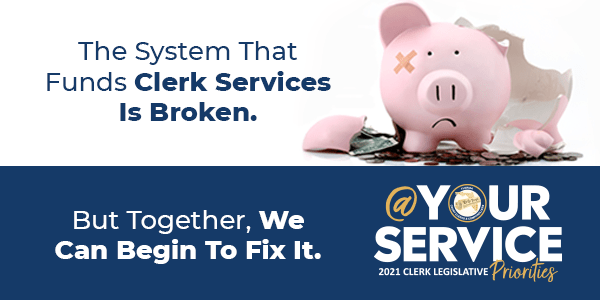 — DATELINE TALLAHASSEE —
"DOH whistleblower Rebekah Jones turns herself into police after arrest warrant is issued" via Kelly Hayes of Florida Politics — Jones, the former Florida Department of Health data scientist turned whistleblower, turned herself in Sunday to the Leon County Sheriff's Office after the Florida Department of Law Enforcement issued a warrant for her arrest. A judge on Monday set bail at $2,500 for Jones and declined the Florida Department of Law Enforcement's request to require electronic monitoring or prohibit Jones' use of the internet as a condition for her release. Jones has notably relocated to Washington, D.C. Jones was charged "with one count of offenses against users of computers, computer systems, computer networks and electronic devices," according to FDLE.
"Local projects proposed amid budget woes" via Jim Turner of Florida Politics — State lawmakers, advised this week about limited tax dollars amid the COVID-19 pandemic, have already proposed 43 hometown projects worth more than $45 million. And hundreds more are expected before the 2021 Legislative Session starts in early March. The proposals range from the $25,000 sought by Rep. Anna Eskamani, a Democrat from Orlando, for an adult-literacy program in Central Florida to $7.2 million sought by Sen. Manny Diaz Jr., a Hialeah Republican, to continue funding the Veterans Access Clinic at Nova Southeastern University. In most years, lawmakers approve a couple of hundred local projects in the state budget, though the Governor has line-item veto power to eliminate spending.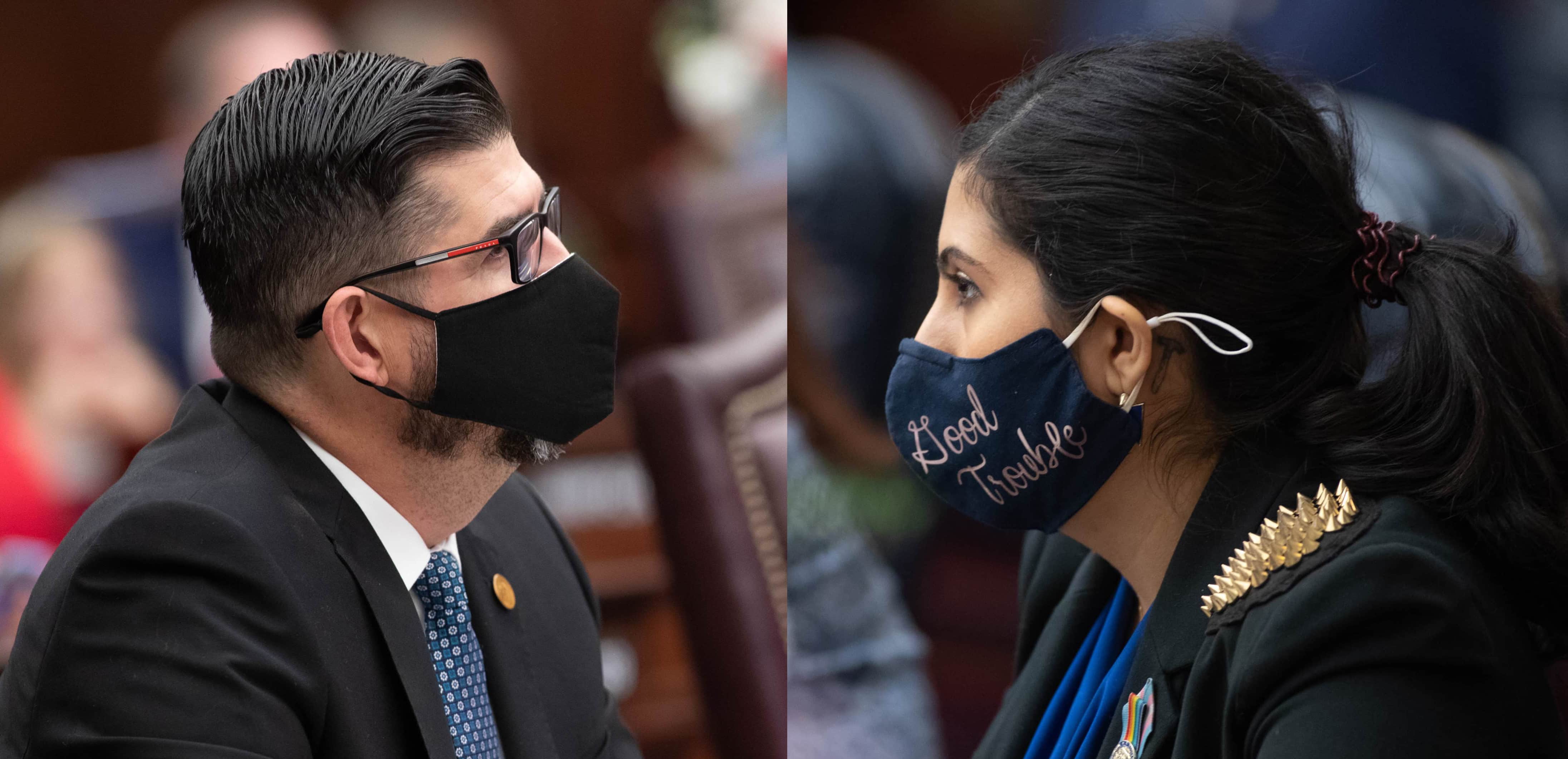 "After bad reviews, toll road plans again before legislators" via Steve Bousquet of WFSU — Thousands of Floridians criticized the planned roads at dozens of task force meetings held over the past year. As a result, the task forces sent a report to the Legislature in November with no consensus on whether they should be built. But the Department of Transportation is forging ahead with the next step — environmental and economic studies. Tens of millions of dollars have already been spent on the road plans, but the Legislature has the power to pull the plug on the roads at any time and opponents plan to keep the pressure on lawmakers.
"Gun owners' rights versus gun control: Many Florida bills filed, few likely to pass" via John Haughey of The Center Square — Firearms regulation will remain a hot topic when Florida's Legislative Session convenes. Democrats have introduced legislation seeking to enhance red-flag laws, impose tighter standards on firearms storage and sales, create a firearms registry, end state preemption of local gun laws, and ban assault weapons, magazines of more than 10 rounds and ghost guns. Republicans have filed bills seeking to adopt constitutional carry and campus carry, allow firearms in houses of worship and streamline the conceal carry permitting process. More than 100 gun-control bills and dozens of gun-rights bills were introduced by Florida lawmakers before the 2020 legislative session. None of the bills were adopted. Only two advanced into committees. That trend is likely to continue in 2021.
"Tina Polsky joins Christine Hunschofsky to increase regulations on home gun storage" via Ryan Nicol of Florida Politics — Democratic Sen. Polsky is continuing her push to beef up Florida's law regarding home gun storage. Polsky is filing legislation alongside Democratic Rep. Hunschofsky to change the options available to gun owners with minors in their homes. "Our main goal is to address the gun violence crisis that has plagued the country," Polsky said in a Tuesday statement. Current law places restrictions on a gun owner "who knows or reasonably should know that a minor is likely to gain access to the firearm without the lawful permission of the minor's parent or the person having charge of the minor, or without the supervision required by law." The owner must either "keep the firearm in a securely locked box or container," store the gun "in a location which a reasonable person would believe to be secure" or secure the weapon with a trigger lock.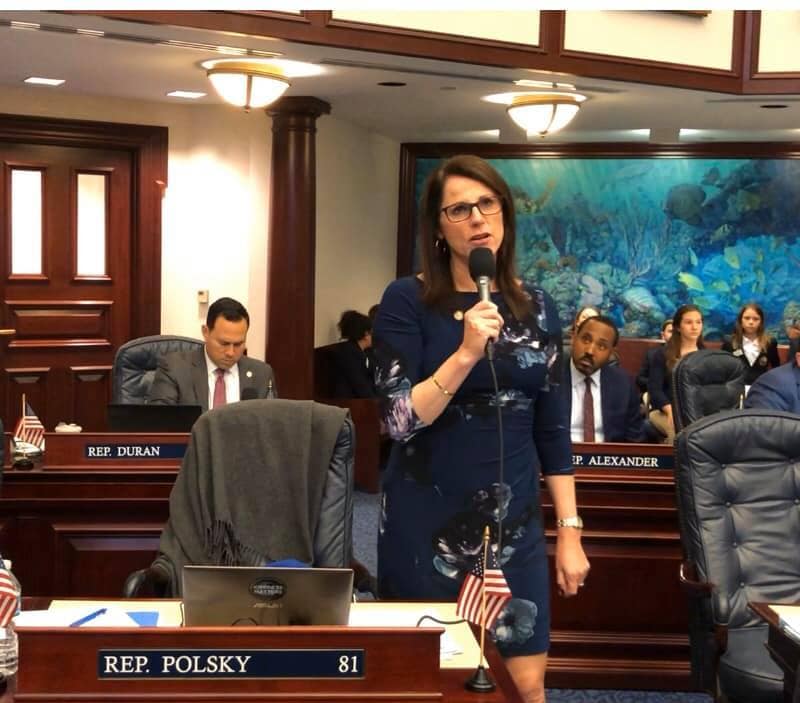 "Florida lawmaker files return-to-sender bill for rockets, other 'space vehicles'" via James Call of NWF Daily News — If you stumble upon a used rocket, one Florida lawmaker from the Space Coast wants to make sure you call it in. State Rep. Tyler Sirois filed a bill this week to prohibit anyone who happens upon a "space vehicle" on public or private property from keeping it. Finders also couldn't refuse to return it to the business entity that launched or owned it. The bill "would confirm a launch provider's right of ownership over their own hardware and provide local law enforcement the tools to retrieve items from private individuals at no cost to the taxpayers," Sirois said. The reusable spacecraft industry took a giant step forward last year, with companies in both the U.S. and China having successful test flights. "The plans of companies in Florida, such as SpaceX, depend on their ability to recover, refurbish, and reuse various launch and vehicle components," Sirois explained.
"Susan Kufdakis Rivera seeks rematch against Matt Willhite in HD 86" via Ryan Nicol of Florida Politics — According to the Florida Division of Elections, Republican Kufdakis Rivera has filed to run for the seat again in the 2022 cycle. She and Willhite faced off in the General Election last November. Willhite handily held off the challenger, winning nearly 57% of the vote and topping Kufdakis Rivera by nearly 12,000 votes overall. Though Willhite defended his seat by a fairly comfortable margin in 2020, Kufdakis Rivera did chip off a few percentage points from Willhite's 2018 margin, when he earned around 60% of the vote.
Legislative delegation meetings — The Pinellas County legislative delegation — Sens. Jeff Brandes, Ed Hooper and Darryl Rouson; Reps. Linda Chaney, Ben Diamond, Nick DiCeglie, Traci Koster, Chris Latvala, Michele Rayner and House Speaker Chris Sprowls — will meet ahead of the 2021 Legislative Session, 9 a.m., St. Petersburg College, Seminole Campus, Digitorium, 9200 113th St. North, Seminole. The St. Lucie County delegation — Sen. Gayle Harrell; Reps. Toby Overdorf, Kaylee Tuck, Dana Trabulsy and Erin Grall — will meet, 9:30 a.m., Indian River State College, Massey Campus, The Kight Center, 3209 Virginia Ave., Fort Pierce. The Suwannee County delegation — Sen. Jennifer Bradley and Rep. Chuck Brannan — will meet, 10 a.m., Suwannee County Agricultural Coliseum, 1302 11th St., Live Oak. The Polk County delegation — Sens. Ben Albritton, Danny Burgess and Kelli Stargel; Reps. Josie Tomkow, Colleen Burton, Sam Killebrew, Fred Hawkins, and Melony Bell — will meet, 1:30 p.m., Polk State College Center for Public Safety, 1251 Jim Keene Blvd., Winter Haven. The Columbia County delegation — Sen. Bradley and Rep. Chuck Brannan — will meet, 2 p.m., Columbia County School Board Committee Room, 372 West Duval St., Lake City. The Leon County delegation — Sen. Loranne Ausley and Reps. Ramon Alexander, Jason Shoaf and Allison Tant — will meet, 5 p.m., Leon County Courthouse, 301 South Monroe St., Tallahassee. The Escambia County delegation — Sen. Doug Broxson and Reps. Michelle Salzman and Alex Andrade — will meet, 5:30 p.m., Pensacola State College, Jean and Paul Amos Performance Studio, 1000 College Blvd., Pensacola.
— STATEWIDE —
"Short staffing in Florida prisons again causing concern for lawmakers, agency head" via James Call of the Tallahassee Democrat — Although there's been a dramatic reduction in the inmate population during the past five years, Florida Corrections Secretary Mark Inch says he can't hire enough corrections officers to protect the public, staff and inmates. The Department of Corrections operates 50 prisons that house over 79,000 inmates, staffed by 17,582 corrections officers. But the low pay for corrections officers leads to short staffing that creates high turnover: About half of newly hired COs quit within a year. They leave for work at county jails where they can earn several thousand dollars more a year, according to Inch.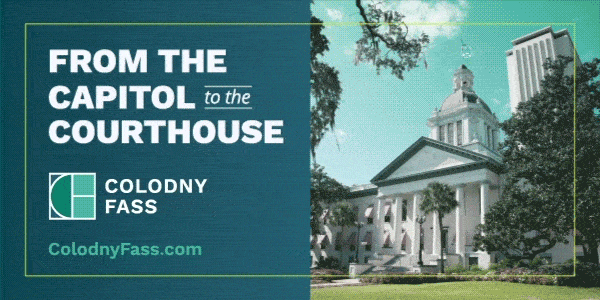 — LOCAL NOTES —
"Lake Charlene residents hope Escambia County will approve long-delayed flood project" via Jim Little of the Pensacola News Journal — The Lake Charlene neighborhood was badly flooded during Hurricane Sally and in the 2014 floods, but residents are hoping a long-delayed project fully funded by the federal government will finally move forward. Attorneys with Escambia County and the Lake Charlene Homeowners Association have negotiated an easement that would allow the county to replace a sluice gate that controls the level of Lake Charlene with a weir that would lower the lake level by 9 inches and allow for a much greater outflow during high-rain events. Engineers say the project will move 75 homes out of the 100-year flood plain and reduce the frequency of flooding in another 266 properties.
"Proposed amendment would reduce allowed density of development in South Walton" via Jim Thompson of Northwest Florida Daily News — One of the proposed amendments being considered by Walton County planning commissioners would eliminate a current provision of the comprehensive plan that allows the transfer of allowable development density of any given land-use category on properties containing wetlands to the upland areas of those properties. In effect, the proposed amendment would reduce the allowed density of development in south Walton County, at least as far as developments containing wetlands are concerned. A second proposed amendment would increase the allowable residential development density on land zoned for large-scale agriculture and general agriculture to one unit per 5 acres from the current one unit per 40 acres on large-scale agricultural land and one unit per 10 acres on general agriculture land.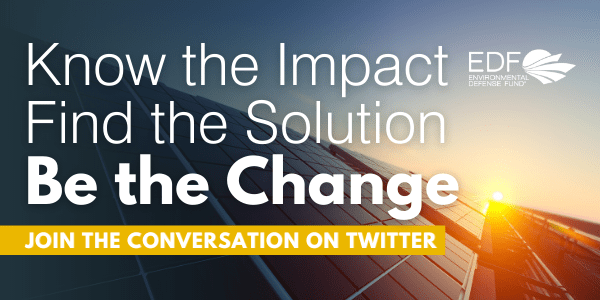 — TOP OPINION —
"How we can follow the example of Dr. Martin Luther King, Jr." via The Tampa Bay Times editorial board — Dr. King gave his life in service to the nation. Decades after his death, that contribution continues. Today's holiday has evolved into a national day of service, a fitting legacy for a man who worked selflessly for the betterment of all Americans. King never lived to see the racial unity he so fearlessly advocated for in his time. King recognized the cause of justice would be waged over the long arc of history. King paired his challenge of the status quo with a simple message: What are you going to do about it? For him, speaking out was only the first step in creating a more just, inclusive society. To that end, the evolution of the King federal holiday into a national day of service is a perfect way to carry on his legacy.
— OPINIONS —
"Enslaved Black craftsmen helped build the U.S. Capitol that a mob fueled by racist rhetoric stormed" via Felicia A. Bell for The Washington Post — Enslaved and free Black craftsmen were a critical labor force used by the U.S. government, as authorized by President George Washington, to build the Capitol. The executive branch assigned the commissioners of the District of Columbia to oversee the Capitol construction project. Although their records indicate the number of enslaved craftsmen fluctuated over the years, it climbed into the hundreds: "We believe more than 800 mechanics and Labourers [sic] employed on public and private account in improving the City." The sandstone used for the building's original walls was extracted from the earth by enslaved men forced to do this backbreaking work in the isolated quarries at Aquia Creek in Stafford County, Virginia.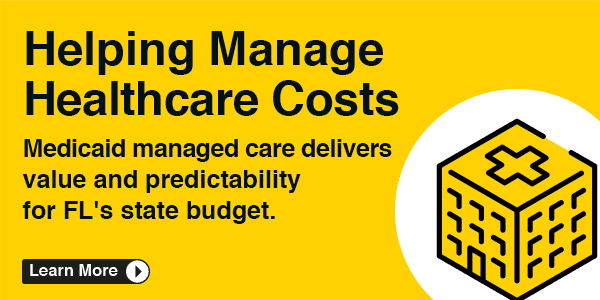 — ON TODAY'S SUNRISE —
The whistleblower who made life so uncomfortable for the Governor has bonded out of jail. Jones tweeted that the state is censoring the website until further notice where she's been posting daily COVID-19 casualties.
Also, on today's Sunrise:
— No holiday for COVID-19 casualties. The state reported 676 additional fatalities between Friday and Monday. More than 2,600 Florida residents have died since January 1 — an average of 153 per day.
— Vaccinations have been underway for more than a month, and DeSantis says he's working on expanding the number of facilities where you can get a shot. The problem is a shortage of vaccine.
— The Governor is counting on churches and Publix to speed up the vaccination process, and he'll announce more sites later this week.
On Sunrise in-depth, you'll hear from the Senate Budget Committee chair, who says this is going to be a difficult year because of the economic downturn from COVID-19. Kelli Stargel says M-CORES … billions of dollars to create three new toll roads … is on the chopping block.
— Stargel also says they'll be looking for new revenue, which means revisiting the issue of collecting the sales tax on purchases made over the internet.
— The Senator says they can also find more money by increasing the cost of college tuition … which has been frozen for several years.
— And finally, an anti-masker Florida Woman thought she could not be jailed for refusing to wear one. She was wrong.
To listen, click on the image below:
— ALOE —
Disneyland Paris postpones reopening to April 2 — Disneyland Paris announced Monday that it would not reopen on Feb. 13 as initially planned, citing the COVID-19 resurgence. "If conditions permit, we will reopen Disneyland Paris on the 2nd of April 2021 and will welcome reservations from that date forward. Given the current context, our plans continue to evolve, but please know that we will make every effort to share with you any updates as soon as it is possible," Disney said in a statement released via Twitter.
What Steve Schale is reading — "St. Augustine's Castillo de San Marcos immortalized on new U.S. Postal Service stamp" via Dan Scanlan of the Florida Times-Union — Beginning Jan. 24, a $7.95 Priority Mail stamp bearing a stylized image of the 349-year-old fort on the Matanzas River will go on sale at post offices across the country. Part of a trio of new stamps to announce the Post Office's 2021 price changes, the image of the Spanish fort at 1 S. Castillo Drive is also joined by a set of 36-cent postcard stamps called "Barns," as well as a 20-cent stamp used for each added ounce of weight called "Brush Rabbit." Ashley Walton designed the four barns stamps from original artwork by Kim Johnson.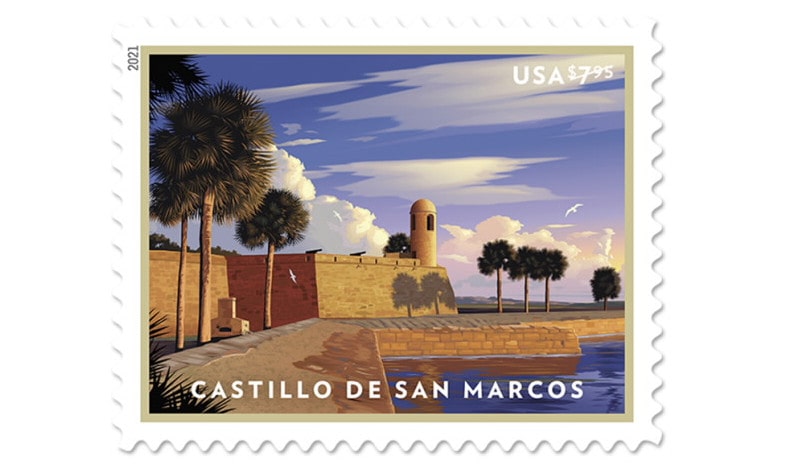 — HAPPY BIRTHDAY —
Happy birthday belatedly to Kaitlyn Bailey Owen of RSA Consulting. Celebrating today are Rep. Jayer Williamson, Dan Holler, and Rick Porter.
___
Sunburn is authored and assembled by Peter Schorsch, Phil Ammann, A.G. Gancarski, Renzo Downey and Drew Wilson.