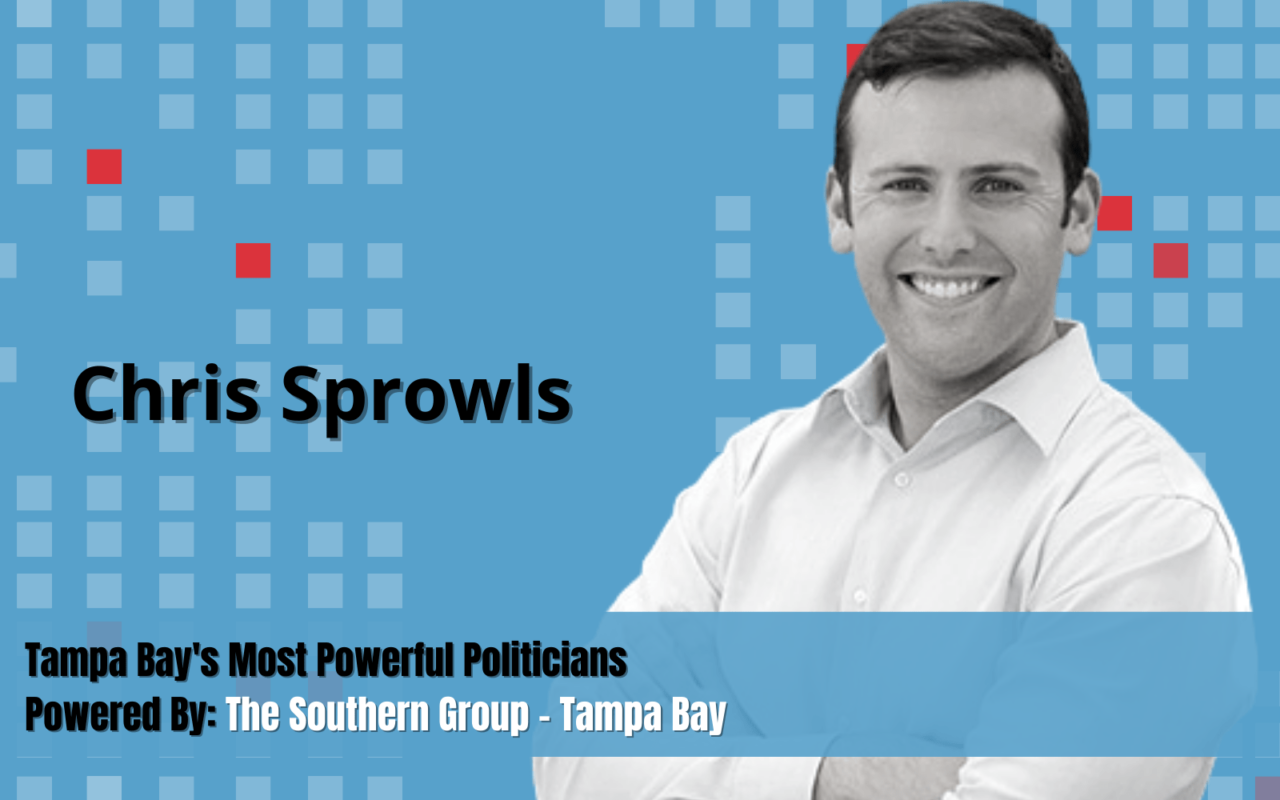 Sprowls led his party in 2020 to a banner year, netting five seats in the legislature.
As Speaker of the Florida House of Representatives, it's no surprise that Chris Sprowls would land a prime spot in this year's list of Tampa Bay's most powerful politicians.
But Sprowls' leadership outside the halls of the state Capitol is likely what landed him at the very top, beating out even Sen. President Wilton Simpson.
Sprowls led what was a banner election year for state Republicans last year, strategizing his party's way to netting five seats in the Florida Legislature, including ousting three Democratic incumbents from the House and growing the GOP advantage from 73-47 to 78-42.
It was a team effort, but to be sure, it was Sprowls calling the shots.
"No matter what was thrown at House Republicans, the Speaker Designate came back again and again with pledges of additional resources and support to make last night happen. There wasn't a campaign that went without something they needed to find success — that's because of Chris Sprowls," GOP consultant Anthony Pedicini said days after the 2020 election concluded.
It was a massive stream of victories in a year Democrats hoped to put a dent in, if not obliterate, their deficit in the House. Not only did they fail to gain seats, but they also lost them.
Victories came for Republicans challenging Democratic incumbents in Pinellas, St. Lucie and Miami-Dade counties — Linda Chaney over Rep. Jennifer Webb in HD 69, Dana Trabulsy over Rep. Delores Hogan Johnson in HD 84 and Tom Fabricio over Rep. Cindy Polo in HD 103.
Republicans won open seats in Sarasota County's HD 72 with Fiona McFarland besting Drake Buckman and Miami-Dade County's HD 114 with Demi Busatta Cabrera defeating Jean-Pierre Bado.
Sprowls made it happen by capitalizing on grassroots organizing when most Democrats were reluctant to conduct in-person campaigning amid the COVID-19 outbreak.
Campaigns across the state personalized their messaging to resonate with residents. With more than a decade in power in the Legislature, there's always a sense that the tide might change. Rather than defending seats when it happened, the party went on the offensive, knocking on about 500,000 doors in the lead-up to the November election.
Democrats criticized in-person events, but Republicans, under Sprowls' leadership, banked on those personal interactions to win the day — and they did. Campaigns focused on reaching voters while also adhering to social distancing and other COVID-19 precautions.
During conversations, Republican campaign managers throughout the state heeded Sprowls' guidance and used their interactions with voters to establish individualized platforms. That was in stark contrast to most Democrats' strategies, which relied heavily on criticizing former President Donald Trump hoping that disenchantment with a controversial President would translate to a blue wave at the bottom of the ticket.
"The Democrats have been obsessed with the idea of nationalizing every election. Rather than try to force the voters to listen to what we wanted to talk about, we decided to meet them on their turf and talk about what mattered to them," Sprowls told Florida Politics at the time.
"We emphasized the importance of grassroots outreach to our candidates and deployed a roving statewide Grassroots Strike Team to enhance the campaigns' local walk programs."
Sprowls also oversaw a massive fundraising effort that led to record hauls that exceeded both the 2016 and 2018 elections combined. Sprowls accomplished that by targeting what he described as "nontraditional donors."
"Speaker Sprowls' rise in Florida Politics is the stuff dreams are made of. The cancer-surviving, former assistant state attorney is among the most loyal Florida politicos. But that's not why Sprowls deserves the top spot on this list. Chris defends Tampa Bay like he defended his Republican majority and, all the while, he continues to remember who he is and where he came from," said GOP political consultant Anthony Pedicini. "He will shape the face of politics; Florida politics will not shape him. Speaker Sprowls is the real deal, and his energy and youth will keep him on this list for decades to come, should he decide to stay in public service."
Sprowls' success in the 2020 election only builds on the power he wields with the House's gavel. As House Speaker for the next two years, Sprowls will set the tone and priorities in this year's Legislative Session and next year's.
"Every so often, you come across that young energetic leader who is well-respected, well-liked and wise beyond his years. We are blessed to have in Speaker Chris Sprowls a leader who possesses these rare qualities and the courage and character to lead our state through these challenging times," said Corcoran Partners CEO Michael Corcoran.
He's already putting that into action, with bills implementing liability protections for businesses and health care providers working their way quickly through the committee process ahead of the March Session.
Sprowls is also ushering one of Gov. Ron DeSantis' top priorities this year through the lower chamber — a sweeping protest reform bill that would, among other things, create harsher penalties for protesters who wreak violence or destruction.
"Speaker Sprowls enjoys immense respect from the members of the Florida House. It's fun to watch him lead The House with honor, integrity, and a clear sense of purpose. He's the right man for the job in these unprecedented times," said Seth McKeel, managing partner for The Southern Group in Tampa Bay.
When his final term in office concludes with his time as Speaker, Sprowls' star is only likely to shine brighter, with expectations that he will eventually seek the State Attorney position in Pinellas and Pasco counties that was left vacant after Sprowls' mentor, Bernie McCabe, passed away in early January.
DeSantis appointed McCabe's longtime No. 2, Bruce Bartlett, to the post, but it will be up for a Special Election in 2022, which coincides with the end of Sprowls' tenure in the Legislature.