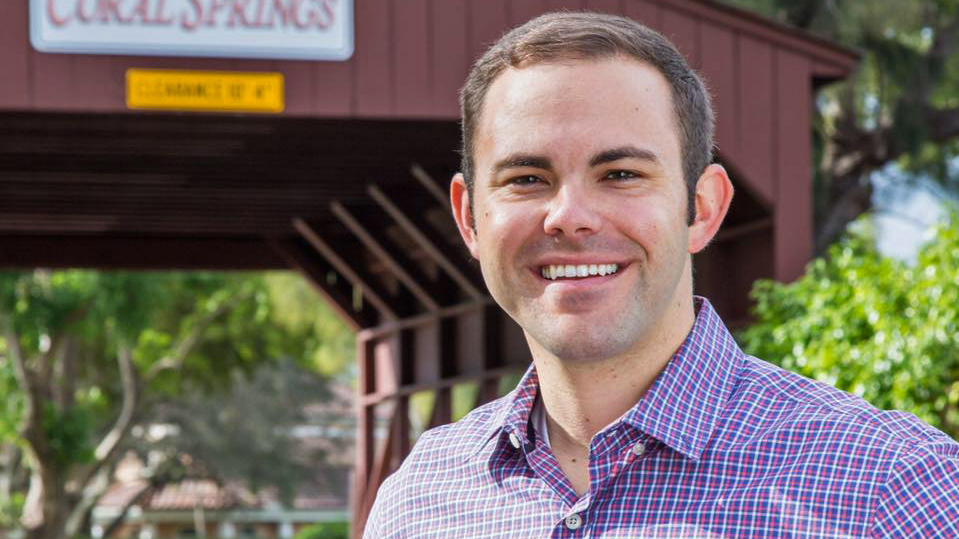 'COVID is the 1,000-pound gorilla in the room'
"Jaime's Law" — named for a student killed in the 2018 shooting at Marjory Stoneman Douglas High School in Parkland — is one of seven key pieces of legislation Dan Daley, a Democrat representing District 97, is focusing on as he enters the 2021 Legislative Session.
Named for Jaime Guttenberg, HB 25 would require a background check on all individuals purchasing ammunition, closing a loophole in Florida law that does not require vendors to check backgrounds for ammunition purchases.
"As a graduate of Marjory Stoneman Douglas High, nothing is more important to me than preventing another tragedy like what our community experienced from ever happening again," Daley said.
Fred Guttenberg, gun reform advocate and Jaime's father, notes that with about 4 million weapons on the streets, "we must make it harder for those who intend to kill to do so. Jaime's Law will help save lives immediately."
Daley says another piece of legislation related to the Parkland tragedy he'll be working on this year is HB 951, the Parents Need to Know Act, requiring schools to notify parents and staff within 24 hours when a threat or incident has taken place on campus and to include what actions were taken in response to the threat.
The reports will be anonymous and not include any identifying information. The bill will also create a hotline and an online reporting system for parents to report school safety issues.
A companion bill will be filed in the Sen. Shevrin Jones, a Democrat from Senate District 35.
"It's unfortunate that a bill like this is required," notes Daley, who has worked with several parents of the Parkland shooting victims on the legislation. "It's important because a Broward Circuit Court ruled that the Broward County School Board had no duty to warn parents about what has been going on over all these years with the shooter. This fixes that.
"Since the tragedy at MSD, 'Stand with Parkland — The National Association of Families for Safe Schools' founded by the victim's families — has worked to transform their pain into action, helping to prevent other school shootings and save the lives of others," Daley points out. "The Parents Need to Know Act is a work of dedication by these families."
The notion that a school district has no requirements to warn parents about a threat to their children's school "should send chills down your spine if you are a parent with children in Florida's schools," says Tony Montalto, President of Stand With Parkland — The National Association of Families for Safe Schools and father of Gina, who was killed in the shooting.
Another piece of legislation Daley has filed, HB 6033, repeals the NRA-backed restrictions on local governments to enact gun regulations. Sen. Annette Taddeo, a Democrat from Senate District 40, filed the Senate companion, SB 672.
These bills repeal a law that currently preempts local gun regulations. If local elected officials choose to enact gun regulations within their communities, it could result in fines, removal from office and lawsuits.
"We need to repeal this preemption law enacted in 1987 that circumvents the will of the people to have elected officials pass common sense gun laws in their communities," Taddeo says.
Daley is refiling Allie's Law, which would require mandatory reporting of suspected animal abuse by veterinarians.
A bipartisan effort with Daly and District 50 Rep. Rene Plasencia, a Republican from Orlando, HB 49 is named after a 4-year-old Boston terrier from Orlando. In the Senate, a companion bill has been filed by District 38 Sen. Jason Pizzo, a Democrat from Miami.
The dog suffered abuse at the hands of her previous caretakers. While a veterinarian recognized the abuse, it was never reported. The legislation would require a veterinarian to file a report for further investigation if they have cause to believe abuse is occurring.
"Dave Heine rescued Allie and has been the driving force behind this legislation," Daley said. "Sadly, Dave passed away earlier this year and in his memory and in Allie's name, I intend on working to stop the abuse of innocent animals. Animal abuse is an indicator of an unsafe household."
Following through on a legislative idea proposed by McArthur High School students in Hollywood through the Democracy in Action Initiative, Daley joined District 101 Rep. Marie Woodson, a Democrat from Hollywood, in filing HB 489 — Student Identification Cards.
This legislation would require schools statewide to include the numbers for a crisis hotline/text line and a behavioral health hotline/text line on the back of each student identification card beginning with student identification cards created or reprinted in the summer of 2021.
"Today, students are expected to handle many challenges in addition to their academic studies and this bill will provide students with an easily accessible help line to spread mental health awareness and provide assistance to those in need," Daley said.
In the Senate, a companion bill will be filed by Sen. Jones.
The Democracy in Action Program — which promotes and supports civic education and engages students in real-world government and decision-making — invites high school students to create an authentic original bill that could be proposed for the legislative session.
Daley had met his former boss, former state Rep. Ari Porth, as a result of his own participation in the Democracy in Action Initiative.
"I am proud to continue this tradition and sponsor a student-proposed bill in the Florida House of Representatives," he said.
In another piece of legislation, Daley and Jones are seeking to establish an internship tax credit program.
HB 531, the Tax Credit Program, serves as the House companion to Jones' SB 258.
The legislation would provide a credit against the corporate income tax to a business or an organization that employs a degree-seeking student for an internship.
Daley recalls his days at Florida State University where he had taken an unpaid internship with Porth's office. While his internship was a driving factor in his political career, Daley says he acknowledges many people cannot afford to take an unpaid internship with a private company.
"This legislation would encourage businesses to provide our students with opportunities to advance their knowledge and experience, preparing them for a career or trade after college," Daley notes.
"Florida businesses will be incentivized to seek diverse, new talent and college students will be able to receive hands-on training in their area of study and be provided an opportunity that they may not be able to afford otherwise."
"People are hurting as we navigate this pandemic that has disrupted lives, put careers and studies on hold, and created great uncertainty for small businesses and communities across the state," Jones said.
 "This bill will help our students acquire valuable experience and skills while also boosting talent for local businesses — it's a clear win-win that will pay off during this recovery and for years to come."
A new bipartisan filing from Daley and District 120 Rep. Jim Mooney, a Republican from Islamorada, is HB 1119, Water Safety and Swimming Certification for K-12 Students.
"Drowning is the leading cause of death among children ages 1 to 4 in Florida, and our state also has the highest drowning rate among children in the nation," said Daley, who once was a lifeguard and taught swimming at the Coral Springs Aquatic Center.
"This legislation will promote swimming and water safety lessons to keep our children safe. This bill asks parents of children entering any public or private school system to confirm whether their child has had swimming lessons, especially children entering kindergarten."
The legislation is not a mandate but will allow school authorities to identify students who may not know how to swim and provide opportunities for free or low-cost programs for families that are interested in their children's learning, notes Daley.
Sen. Lori Berman, a Boynton Beach Democrat, filed companion bill SB 358 in the Senate.
The bill is named for Edna Mae McGovern of Coral Springs, who lost her life to what was a preventable tragedy, Daley said.
Since 2009, her parents — Shannon and Cassie McGovern — have been advocating for water safety lessons for all children to prevent another tragedy from happening again, said Daley, who has teamed up with them and other interest groups to advocate for the bill.
Daley has recently voted down two pieces of legislation that came before the Regulatory Reform Subcommittee.
He regards the HB 219 vacation rentals legislation as another step to take regulation of vacation rentals out of the hands of cities and counties and place it with the state, ignoring the ability of local decision-makers to combat "party houses" in local residential neighborhoods.
He views the HB 55 building design legislation as preventing local governments from adopting zoning and development regulations related to building design elements for residential dwellings with limited exceptions.
Daley's current committee assignments include the Commerce Committee; the Environmental, Agriculture & Flooding Subcommittee; the Infrastructure & Tourism Appropriations Subcommittee; the Local Administration & Veterans Affairs Subcommittee, and the Regulatory Reform Subcommittee.
To date, Daley is most proud of the role he played in helping to pass Alyssa's Law, which requires all public and charter schools to install mobile panic alert systems.
Gov. Ron DeSantis signed the legislation into law June 29, 2020, after District 32 Sen. Lauren Book, a Democrat from Plantation, introduced the Senate version of the bill and Daley and Democratic Rep. Michael Gottlieb of District 98 were prime co-sponsors of the House version.
The law was named for Alyssa Alhadeff, who was killed during the Marjorie Stoneman Douglas High School shooting on February 14, 2018.
"We were able to get an appropriation for it so we could immediately start funding those systems," Daley said. "The Department of Education streamlined the selection of the providers."
Daley says the COVID-19 pandemic and its associated health care and economic concerns is the No. 1 issue of concern to his constituents, and he expects it to dominate the upcoming Legislative Session.
"The latest numbers I saw was a $2.5 billion hole in the budget," Daley said. Although it is far less than the anticipated $5 billion, it's still a budget gap, he adds.
"COVID is the 1,000-pound gorilla in the room. It's still rampant and there's a lot of health concerns, but we've got other issues that make what we're doing difficult," said Daley, adding the Capitol is pretty much shut down with only limited access.
"Will it be a relatively quiet Session or is it going to be one of those ones where a lot of stuff gets pushed through because there's limited access? That's what I think we also need to be very wary of.
"You've got bills like the anti-protest bill, the big tech bill, the COVID liability bill providing certain protections for businesses who were handling COVID appropriately based on CDC guidelines, and then you have folks getting sick and potentially bringing lawsuits. That's all working its way through the system."
Daley says he initially anticipated a quiet year.
"But there's a lot of stuff up and moving and we're not even into the first Legislative Session yet," he adds.
___
Carol Brzozowski is a writer and journalist based in Pompano Beach.