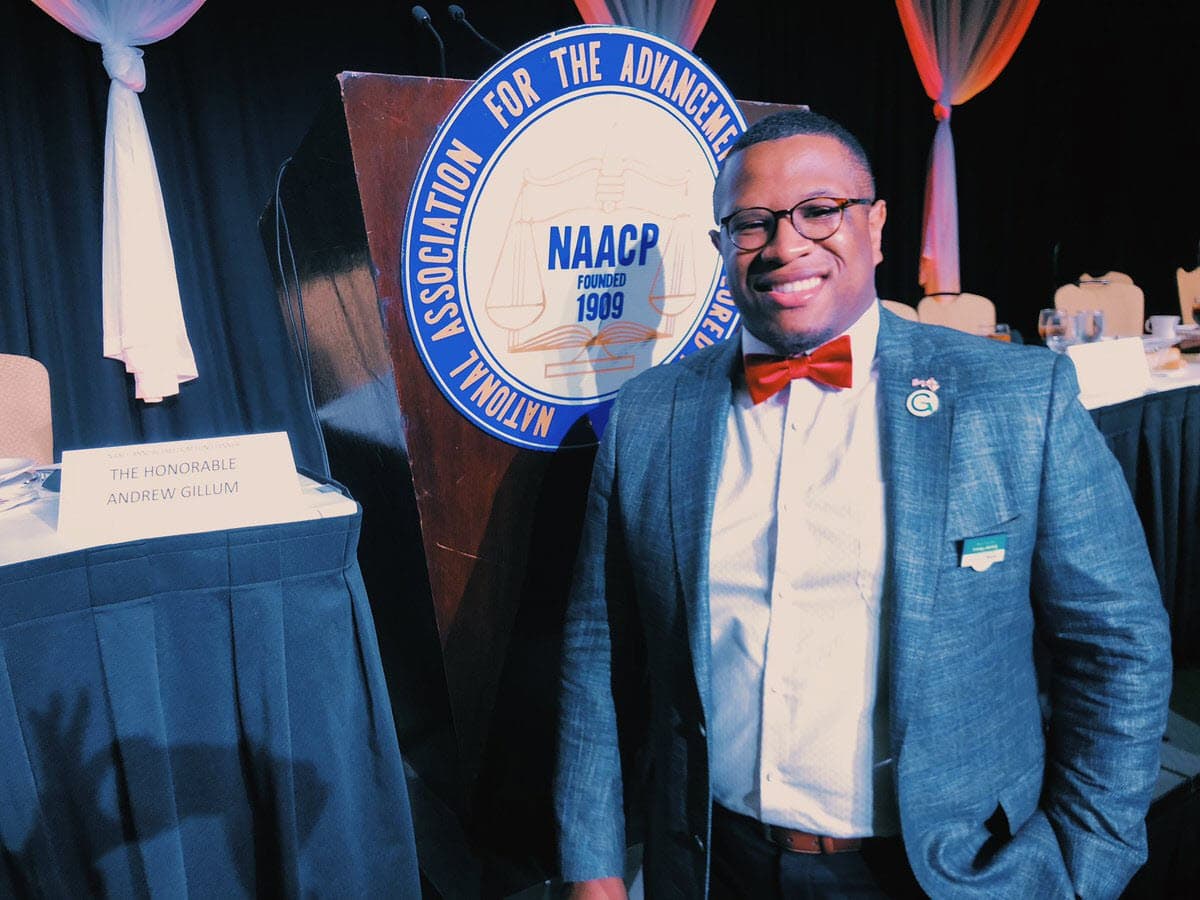 Are 'shady' backroom deals afoot?
Jacksonville elected officials are pushing Duval Democratic Party Chair Daniel Henry to resign, but he told Florida Politics he's not going anywhere despite being offered what he calls a "shady deal" from a Jacksonville City Council member.
At a news conference Friday, Council member Garrett Dennis demanded Henry's departure for a meeting with a Republican City Council member in which Dennis claims they discussed the city's once-a-decade redistricting.
Henry maintained he was "focused on the job to which an overwhelming number of volunteer party members elected me to do: Building on the successes of turning Duval Blue and actively recruiting candidates to defeat Republicans in upcoming elections."
Henry also contends that Dennis' news conference, attended by four other Democrats on the Council, Democratic state Rep. Tracie Davis, and other party leaders, did not move Democrats to oppose him staying on as Chair.
"Since Friday's press conference, I've received an overwhelming level of support from Democrats both inside and outside the party. Many have expressed their confidence in my leadership and I'm proud to have their support," Henry said.
Henry also says he "rejected" the "offer" from Jacksonville City Council member Rory Diamond, which he said was made Jan. 24.
"Councilman Diamond blindsided me with a shady deal to work together on redistricting, which I immediately rejected. Additionally, I did not express an interest to Councilman Diamond about running in District 9, nor did it come up in our interaction. What I did express was my commitment to serving my full term as chair of the DEC," Henry said.
While Henry believes he is in the clear, elected officials, including Dennis, are not convinced.
"People are saying things aren't adding up with Daniel's story," Dennis told Florida Politics Sunday. "Why would he go back to meet with Rory and a major Republican donor (John Rood) if he felt that Rory was being shady and unethical."
Dennis, a second-term Council member, says the "negotiations were pretty detailed," including a plan to "cut out the Democrats in District 14 to add to District 9," as part of a scheme to make 14, now a swing district, more Republican. District 9, represented by Dennis and already designed for a Democrat to win, would allegedly see even more Democrats added to the district.
"With cutting the Democrats out of 14, it would leave Randy DeFoor vulnerable to a more conservative Republican because they want her gone," Dennis said.
DeFoor, though a Republican, has been at odds with Republican Mayor Lenny Curry and his staff for breaking with them on various issues in recent years.
"The scheme was to dilute every district with Republicans, take back [Democrat Joyce Morgan's District 1], and hold Democrats just to Districts 7-10," Dennis suggested. "Henry's reward for assisting was to draw his address into 9. He lives in Riverside."
Riverside is currently in District 14.
City Council President Tommy Hazouri and School Board member Warren Jones both agree that Henry needs to go, according to statements provided to Dennis ahead of the Friday press conference he held on this subject.
State Rep. Angie Nixon, elected in 2020, urged an "investigative process, during which time Chair Henry should take a leave of absence."
Jacksonville Democrats have seen variations of this theme before. Ahead of the 2019 city elections, the party did not field a mayoral candidate, with members offering individualized support to Anna Brosche, a Republican opposing Mayor Lenny Curry. Meanwhile, the then-current chair ran for Brosche's at-large City Council seat without success.
For Democrats, Duval County illustrates all too well how meaningless a registration advantage can be. There are more than 275,000 Democrats in Duval, compared to fewer than 235,000 Republicans. But Republicans hold a City Council supermajority and all major city offices.
And that imbalance illustrates the tension of the moment for Democrats. Numbers aren't enough. They need leverage in redistricting. And these divisions, at the very least, undercut an effort of generational importance to this cohort of political actors.