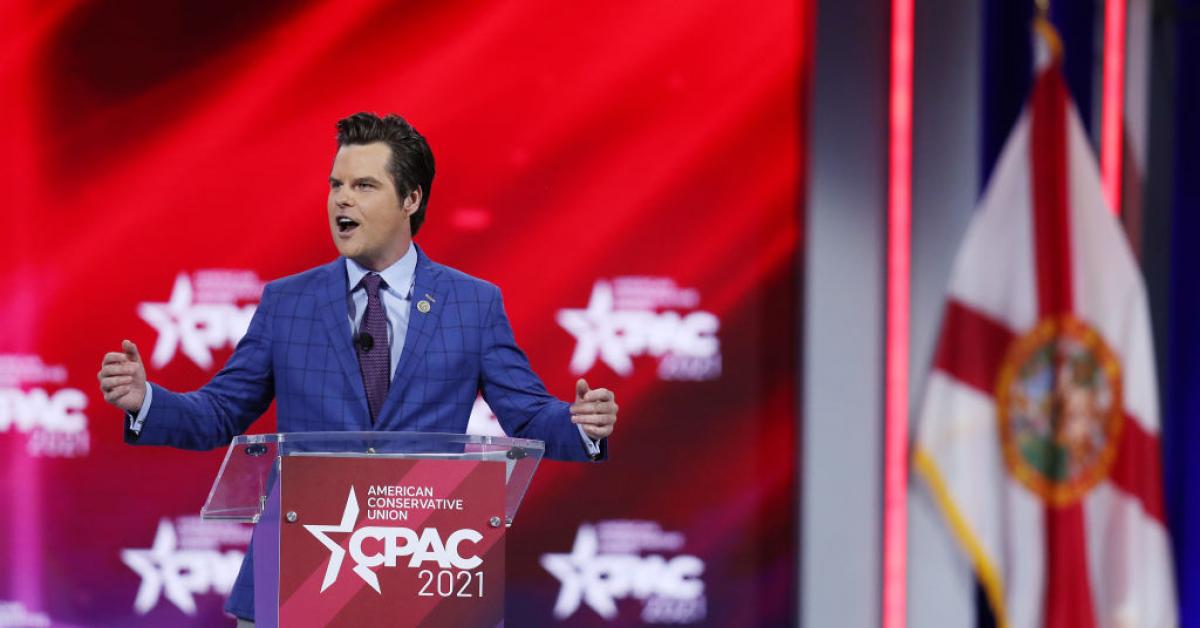 Gaetz believes ongoing investigations are biased.
Matt Gaetz took to cable news Tuesday night to decry what he describes is a "continued occupation" of the nation's Capitol, one with former President Donald Trump's political movement in its crosshairs.
Gaetz, appearing on the Fox News Channel's Tucker Carlson Tonight, had pointed criticisms for the ongoing stationing of National Guard troops in the nation's capital, and specific rejoinders for the man chosen by Democratic House Speaker Nancy Pelosi to lead the investigation.
Gen. Russel Honore, according to Gaetz, had "issued a number of delusional rants that would get him disqualified even from a jury pool on these questions and yet he's in charge of this review."
"Americans are going to hear about reviews and commissions regarding Jan. 6 and I'm here to tell you they're about one of two things. One: hunting and destroying MAGA. And two: justifying the continued occupation of Washington D.C."
Gaetz cited certain assertions by the retired general that were critical of some figures whom some believe were at the center of the Jan. 6 unrest at the Capitol, saying that he had a bias against people who aren't as "woke" as he is.
Among them: contentions that Rep. Lauren Boebert, a Colorado Congresswoman with an affinity for firearms, should be put on a "no-fly list so she can't use commercial aircraft," that former First Son Donald Trump Jr. should be arrested, and that Missouri Sen. Josh Hawley should be disbarred.
Beyond that, the long game is normalizing a militarized presence outside the Capitol, Gaetz contends, with initial recommendations that "will include permanence to military occupation," a "permanent strike force" and "potentially additional permanent fencing."
The goal is, the Panhandle Republican Congressman said, to keep the "capital city occupied."
"There's a reason, and it's to get some people rich," Gaetz asserted. "I'm going to be asking what defense contractor may be profiting off the continued desecration of the Capitol with an occupying force that doesn't need to be there."
Of course, National Guard presence first showed up around the Capitol Complex when rioters sieged the building on Jan. 6. Pro-Trump protestors had flooded Washington to protest the certification of President Joe Biden's electoral college victory.
Gaetz at the time objected to several Biden states, and on the floor of the House blamed the Capitol riots on antifa and left-wing rhetoric, though FBI leaders repeatedly testified there was no sign any left-wing groups were part of the riots, and rioters themselves also tell police they was no antifa presence there.
But the continued presence of the Guard around the complex has become increasingly controversial. Gov. Ron DeSantis has order Florida National Guard back home and called their presence a "half-cocked mission."
Internal memos leaks to Washington media suggest there may be some presence of the Guard in place until the fall.