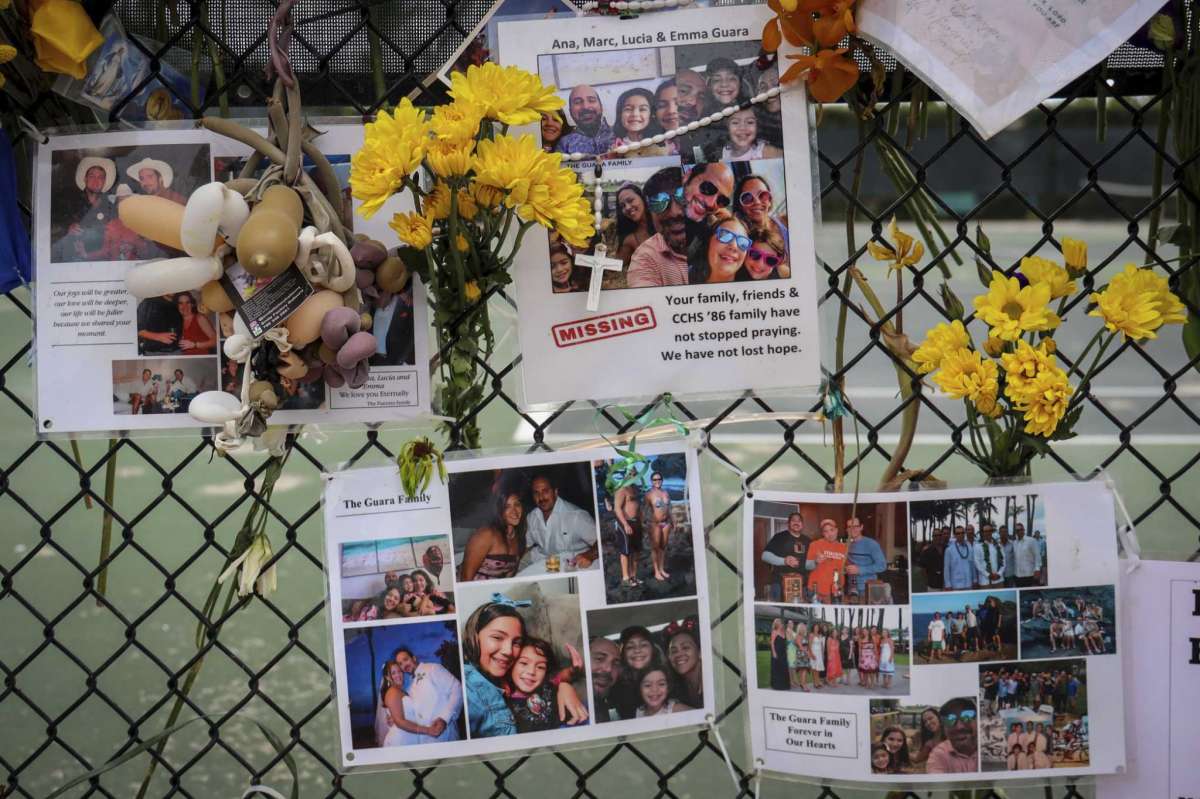 All 98 victims of the Champlain Towers South condo collapse have now been identified.
About 1:20 a.m. on June 24, Miami-Dade County dispatched first responders to Surfside for what was initially said to be a garage collapse. They arrived to something far graver. Half of the Champlain Towers South condo building had fallen, and hundreds of people were missing.
No survivors were found since those early hours. The ensuing weeks have included a demolition of the other half of the tower to allow crews, who worked through worsening weather conditions caused by Tropical Storm Elsa, to more safely search through the wreckage.
On July 7, Miami-Dade officials confirmed that work at the collapse site had shifted from a rescue mission to a search-and-recovery effort as no hope remained of finding survivors.
All 98 victims have since been identified, including 97 victims recovered from the collapse and one who died in the hospital. All 242 people of concern are accounted for.
"We have done everything possible to bring closure to the families, and I'm especially proud that through these tireless efforts we were able to at last bring closure to all the families who were missing loved ones," Miami-Dade Mayor Daniella Levine Cava said Monday during a press conference in which she announced that county medical examiners had identified the final victim.
Below is a list of the victims.
— Stacie Dawn Fang, 54
Recovered June 24
— Antonio Lozano, 83 
Recovered June 24
— Gladys Lozano, 79
Recovered June 25
— Manuel LaFont, 54
Recovered June 25
— Leon Oliwkowicz, 80 
Recovered June 26
— Luis Bermudez, 26  
Recovered June 26
— Ana Ortiz, 46 
Recovered June 26
— Marcus Joseph Guara, 52 
Recovered June 26
— Christina Beatriz Elvira, 74
Recovered June 27
— Frank Kleiman, 55 
Recovered June 28
— Michael David Altman, 50 
Recovered June 28
— Hilda Noriega, 92 
Recovered June 29
— Lucia Guara, 11 
Recovered June 30
— Emma Guara, 4 
Recovered June 30
— Anaely Rodriguez, 42 
Recovered June 30
— Andreas Giannitsopoulos, 21
Recovered June 30
— Magaly Elena Delgado, 80 
Recovered June 30
— Bonnie Epstein, 56 
Recovered June 30
— Claudio Bonnefoy, 85 
Recovered July 2
— Maria Obias-Bonnefoy, 69 
Recovered July 2
— A 7-year-old whose name was not released at the family's request
Recovered July 2
— Graciela Cattarossi, 48
Recovered July 2
— Gonzalo Torre, 81 
Recovered July 2
— David Epstein, 58 
Recovered July 2
— Ingrid Ainsworth, 66 
Recovered July 5
— Tzvi Ainsworth, 68
Recovered July 5
— Nancy Kress Levin, 76 
Recovered July 5
— Jay Kleiman, 52 
Recovered July 5
— Francis Fernandez, 67 
Recovered July 5
— Andrea Cattarossi, 56
Recovered July 5
— Graciela Cattarossi, 86 
Recovered July 6
— Gino Cattarossi, 89
Recovered July 6
— Simon Segal, 80 
Recovered July 6
— Elaine Lia Sabino, 71 
Recovered July 6
— Gary Cohen, 58
Recovered July 7
— Juan Alberto Mora Jr., 32 
Recovered July 7
— Ruslan Manashirov, 36 
Recovered July 7
— Harold Rosenberg, 52 
Recovered July 7
— Gloria Machado, 71 
Recovered July 7
— Maria Teresa Rovirosa, 58
Recovered July 7
— Luis Vicente Pettengill Lopez Moreira III, 3
Recovered July 7
— Sophia Lopez Moreira, 36
Recovered July 8
— Luis Pettengill, 36
Recovered July 7
— Vishai Patel, 42
Recovered July 6
— Bhavna Patel, 36
Recovered July 6
— Deborah Berezdivin, 21
Recovered July 7
— Juan Alberto Mora, 80
Recovered July 7
— Benny Weisz, 31
Recovered July 8
— Angela Velasquez, 60
Recovered July 8
— Ilan Naibryf, 21
Recovered July 7
— Leidy Vanessa Luna Villalba, 23
Recovered July 7
— Nicole Langesfeld, 26
Recovered July 7
— Miguel Pazos, 55
Recovered July 8
— Richard Rovirosa, 60
Recovered July 8
— Oresme Gil Guerra, 60
Recovered July 8
— A 5-year-old whose name was not released at the family's request
Recovered July 8
— A 44-year-old whose name was not released at the family's request
Recovered July 8
— Ana Mora, 70
Recovered July 7
— Elena Chavez, 87
Recovered July 6
— Elena Blasser, 64
Recovered July 5
— Marina Restrepo Azen, 76
Recovered July 7
— Richard Augustine, 77
Recovered July 6
— Luis Sadovnic
Recovered July 7
— Edgar Gonzalez, 42
Recovered July 8
— Alexia Maria Pettengill Lopez Moreira, 9
Recovered July 7
— Anna Sophia Petengill Lopez Moreira, 6
Recovered July 7
— Maria Gabriela Camou Font, 64
Recovered July 8
— Julio Cesar Velasquez, 66
Recovered July 9
— Lorenzo De Oliveira Leone, 5
Recovered July 8
— Alfredo Leone, 48
Recovered July 8
— Maria Torre, 76
Recovered July 8
— Fabian Nunez, 57
Recovered July 8
— Catalina Gomez Ramirez, 45
Recovered July 10
— Nicole Dawn Doran, 43
Recovered July 9
— Beatriz Rodriguez Guerra, 52
Recovered July 8
— Lisa Rosenberg, 27
Recovered July 9
— Arnold Notkin, 87
Recovered July 9
— Judith Spiegel, 65
Recovered July 9
— Margarita Vasquez Bello, 68
Recovered July 10
— Cassie Billedeau Stratton, 40
Recovered July 10
— Andres Levine, 26
Recovered July 11
— Moises Rodan, 28
Recovered July 11
— Aishani Gia Patel, 1
Recovered July 6
— Mercedes Fuentes Urgelles, 61
Recovered July 11
— Raymond Urgelles, 61
Recovered July 11
— Luis F. Barth Tobar, 51
Recovered July 10
— Maria Notkin, 81
Recovered July 9
— Valeria Barth, 14
Recovered July 11
— Michelle Anna Pazos, 23
Recovered July 9
— Mihai Radulescu, 82
Recovered July 9
— Rosa Saez, 70
Recovered July 10
— Miguel Leonardo Kaufman, 65
Recovered July 9
— Maria Popa, 79
Recovered July 9
— Brad Cohen, 51
Recovered July 7
— Theresa Velasquez, 36
Recovered July 8
— Anastasiya Gromova, 24
Recovered July 18
— Linda March, 58
Recovered July 5
— Estelle Hedaya, 54
Recovered July 20