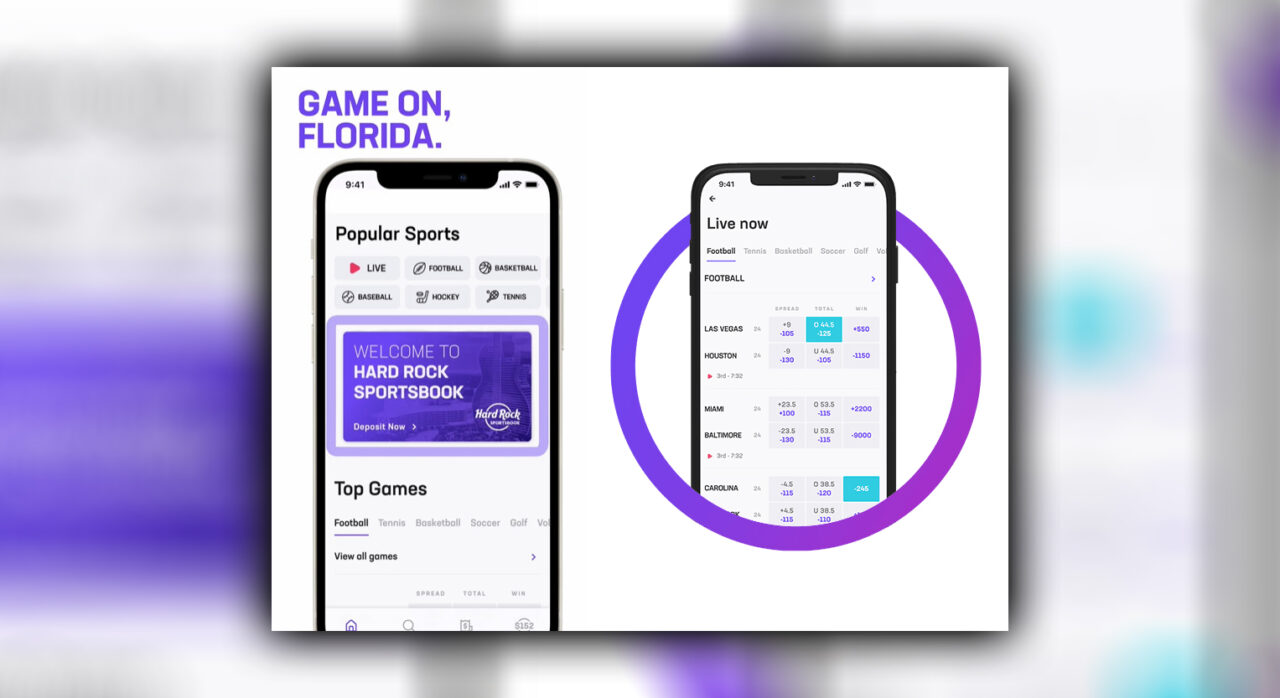 A new era of gambling has opened in Florida with legal sports wagering.
Legal sports betting has begun in Florida with the quiet launch of the Hard Rock Sportsbook app.
Now available on Apple and Android devices and authorized through the 2021 Florida Gaming Compact with the Seminole Tribe of Florida, the app allows Florida adults to place bets over smartphones (and other devices) on soccer, tennis, basketball, hockey, football, college football, baseball, and other sports.
The opening bets placed now mark the beginning of a new era of gambling in Florida, potentially worth billions of dollars to the Seminole Tribe, which owns Hard Rock Sportsbook, and the state of Florida, which is assured a cut of at least $500 million a year.
The Legislature approved the Compact in May, and the deal received final approval from the U.S. Department of Interior on Aug. 6. Through its terms, the Seminole Tribe was authorized to start taking sports bets on Oct. 15. There has been no formal announcement yet, but the action has gone live.
The deal between Florida and the Seminole Tribe faces a court challenge.
Industry publication PlayUSA.com Network — with its Florida-based affiliate PlayFL.com, which tracks and analyzes industry developments — projects the quiet launch of Hard Rock Sportsbook could be the start of a new sports betting market that could eventually generate more than $12 billion annually in wagers.
That could make Florida the nation's largest sports-betting market.
"This somewhat abrupt launch is really just the beginning for a market that has the potential to be the largest in the U.S. for years to come," Eric Ramsey, data analyst for the PlayUSA.com Network, which includes PlayFL.com, said in a news release. "With only one sportsbook operator, the ceiling for the moment is low and choices for bettors are limited. But the timing of the launch is pretty much ideal. At this point in the sports calendar, with football (and) basketball in full swing, we should get a nice preview of the appetite for betting in Florida."
Two other potential sportsbook operators, the daily fantasy sports platforms FanDuel and DraftKings, are pushing a constitutional amendment that would let them and others get into the game.
With Hard Rock Sportsbook, gamblers can open an account and transfer money to wager from PayPal or Venmo.
And yes, as Republican Rep. Randy Fine, who chaired the House Select Committee on Gaming, infamously observed in May, the app works anywhere a smartphone works, including in a bathtub.
Technically, under Florida's enabling legislation, any bet placed anywhere in Florida would be considered on tribal property since the computer servers for Hard Rock Sportsbook taking the bets are physically on Seminole Tribe of Florida property.
The Seminole Tribe has been pushing back against the proposed amendments in recent weeks with a series of ads mostly heralding the Compact's benefits, such as guaranteed payments to the state and the arrival of an estimated 2,000 new jobs.
This week, however, it is calling out the amendments directly with a 30-second spot asking voters not to sign the petitions necessary to get the measure on the ballot.
"Watch out, Florida, out-of-state gambling companies want us to sign petitions to turn Florida into another Las Vegas while taking our money out of state. They know it could cost Florida billions, and stop a popular law that puts us in control. They've got some nerve," a string of everyday Floridians say in the video.
"Don't sign these gambling petitions, because we already have a plan that's working for us. … We'll show these outsiders Florida's not for sale."
The spot directs viewers to a new website, WatchOutFlorida.com, that further explains the Tribe's talking points and asks visitors to add their names "to the list of Floridians opposing the gambling amendments."
Florida Education Champions, the committee backing the sports betting amendment, quickly pushed back on the narrative via a statement from spokesperson Christina Johnson.
"While Seminole casino bosses may be attempting to scare or confuse the public with their ads, our message is simple, yet strong. For sports bettors who want competition and the freedom to choose which platform they use — rather than being backed into the corner by an arbitrary monopoly — it's a win," she said. "But it's also a win for Floridians who want to help bolster public education funding and ultimately ensure the future success of our students."
Florida Education Champions put out its own spot touting the proposed amendment and asking voters to sign the petition to get it on the ballot.
"Everyone loves a win-win and if you're a fan of sports betting you can win-win, too. Billions of dollars for education, legal sports betting for you. We're Florida Education Champions and our petition brings legal sports betting to Florida and gives all the tax revenue to public education. That's a win for you and our kids," the ad's star says.
It closes by urging voters to "be a champion for education" by texting 888-922-2240 to get and sign the petition.