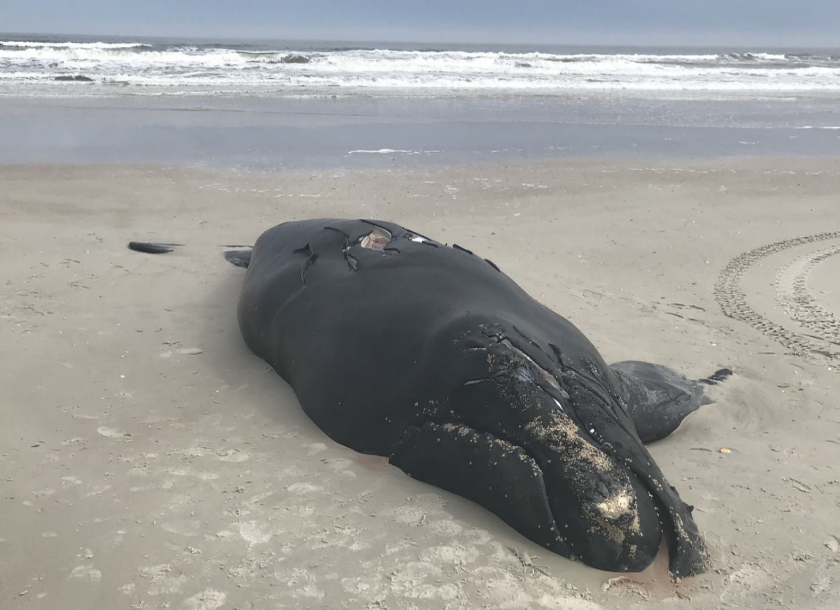 'There certainly would be enforceability issues in terms of assets available and how you actually do it.'
It's an unavoidable fact that recreational vessel collisions are one of the biggest threats to the survival of North Atlantic right whales as a species, behind the injuries and deaths wrought by fixed-gear, heavy rope lobster and crab trapping in New England and Canada, and along with issues exacerbated by climate change like warming seas and a migrating food supply. 
There are so few right whales, and they reproduce so rarely, each human-caused death is another step toward extinction.
Into this ecological crisis comes the National Oceanic and Atmospheric Administration (NOAA), with new proposed vessel speed restrictions for boats 35-65 feet in length. The Southeast speed zone, which covers the calving grounds off Southeast Georgia and Northeast Florida, would be in effect for the annual calving season, from Nov. 15 to April 15.
"I just want to stress that we really cannot, cannot stress the seriousness of the right whales' situation enough," said Caroline Good, a large whale ecologist with the Office of Protected Resources at NOAA Fisheries.
"I really, really want to note that the only reason we're moving forward with this is because we have to be able to address these problems with vessel strikes on the ocean and that's why we're going ahead and proposing these. There's really nothing else out there that we can do, and this is absolutely essential to right whale recovery."
Good made her presentation at the South Atlantic Fishery Management Council (SAFMC) quarterly meeting in Charleston, South Carolina, where Council members discussed the topic. The Council's intention is to submit a letter to NOAA in the coming weeks with ways to better tailor the rule.
The SAFMC serves as the governing body for federal saltwater fisheries from North Carolina's Outer Banks to the Florida Keys. It's unknown where the Council will land on vessel speed restrictions. 
There are fewer than 70 calving female North Atlantic right whales believed to be alive. In all, scientists believe there are fewer than 340 total North Atlantic right whales remaining.
The last recreational vessel strike occurred in February 2021, when the About Time, a 54-foot recreational vessel, slammed into a right whale calf at 20 knots, half a mile off St. Augustine Inlet.
Vessels covered under the proposed rule would have to transit at 10 knots or less. Indications are that's a tough sell to the charter fishing community.
"It is definitely going to add four hours to charter boats that go offshore," said Council member Judy Helmey, of Miss Judy Charters in Savannah, Georgia.
"It is going to be quite an impact on that, and thinking about it, I'm not sure how bad it's going to be, other than I know there's not a lot of people — there's not a way for us to add four hours to our trip. So, we really need to address that."
Robert Johnson, co-owner of Jodie Lynn Sport Fishing Charters in St. Augustine, said fishers love whales too, but can't live with extending the vessel speed restriction to boats 35-65 feet, for 25-30 miles out into the water. 
"Why not more of a compromise, where we have, during poor visibility, sunrise to sunset, whatever," Johnson said. "Maybe out to 10 miles, where we know those right whales are not going to be beyond. There's a lot of things we could do to help the whales without putting something forth that will put people out of business." 
The advocacy group Oceana released a report in July 2021, noting in their research that speed restriction zones only work when people observe them. That didn't happen more often than not, with zones off Southern states having the worst records for noncompliance, at more than 70% for Georgia and Florida calving grounds and more than 90% noncompliance between Wilmington, North Carolina, and Brunswick, Georgia.
"There certainly would be enforceability issues in terms of assets available and how you actually do it," outgoing SAFMC Chairman Mel Bell said. 
The Council elected Carolyn Belcher, the Chief of Marine Fisheries for the Coastal Resources Division of the Georgia Department of Natural Resources, as its new Chairwoman immediately prior to the right whale discussion. 
"It's not like bringing up a speed trap on the interstate," Bell continued. "It's pretty challenging from a law enforcement perspective."
NOAA extended the comment period Thursday, so people now have until Oct. 31 to get in their views to the agency as it goes through the rulemaking process.
"We're aiming to finalize changes to the rule as soon as possible," Good said.
"We also continue to plan to work with the maritime community to minimize burdens to regulated vessels. I'll also note, too, we remain open in the future to potential technologies that could also help with avoiding vessel strikes. We don't have those options available to us today, but that's definitely something we continue to look into."