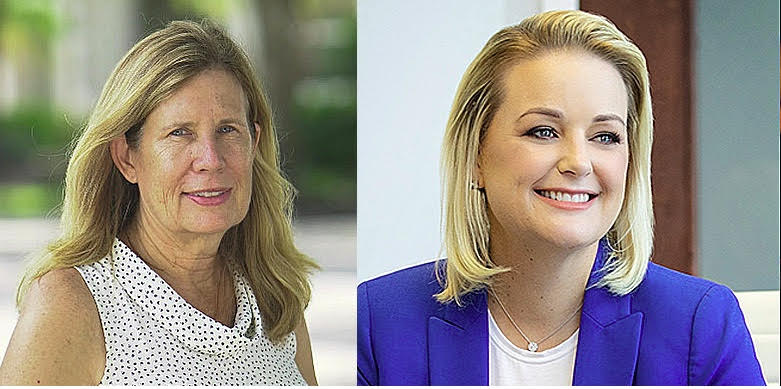 Democrats were expected to win in House Districts 93 and 101.
A race to represent Palm Beach County House District 93 was more competitive than expected, but a race to represent Broward County's house District 101 went truer to form with the Democrat winning comfortably.
Here's a roundup of results for two open seats:
House District 93
After narrowly winning her four-way Primary, Democrat Katherine Waldron barely got by Republican Saulis Banionis for the right to represent Palm Beach County's inland House District 93. Waldron won the contest by less than 1 percentage point, besting Banionis 50.41%-49.59%, according to unofficial results.
Waldron, a businesswoman who has served on the Port of Palm Beach Board of Commissioners, will be representing the district that covers unincorporated Palm Beach County, Wellington and portions of Greenacres and western Boynton Beach.
The $95,000 Waldron raised for her bid, plus the $62,000 loan she gave her campaign, went up against the $48,315 that Banionis, a pain management doctor, had in his campaign kitty. That included a $10,000 loan he gave his campaign.
Waldron drew the support of lobbyist Ron Book, along with real estate and agricultural interests. She also won the support of Ruth's List Florida, a group dedicated to electing female politicians who support abortion rights.
The Republican Party of Florida came through in September with an $11,000 donation to Banionis' campaign and $8,300 worth of polling support, but it wasn't enough in the end.
House District 101
Democrat Hillary Cassel could claim a decisive victory over Republican Guy Silla in south Broward County's House District 101, winning 54% of the vote to the 46% the first-time candidate garnered, according to unofficial results.
Between her personal campaign account and her committee, Friends of Hillary Cassel, the Hollywood lawyer raised $569,052 and loaned her campaign $65,000 for her bid. She spent most of her cash taking on two opponents in the Primary. Silla garnered $4,000 in donations for his campaign and loaned it $20,000.
The battle for this district, which covers parts of Dania Beach, Hallandale Beach, Davie and Hollywood, would be uphill for any Republican — voters here supported President Joe Biden by 14 percentage points according to Matt Isbell's research in MCI Maps.