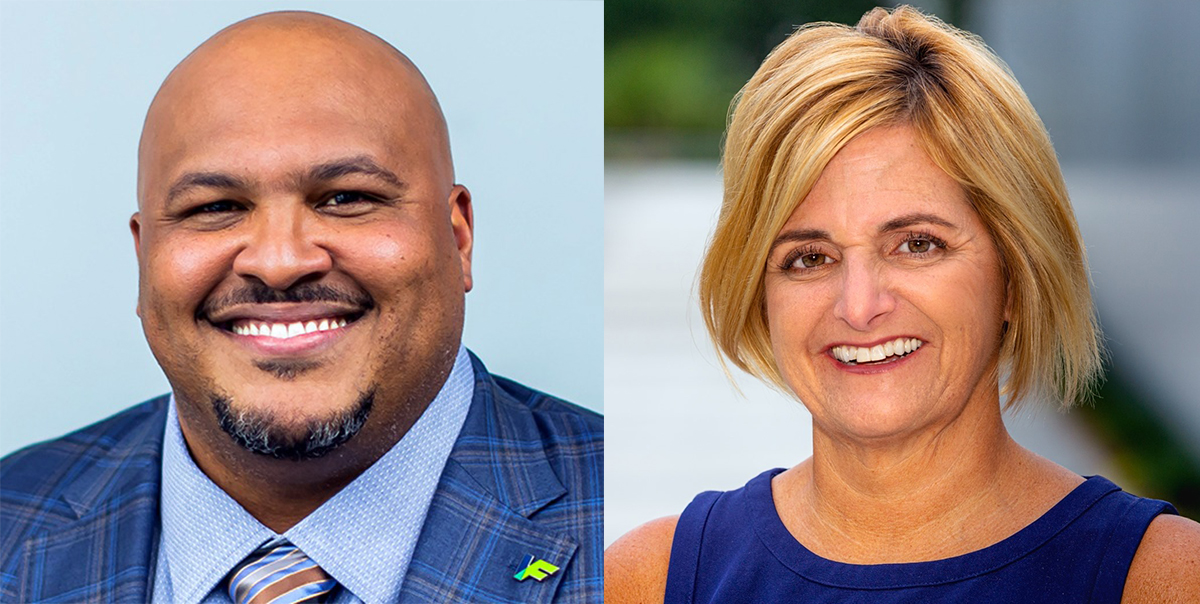 SD 3 spans the most ground of any Senate race, but the race carried statewide implications.
Corey Simon has unseated incumbent Sen. Loranne Ausley, pushing Republicans beyond a supermajority in the Florida Senate.
Simon, a Florida State football legend enlisted by Republicans to take on perhaps the most vulnerable Democratic Senator, pulled out a victory in North Florida's Senate District 3 on Tuesday. With Simon's win, Senate Republicans will hold 28 seats, one greater than a supermajority.
"As a kid, my mom fought to ensure I had access to opportunities that far exceeded the confines of our neighborhood," Simon said in a statement. "I got into this race to be a voice for the children and families across this district who are far too often forgotten. I want to thank them for trusting me with North Florida's long-overdue seat at the table in the Florida Senate."
"As I have crisscrossed this district, I have promised folks in diners and at rallies, on their front porches and in the barber shop that no one will work harder or fight more to help build access to their American Dream," he continued. "Tonight, that work begins."
Three hours after polls closed in the Panhandle, Simon had received 53% of the vote to Ausley's 47%.
Simon will be the first Republican to represent Tallahassee in the Florida Senate in decades, possibly since Reconstruction. He will also be the first African American to hold Senate District 3 since U.S. Rep. Al Lawson held the seat in 2010.
Like Ausley and several Democrats across the state, Lawson lost his race in the 2nd Congressional District against fellow incumbent U.S. Rep. Neal Dunn, a Republican.
Simon most recently served as CEO of Volunteer Florida as an appointee of Gov. Ron DeSantis, who endorsed him in the Senate race. After his collegiate football career, which included being named a consensus All-American in the Seminoles' 1999 championship-winning season, the defensive tackle played a career in the National Football League that spanned eight seasons and including one Super Bowl ring.
Ausley served only two years in the Senate. Redistricting this year snapped the usual four-year Senate term in half, saddling her with a new version of SD 3 that merely leaned Democratic in 2018 and 2020.
The defeated Senator won her seat by less than 7 percentage points in 2020. The 2022 redistricting cycle turned the seat from one that voted for President Joe Biden by 9 points in 2020 to one that would have voted for him by only 3 points, and Republicans hope to cash in on the changing politics throughout the state.
Ausley also underperformed Biden by around 6 points in 2020. That, Republican enthusiasm and dissatisfaction with Democrats helped Simon complete the turnover in the new, more favorable version of SD 3.
The campaign arms of both the Senate Republican and Democratic caucuses targeted the district as a key race. The Florida Republican Senatorial Campaign Committee spent heavily in the district, as did Democrats' Senate Victory campaign — which sponsored its first-ever bus tour in part to carry Ausley across the finish lines.
However, Democrats' Hail Mary proved too little too late.
Rumblings about her vulnerability began in 2020. And this year, some, like Democratic consultant Matt Isbell, predicted Simon would unseat Ausley.
Controversies have overshadowed much of the race. Republicans repeatedly hammered Democrats for running what some allege is a racist mailer while Democrats have tried to bring attention to Simon's stance on the 2020 election.
Meanwhile, Democrats harped on Simon's refusal to say Biden is the "duly elected" President, hitting on a major soundbite from Simon and Ausley's sole debate. Following the debate, he explained to Florida Politics he believes distrust in the media has made it hard for people to believe reporters are telling the truth.
With a Republicans supermajority, it is their first supermajority in the Senate since the red wave of 2010. They will be able to shut Democrats out of amendment-making, debate and other legislative procedures.
Late last month, Senate Democratic Leader Lauren Book and Sen. Jason Pizzo, another leading Senate Democrat, embarked on the caucus' first-ever bus tour. The first leg of the tour was spent campaigning with Ausley for five days across large swathes of SD 3.
"We're getting dangerously close to losing ground, so it is all hands on deck," Pizzo told reporters in Tallahassee before hitting the road.
Ausley has represented parts of Tallahassee in the House and Senate in 14 of the last 22 years. In 2010, she ran for Chief Financial Officer in a statewide race, losing to Jeff Atwater 57%-39%.
Simon was endorsed by outgoing Senate President Wilton Simpson and Senate President-designate Kathleen Passidomo, who would oversee the Republican supermajority.
In a statement, Passidomo noted Republican victories for Simon, Jay Collins and Alexis Calatayud. She also noted the historical moment of Simon becoming the first Black Republican since Reconstruction to serve the Senate.
"These victories are a definitive win for parental rights, fiscal responsibility, access to world-class education opportunities for our students including school choice, protecting our children and the unborn, and ensuring government is never able to strip anyone of the dignity of work or their right to worship," Passidomo said. "Tonight is a monumental win in the fight to keep Florida Free!"
"Given the choice, hardworking families chose Florida values over the radical, socialist agenda that ridicules work, defames law enforcement, indoctrinates children, and cancels anyone who dares to challenge this backward vision for humanity," she continued."
SD 3 covers Dixie, Franklin, Gadsden, Gulf, Hamilton, Jefferson, Lafayette, Leon, Liberty, Madison, Suwannee, Taylor and Wakulla counties.