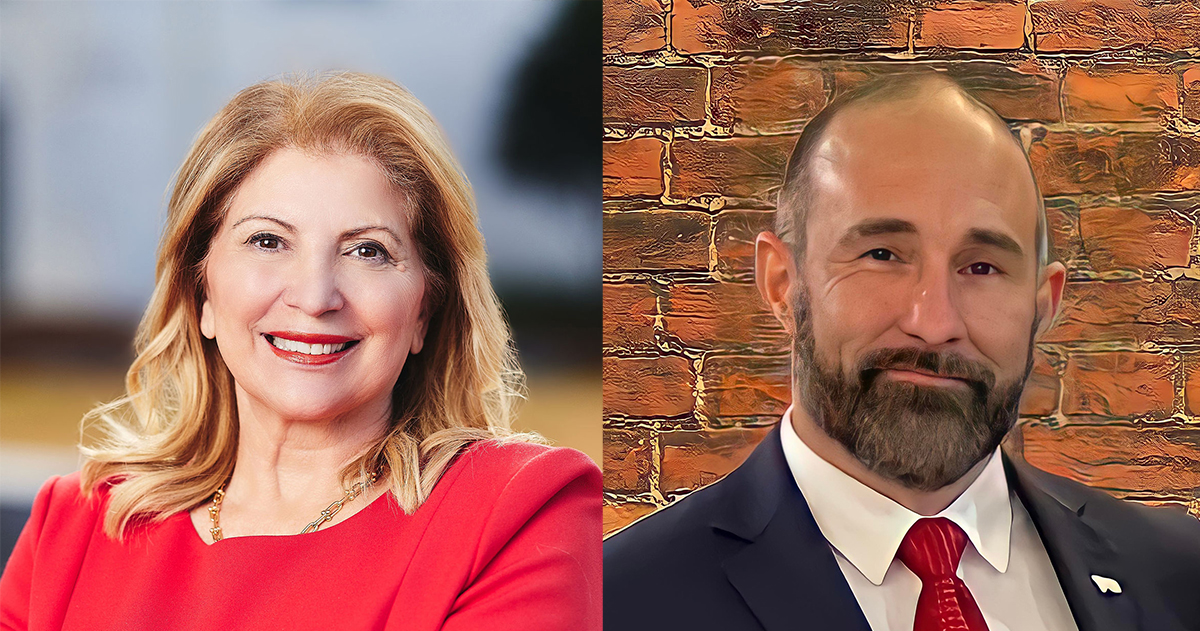 The contest for Senate District 14 was one of the most competitive legislative races in the state.
Republican Jay Collins has unseated incumbent Sen. Janet Cruz, flipping Senate District 14 red.
The race was tight — Collins collected 55% of the vote to Cruz's 45%, according to unofficial results from Hillsborough County's Supervisor of Elections Office, with nearly all precincts reporting.
"I have served and sacrificed for my country in the past and it will be my honor to do again as the voice for the people of Florida's 14th Senate district," Collins said in a statement. "I congratulate Janet Cruz for her many years of service in Tallahassee and I wish her well."
Collins' victory is a big win for Republicans, taking back one of the most competitive legislative races in the state. The Green Beret quickly gained momentum after entering the contest in June, bringing with him a congressional war chest and useful GOP support.
"Tonight, we celebrate the election of 28 new and returning conservative Republican Senators around the state, including historic victories with Corey Simon, Jay Collins and Alexis Calatayud. With the first Black Republican since Reconstruction, the first Green Beret and one of the youngest members ever elected, we will return to Tallahassee with a super majority and a renewed commitment to fighting for access to the American Dream for all Floridians," Senate President-Designate Kathleen Passidomo said in a statement.
Redistricting painted SD 14 purple — Democrats narrowly outnumber Republicans by roughly 5,000 voters. By the numbers, the district is made up of 122,585 registered Democrats (36%), 116,224 registered Republicans (34%), and an added 105,322 nonpartisan or third-party voters (31%).
The cutthroat nature of the district was not new to Cruz. She first took the Senate seat in 2018, unseating then-incumbent Republican Sen. Dana Young by only 411 votes — determined after a manual recount.
Now, the GOP has taken it back.
"I look forward to immediately getting to work to fight for the forgotten working class who is finding it increasingly difficult to make ends meet. The Tampa region has endured some of the highest levels of inflation in the entire country, and that is something that we have taken the first step to fix starting with tonight's results. I thank the people of our community for their support and I will work tirelessly each and every day to reward their faith in me," Collins continued.
Collins proved himself as a dependable fundraiser, even against Cruz's much larger bank. In mid-October, Cruz topped $2 million raised between her campaign and affiliated political committee, Building the Bay PC. Collins worked hard to catch up, amassing $631,000 total between his campaign and political committee, Quiet Professionals FL.
Each received substantial support from their respective parties as well, with Democrats desperate to retain the Senate seat and Republicans eager to take it back.
Collins' campaign reported over $291,000 worth of in-kind contributions from the Florida Republican Senatorial Committee, which provided polling, consulting and campaign staff. In two weeks alone, the party provided Collins with $130,764 worth of services.
Cruz's campaign, on the other hand, reported over $235,000 worth of in-kind contributions from the state Democratic Party.
While Collins chose to highlight his service as a Green Beret in his campaign messaging, Cruz homed in on abortion rights. In several ads, she criticized Collins over GOP-driven policies restricting abortion access.
But, it appears that strategy failed, even in a district where female voters outnumber males by about 20,000 individuals, according to L2 data. Democratic women make up the largest voting bloc of the district with 72,884 voters, followed by Republican men, which make up 59,787 voters.
As for support, Collins boasts an endorsement from favored Gov. Ron DeSantis, as well as support from Senate President-designate Kathleen Passidomo, the Tampa Police Benevolent Association and the Florida Chamber of Commerce.
Cruz garnered endorsements from Democratic members of the Tampa Bay House delegation, including Democratic Leader-designate Fentrice Driskell, who was unanimously elected by House Democrats to the leadership role in May. She also has backing from Tampa Mayor Jane Castor, Tampa Firefighters, the West Central Florida AFL-CIO, Greater Tampa Realtors, Florida Planned Parenthood, Equality Florida and Ruth's List Florida.
The win is just another success the Florida GOP can check off the list in a midterm election where they're poised to have substantial gains.