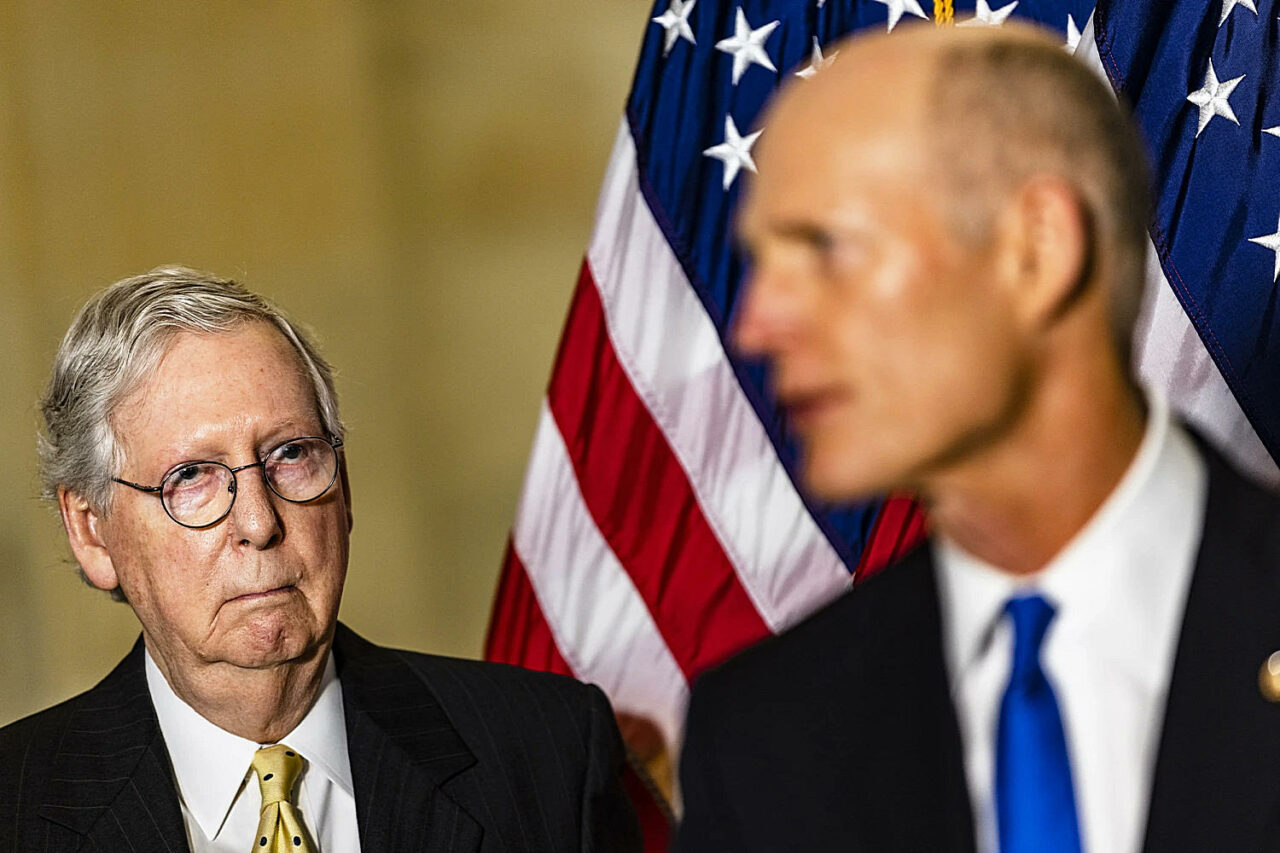 'People are mad that Republicans cave in to the Democrats. I hear it all the time.'
U.S. Sen. Rick Scott may have lost his bid to lead the Republican Senate caucus last year to Mitch McConnell, but what's clear is he has not abandoned his desire to lead and to challenge the Kentucky Senator's primacy.
During an appearance Thursday on The Charlie Kirk Show, Scott did not say no when asked about the potential of becoming "Senate leader, through raising money, messaging" and if it was "something (he) was still going to go after in the next year and a half, two years."
"Absolutely. I'm not giving up," Scott said. "Charlie, I'm not giving up."
Scott lost by a 37-10 vote last year to McConnell, but spent most of the interview with Kirk deriding the Kentucky Republican, making it clear that he felt emboldened despite the decisive loss.
Asked "what the heck are (his) colleagues thinking, re-electing Mitch McConnell as leader?" Scott was blunt.
"I don't either," the Senator said, adding that a Republican leader should "implement the policies that we believe in."
"If we don't want to … keep caving in to the Democrats, let's say, 'Well, who wouldn't do that?' That's the way you have to think about it. Right now, what we've got is … Mitch McConnell, he keeps caving in to Democrats."
Scott was particularly piqued by the "infrastructure bill," accusing McConnell of deciding to "basically have a campaign event" with Biden, a reference to a press availability the two did regarding repairing a rundown bridge between Kentucky and Ohio remedied in that 2021 legislation.
"I believe the Republican Party around the country is going to demand we change," Scott suggested, demanding "accountability," a "balanced budget," a "strong military," and a rejection of so-called "woke-ism."
"People are mad that Republicans cave in to the Democrats. I hear it all the time. People are mad."
Scott was ceded two segments on the program, and toward the close of his appearance, Kirk offered a spiritual take.
"I pray that you can become Senate Majority Leader one day. We should be in the majority in the Senate. It's ridiculous that we're not," Kirk harrumphed.
The GOP failure to flip the Senate in spite of a challenging first two years for President Biden, which should have offered momentum, was a subject of an ongoing controversy between Scott and McConnell during Scott's less-than-successful run as head of the National Republican Senatorial Committee (NRSC).
Scott spent a lot of time last year defending NRSC strategy against attacks, and also delivered a series of defenses of the 2022 candidates who emerged from Primaries while addressing McConnell's doubts that Republicans had more than a 50/50 "jump ball" shot at taking back the Senate due to questionable candidates in certain races. Scott predicted that as many as 55 seats could go Republican, which did not happen.
The first public indications of disquiet between caucus leader McConnell and Scott came last winter. They had a public split over Scott's "12-point plan to rescue America." McConnell slammed the plan's suggestion of review of federal entitlement programs as a nonstarter even if the GOP had taken back Senate control.
Scott has begun his re-election campaign, and the messaging suggests McConnell is his foil more so than any in-state politician. The Senator's first ad addressed his failed challenge to McConnell with a national ad buy seen on Fox News.
"We're on the road to woke socialism and Republicans are just a speed bump," Scott warned in the spot. "We can't keep doing the same old thing. It's time for Republicans to be bold, speak the truth, and stop caving in."