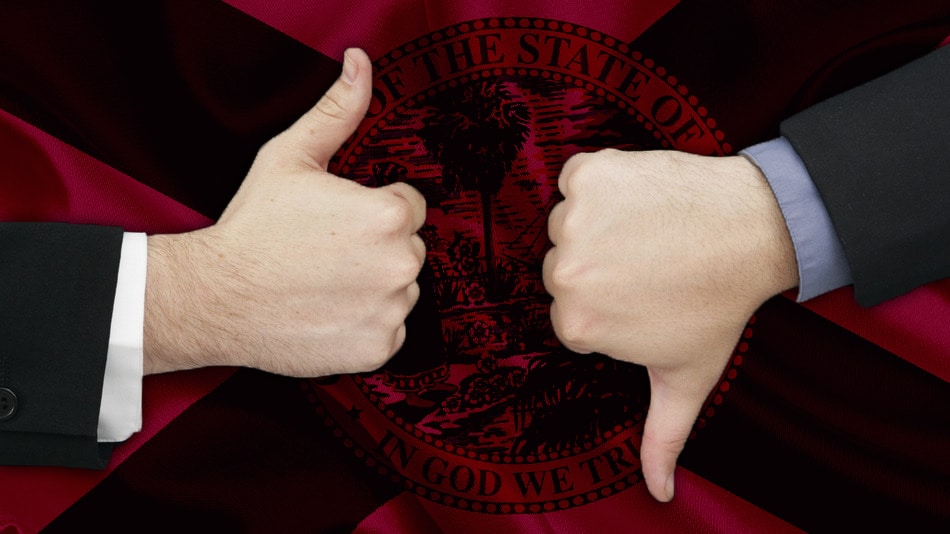 Obamacare signups are surging in Florida once again. But the Florida Democratic Party has taken one too many punches to the face.
With the wild House Speaker vote — and Florida's significant involvement in the drama — now complete, House Republicans were able last week to dole out major outstanding committee assignments. And one of those decisions left Florida out of the equation in a big way.
Despite confidence from the camp of U.S. Rep. Vern Buchanan, the House GOP Steering Committee selected U.S. Rep. Jason Smith of Missouri to Chair the powerful House Ways and Means Committee. That left Buchanan on the outs despite the Longboat Key Republican raising more than $4 million for the National Republican Congressional Committee during the 2022 Midterm cycle.
The move, while surely disappointing to Buchanan, is more a blow to Florida's delegation as a whole. Florida's 20 GOP delegation members places it second-highest in the country, behind Texas. And with Florida gaining four extra Republican seats this cycle, McCarthy largely has the Sunshine State to thank for achieving a slim majority that allowed him to elevate — however sloppily — to serve as Speaker.
But despite that, the GOP Steering Committee passed on Buchanan and left Florida with a whopping ZERO Chairmanships on full committees during this Congress.
That's enough of a diss. But it surely stings the Florida delegation even more given Buchanan's good standing. He pushed for the position on a platform of accomplishing GOP policy goals, even when reaching across the aisle when needed, leaning on his business background.
Smith, meanwhile, took a more hard-line approach, emphasizing investigations into President Joe Biden, among other lightning rods popular with the base.
Is that what House Republicans need following an election where voters who were otherwise down on Biden's presidency nevertheless refused to hand Republicans complete control of Congress? More hard-liners with more power at the expense of a well-respected co-chair of Florida's delegation?
It seems like with this decision, the GOP Steering Committee — likely with the blessing of McCarthy — is making the bet that appealing to the fringe of the party is the path they are taking, and it's certainly in line with McCarthy's concessions as he desperately tried to grab the Speaker gavel. We'll see how well that works with the American people come the next election cycle in 2024.
Now, it's on to our weekly game of winners and losers.
Winners
Honorable mention: Cooking with gas. Even for a political culture which currently thrives on culture wars, this one was a little bit ridiculous. Nevertheless, those adherents to the glory of the gas stove found themselves a daring defender this week in the form of Gov. Ron DeSantis.
It all started when U.S. Consumer Product Safety Commissioner Richard Trumka Jr. commented on safety concerns regarding gas stoves. "Any option is on the table," Trumka said. "Products that can't be made safe can be banned."
That lit a fire under Gov. DeSantis who came in with a heated response.
"The (Joe) Biden administration wants to nix gas stoves, are you kidding me? Like we need, I want gas stoves. I mean, imagine how many people, had the hurricane come through, didn't have power right away, but were able to turn on. You cannot go down this road, but that's exactly what they want to do."
Never mind that the reports seemed to get ahead of what the Consumer Product Safety Commission (CPSC) was actually considering. The CPSC later put out a statement that Trumka was speaking on his own behalf, and no ban was forthcoming. And Trumka clarified he was only discussing a possible ban on new stoves, not an outlawing of stoves in anyone's home.
No, that was framed as a backtrack by the DeSantis team. And throughout the week, the Governor continued to turn up the gas on the controversy.
"When we say don't tread on Florida or let us alone, we mean that, including on your gas stoves! You're not taking our gas stoves away from us. That's your choice!" the Governor said in follow-up comments Thursday. On Friday, he added in a fundraising pitch with loot to boot.
It's a lot of smoke for a controversy with seemingly little fire. But at least Florida's most fervent gas stove supporters know the Governor has their back on this vital issue.
Almost (but not quite) biggest winner: Disney park enthusiasts. Returning CEO Bob Iger is already looking to implement some changes for Disney parkgoers that will make it easier for passholders and Florida residents to experience Walt Disney World.
First, in the coming months, Disney will begin allowing passholders to visit parks after 2 p.m. without a reservation. The exception will be Magic Kingdom on Saturdays and Sundays. Visits then will still require a reservation.
Disney wants visitors to have the ability to come to the park on a whim, and allowing some flexibility will let individuals and families make the morning drive up and visit a park without significant pre-planning.
Second, Disney is bringing back its offer of discounted weekday tickets for Florida residents. While this year's edition runs a little more expensive than last year's, it still makes it easier for Sunshine State residents to pop in for a two- to four-day trip without breaking the bank.
That's in addition to the company making self-parking free at Disney World hotels, revoking a fee launched in 2018. Those purchasing the Genie+ pass will also be sent digital copies of their photos for free.
With some griping over the changes instituted by Disney post-COVID-19, Iger is clearly trying to make some consumer-friendly moves aiming to boost visitor sentiment as he takes the reins back from ousted CEO Bob Chapek.
The biggest winner: Obamacare. Florida's Republican-led Legislature may not be fans of the Affordable Care Act, but Florida's residents sure are.
Through Jan. 7, more than 3.15 million residents had used the federal health exchange to secure coverage. That's easily the highest number of any state in the U.S. Texas ranked second, with just over 2.3 million enrollees.
"When you look at all the states, no one comes close to Florida," said Jodi Ray, program director of Florida Covering Kids & Families. Indeed, Florida's enrollees make up about 20% of the total in the U.S., as about 15.9 million people had selected a plan on the federal exchange as of Jan. 7.
That's partly due to the fact that some states did, in fact, set up their own exchanges. That means residents there can utilize the state version rather than access the federal exchange.
But it clearly shows an appetite for the program in Florida. And according to The New York Times, the numbers are driven by a particular enthusiasm in Miami-Dade County, which, like the rest of the state, has shifted red in recent years.
Open enrollment ends today, so those numbers are expected to climb higher still.
Losers
Dishonorable mention: New College of Florida. Gov. DeSantis is flexing his political muscle in an attempted hostile takeover of the progressive Sarasota-based college. And this week, students and supporters of the institution pushed back big time.
Among the Governor's six new appointments to the New College board are Emory University professor Mark Bauerlein, Claremont-McKenna College professor Charles Kesler, lawyer Debra Jenks, conservative activist Christopher Rufo, Inspiration Academy Co-Founder Jason "Eddie" Speir and Matthew Spalding, dean of the Hillsdale College Washington campus' Graduate School of Government.
Rufo is an anti-critical race theory activist who has led the battle embraced by DeSantis to eliminate so-called "woke" curricula from schools. Spalding's Hillsdale College, meanwhile, is apparently serving as something as an inspiration for the reimagined New College of Florida.
The state has sought to rework New College before. A 2020 bill aimed to use New College as a Florida State University satellite campus, but that push failed.
Now the Governor is stepping in. This week, New College students have rebelled against the imagined changes.
Still, those appointees make up just six of the 13 board positions. And at least one, in Bauerlein, has been much more cautious in describing the changes coming to New College as this story has developed.
"I do believe what we see will be a lot less controversial than we're hearing now," Bauerlein said. The press is treating us as a group, but we're all coming into this from different places and angles and we have different profiles as well."
So it remains to be seen just how significant those changes will be, or how quickly they will come. But New College is, at the very least, on notice that DeSantis is more than willing to upend the school's history to reshape the curriculum in his desired image.
Almost (but not quite) biggest loser: Cuckoo counties. Two Florida counties made many do a double take this week with policy moves sure to enrage a significant portion of their respective populations.
With rent skyrocketing across the U.S., and even more so in Florida, some localities have moved to require landlords to at least give advance notice to residents, so that tenants have time to react to sizable rate hikes.
Collier County did just that in October, instituting a 60-day notice mandate on rent hikes of 5% or more. That's not a ban or a cap on those hikes, simply a requirement renters be given 60 days' notice so they have time to explore other options in an out-of-control rent market.
But this past Tuesday, just three months following the change, Commissioners reversed course and dropped the notice requirement altogether.
"I'm trying to get government out of your lives. Because this is a landlord-tenant issue," said newly elected Commissioner Chris Hall.
Sure, so is renting out your property short-term. But the county was more than happy to impose regulations on short-term rentals in late 2021. Do they plan on rescinding that as well?
Rent has reportedly gone up nearly 40% since 2019. It appears the county is, as of now, only willing to pay lip service to the issue.
"Hold my beer," said Manatee County officials.
The Confederate statue debate has raged in different parts of the state, and country, in recent years. And some officials have opposed removing monuments they say represent a region's history, however abhorrent.
Now, many may have qualms with that (raises hand), but change is hard, and it's not surprising some cities or counties fear change and may be reticent to take those statues down. Because there's no going back once that happens, right?
Wrong.
Manatee County is revisiting a decision MADE IN 2017 to remove a Confederate statue from its courthouse and may, if the now Republican-led board gets its way, put that statue back up.
"I don't like ignoring our history. It is what it is. Some things about it are good, some things aren't, but it's our history," said Commissioner Vanessa Baugh, according to the Bradenton Herald. "We shouldn't be changing our history."
Baugh voted against removing the monument in that original 2017 vote. And with a new cohort of Commissioners, the county may — in 2023 — decide that putting a Confederate statue on government property for all to see represents the best use of their time.
American history, good and bad, should be learned and remembered. That's what museums, history books and episodes of Drunk History are for. But the government choosing to honor men and women on its property is sending a message that these are the people we seek to revere and aspire to. Manatee's decision on this will speak volumes to residents and visitors alike.
The biggest loser: Florida Democrats. It almost feels like punching down at this point, but everyone needs a good punching bag and in this state, the Florida Democrats seem more than happy to stand in.
This week was a one-two punch for the party. First, Florida Democratic Party Chair Manny Diaz stepped down after a historically awful cycle for his party which saw shellackings up and down the ballot.
The move has been telegraphed for a while and shouldn't surprise many. At this point, it's unclear who can resuscitate Democrats, or how, but several individuals are already throwing their hats into the ring to try. Good luck.
Possibly more concerning for Democrats, however, is their fundraising. And yikes, was it bad.
Post-election reports saw Dems raise just $171,000 through Dec. 31. Florida Republicans? They netted 60 times more than that, collecting $10.3 million.
Ok, that sounds bad. But those big business-loving Republicans always raise more, right? Maybe this is par for the course.
Nope. After the 2018 Midterm cycle, which saw Democrats also demoralized following several razor-thin contests the GOP managed to win, the FDP collected $1.3 million through the end of the year. That's more than 7 times higher than the 2022 haul.
It's just the latest sign the state party apparatus is on life support. And it comes following a cycle in which Democrats largely overperformed nationwide, making Florida stick out even more.
If Democrats want to rebound in Florida, they need to start thinking long term, because a lack of resources and yet another change in leadership does not bode well for 2024.