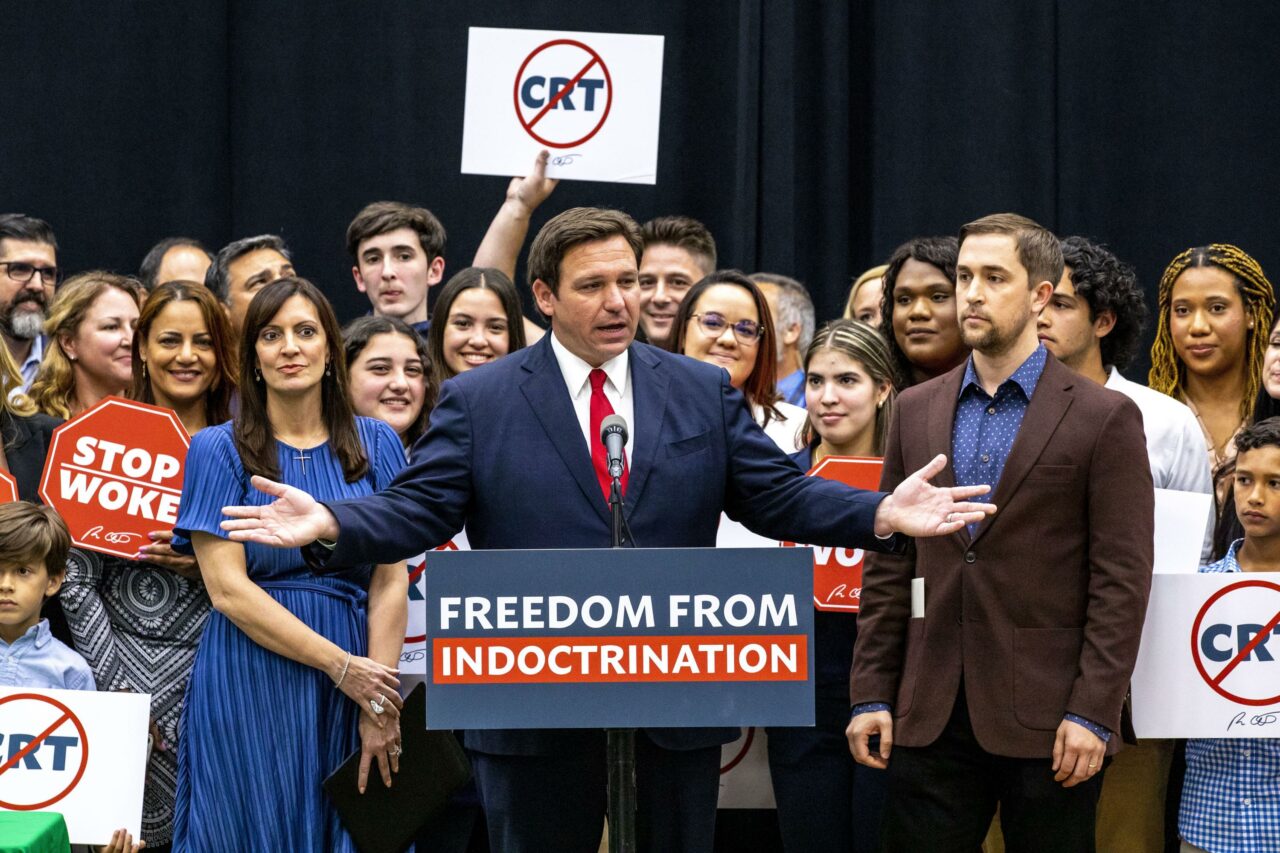 The DeSantis administration wants to model New College on Hillsdale College.
Gov. Ron DeSantis has appointed conservative activist Christopher Rufo and five others to the New College of Florida Board of Trustees in his continuing move to eliminate "political ideology" from public higher education.
With the six new members of the school's Board of Trustees, the DeSantis administration plans to weed out concepts like diversity, equity and inclusion (DEI) and critical race theory (CRT). The move comes amid low student enrollment at the New College of Florida and as DeSantis ramps up his second term.
In a statement Friday, DeSantis Communications Director Taryn Fenske said New College has been "completely captured by a political ideology that puts trendy, truth-relative concepts above learning."
"Starting today, the ship is turning around," DeSantis Press Secretary Bryan Griffin continued. "New College of Florida, under the Governor's new appointees, will be refocused on its founding mission of providing a world-class quality education with an exceptional focus on the classics."
Rufo, along with several of his fellow appointees, has been a driving force in the movement against CRT.
"I'm proud to announce that Gov. Ron DeSantis has appointed me to the Board of Trustees of the New College of Florida," Rufo tweeted. "My ambition is to help the new board majority transform New College into a classical liberal arts institution. We are recapturing higher education."
Others appointed Friday are Emory University professor Mark Bauerlein, Claremont-McKenna College professor Charles Kesler, attorney Debra Jenks and Inspiration Academy Co-Founder Jason "Eddie" Speir.
Rounding out the list is Matthew Spalding, dean of Hillsdale College D.C. campus' Graduate School of Government. Hillsdale College is a private conservative liberal arts college that the DeSantis administration is referencing as its model for transforming New College.
"It is our hope that New College of Florida will become Florida's classical college, more along the lines of a Hillsdale of the South," DeSantis Chief of Staff James Uthmeier said in a statement.
New College, located in Sarasota, has been a topic of legislative debate in recent years as school enrollment has fallen into the hundreds and the cost of tuition is higher than Florida's public higher education institutions. However, the school has said it is on pace to meet its enrollment targets.
Legislation proposed in 2020 would have reclassified the college as a satellite campus of Florida State University.
New College lists its mission statement and values on its website, including a section on its "just, diverse, equitable and inclusive community."
"We seek a balance between recognizing and celebrating difference, respectfully supporting each other's growth, and ensuring that historically marginalized and oppressed groups are not experiencing trauma and harm," reads the section. "New College values equity and is actively working toward eliminating outcome disparities for underrepresented and underserved groups."
Republican Party of Florida Vice Chair Christian Ziegler, a former Sarasota County Commissioner, commended DeSantis for taking action against the "liberal" school.
"Impossible to state just how bold and historical this action is," he said in a statement. "It sets the tone that higher education can and will be reformed if conservative leaders are willing to step up, lead and act."
DeSantis has emerged as a leader in the Republican Party, in part for his actions and rhetoric against fields of study like DEI or CRT and policies like environmental, social and governance investing criteria — more commonly called ESG. The Governor has criticized controversial topics as "woke ideology," and did so again Tuesday during his second inaugural address.
"We must ensure that our institutions of higher learning are focused on academic excellence and the pursuit of truth, not the imposition of trendy ideology," DeSantis said.
The appointments also come two days after the DeSantis administration confirmed the Florida Department of Education had asked state colleges and universities to compile lists of programs and campus activities relating to DEI and CRT ahead of the 2023 Legislative Session.
Sarasota Rep. Fiona McFarland is among the Republican officials who have come out praising the move, noting New College's cost of enrollment. Another Representative, Orlando Democrat Anna V. Eskamani, called Rufo a "political propagandist" in a tweet.
"DeSantis is destroying higher education in Florida for his own political gain. It's disgusting, bad for our workforce development (and) everyone — faculty, admin, alumni, students — need(s) to fight back," Eskamani tweeted.
Meanwhile, New College President Patricia Okker welcomed the new appointees, who fill vacancies for terms that ended Friday.
"My thanks to the Governor for today's announcement and for the slate of new board members," said in a statement. "I look forward to getting to know them and working with them to ensure New College continues to serve our students, community, and state in the years to come."
___
Jacob Ogles of Florida Politics contributed to this report.